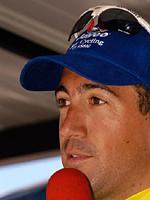 Photo: © Shane Goss
Moving on up: The Trent Wilson Journal 2007
After four years as a pro in Europe, "Willo" is heading Stateside, joining Jittery Joe's-Zero Gravity. . With a leadership role at the Athens, Georgia-based team, 2007 will no doubt provide exciting times for the likeable boy from Sydney's west. Trent also has his own web site at www.trentwilson78.com where you can find out even more about this Sydney rider.
June 19, 2007
Philly lead-up
Trent with Jesse and Stevo.
Photo ©: Trent Wilson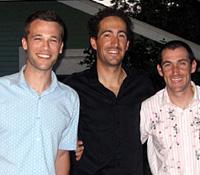 G'day,
Since I last wrote my diary, I have been trying to race and train as much as possible to find some form. Apparently it worked.
Last time I had just finished head butting a barrier at 50km/h in the South Eastern crit series. My one reason to do this series was the red mullet speedster Hop. When he crashed out in the very same criterium as me, breaking his wrist I wasn't too motivated to hang around. That was until the 5 foot 4 inches walking checkbook stepped up to the plate. So instead of having the big red on my wheel I had the knee high Cody (now named Stevo) there. Apart from not being able to see the little fella, he was in great form and delivered on more than a few occasions. I had many mixed feelings during the crits, mostly bad, well all bad... until I got the pay cheque on the last day. They were dangerous, hectic, late, dark and long. Though this is all forgotten after the fourth beer on the last night.
Finally after nine days, eight crits, a crash and my first opportunity to race in the pitch black and not able to see a thing while having some chopper coming underneath me in every corner I got back to Nashville. Stevo joined in along with my long lost brother Johnny Sunte. The next day was exactly what the doctor ordered and was a great stress reliever. It went like this.... Wake up, coffee, another coffee, coffee at the brew shop, 18 holes of golf, some beers, a barbie, some more beers, down to the pub and then some more beers. It was a great day and well needed.
The Sunte went home, luckily and Stevo and I got back to the job at hand. We headed to the Joe Martin Stage Race on our own to race, train and, hopefully, win some coin. Training was great which turned into racing which in turn gave us money. Unfortunately, for us, I did the first part of the uphill 4km TT on world record pace before almost stopping to a slow walk. The weekend did its job; though we were devo'd when we missed every Dairy Queen on the way home to Nashie, missing the last one by ten minutes. Stevo wanted to break in, but Cody wouldn't let him.
The next week was filled with training and more golf. Jesse put me away the first game, then I practiced solo, came back for more, and then got put away again. I play better on my own, honest! Seriously, though, I ripped into the km's and could feel the form coming up well for Philly week.
Stevo and I went and did a couple of Tennessee local derbies. In the 120km RR on the Saturday Kent Bostick and I upped a two man time trial before I took the win, and on Sunday young Nathan Brown and I did the same in the crit before I took the win. The entire weekend was one long time trial. It was one extreme to the other though, one day I was with one of the greats of US cycling, and the next day with possibly one of the future greats.
Stevo headed back to Athens and Neil Shirley flew in from San Diego, while Hoppy got back into training. We still had a good crew in Nashie. Along with Ceasar Grajales, the four of us raced the Edgar Soto Memorial Stage race, Nashville's home tour. It was a really well organized tour, and turned into some tough racing.
The first stage was a 12km TT, and unbelievably, I won it! Yeah it was a time trial, unbelievable ay? The second stage showed a break of eight up the rode with Frank Pipp (healthnet) taking the win, John Murphy (healthnet) took the jersey with Neil sitting in second.
The downtown criterium was the next day and I was gee'd to try to win in my hometown. It wasn't to be though with Karl Menzies (healthnet) taking the win over Caesar after they took a lap on the field. The final day was a 180km road race finishing on a four-km climb. Menzies and I, along with some help from Hoppy rode tempo all day getting the remainder of the peloton to the bottom of the climb together. Neil did what he had to do to get the gap on Murphy to win the tour. It was a nice result and a great weekend of racing.
A few days later we were off to Pennsylvania for the Triple Crown. I was looking forward to this week. I started well, with a sixth in Lancaster. It was a dreadful day with horrid conditions but I was gee'd. With a few things going my way the result could've been better but that's bike racing.
A few days later it was the Reading Classic and this is the one that I thought suited me the best. Unfortunately, I got a 48-hour virus and was useless.
Then it was the big one, America's biggest and most exciting one day-er, Philly! We set record pace and the 255 kilometres was completed in 5hrs 45mins. I came to the line in a group of 50 riders, far from ideal for me, but I gave it a go. I was caught up in a crash and only managed a top 30. Very disappointing when I am sure I had the legs if it came down to a smaller group of riders. I had a go over 'the wall' the last time but it was clear it was going to be a bunch kick. Neil Shirley got the KOM prize for the day as an added bonus.
The week was spent training in the lovely Pennsylvania countryside and dinners at the same local brewery most nights. Oh yeah, and I got a game of golf in at a really nice country club. Actually, too nice, especially when you spend as much time in the rough as I do.
With no racing on my program for a month I am heading home to Oz for a while for a mid season break. It should be damn cold there so it's a chance to wear all the team's winter apparel I never was able to wear thanks to the beautiful weather San Diego gave us at training camp.
Cheers,
Willo
Number of coffee's at bakery this morning: 4
Number games of golf since the last diary: 5
Number of shots I've lost off my game: 0
Number of days in a hotel room in the last 10 days: 10
Number of hours spent on a plane in the next 24hrs: 20