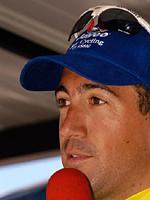 Photo: © Shane Goss
Moving on up: The Trent Wilson Journal 2007
After four years as a pro in Europe, "Willo" is heading Stateside, joining Jittery Joe's-Zero Gravity. . With a leadership role at the Athens, Georgia-based team, 2007 will no doubt provide exciting times for the likeable boy from Sydney's west. Trent also has his own web site at www.trentwilson78.com where you can find out even more about this Sydney rider.
California, USA, April 11, 2007
Tales from the airport lounge
G'day,
We ambushed the DS during his training session.
Photo ©: Trent Wilson

The season here in the States is well and truly under way. I have been on the road for a month since arriving in the States and have only just settled back into Nashville a week ago. Living out of a suitcase is part of the sport but living out of two suit cases, the one I brought with me and the second with all my new apparel, is a chore.
I have been back in Nashie and settled into my pad, living with Jesse 'the DS' Lawler and his wife Jen. The weather here has been unseasonable and I am not complaining. It's been jersey and knicks weather everyday, until yesterday when the last of the cold snaps hit town. Well, hopefully.
It's the reason for this cold snap I have a chance to write another diary. With the second road trip upon us we are waiting to fly out of Nashie airport, but there is a back up at Chicago due to the weather there. After being 29-30 degrees it has dropped to less than 11 degrees. We have definitely been spoilt since getting here and now we're just getting a reminder of how cold it should be at this time of the year.
I am living on the opposite side of town this year and have had to find all new training roads. To my surprise the training has been sensational. It's like a mix of the Belgium Ardennes, Italy's surroundings and of course the American patriotism with all the stars and strips flags everywhere. We're not short of a berg or two, and this website bikely.com has helped route maps easier.
Me and Gene, our host at the Redlands Bicycle Classic.
Photo ©: Trent Wilson

I have also been getting a fair bit of golf in since getting back into town and our new mate John helped out with a new set of clubs. My game has improved from dismal to bad, but still falls to bits after two hours.
The first month in the States had its highs and lows out in California. The training camp was definitely a high and got looked after well in California. Next was our first race in northern California, the Central Valley Classic. It was a race to find your racing and the weather was great this year. It was an uneventful race for me and the team but nice to get the first race under the belt.
San Dimas was up next and I had high expectations after finishing on the podium last year. It wasn't to be for me, but my team mates Neil Shirley and Caesar Grajales were third and fourth respectively after the TT. It looked good for the road race and just as the smack went down we had three of us in the front group, when, within three kilometres of the finish, we were all out with mechanicals. Caesar punctured so I gave him a wheel, then, two kilometres later, Neil punctured. All the bad luck happened in a space of three kilometres and the race was over with the bunch in six groups and the spares car nowhere to be seen.
Jittery Joe's training ride.
Photo ©: Trent Wilson

The next day we came out swinging though, and the same three of us made a break of 13 riders in the 90min crit. We gave 'em the old one-two-three attack and Caesar took the win. It was nice to come back after a bad day the day before.
The last race for us in Cali was Redlands, a four day stage race. It started well with Caesar running third in the five kilometre TT. The next day was a hilltop finish and it looked good for the little hill climber, 'till he crashed and broke his collar bone with 30 kilometres to go. I had a crack myself at the end but could only manage a top 25. The criterium was better, with Tommy finishing fourth, but the last stage around the Sunset loop was a disaster. I did everything to try and make the early break but blew myself up doing it.
So if we do eventually get on this flight, we will be racing the US Open in Richmond on the weekend and Tour Georgia in about ten days time. Definitely a solid block of racing coming up with some importance!
Cheers
Willo