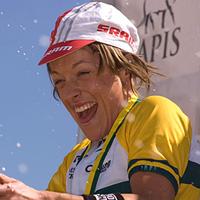 Photo ©: Mikkeli Godfree
The Tory Thomas diary 2007
One Wednesday evening in March of 2005 Australian mountainbiker Tory Thomas had her life turned upside down when she was struck by a vehicle while riding home from work. The then Australian solo 24-hour MTB champion underwent surgery for a badly broken pelvis, ending her hopes of becoming the world solo 24-hour champion that year.
Less than two years later, after an extensive rehabilitation program, the Victorian now holds the Australian XC and Marathon Mountain Bike Champion titles.
The 28 year-old will be keeping Cyclingnews readers informed of her exploits throughout 2007 as she targets this year's world championships.
May 31, 2007
My first World Cup
Well I've done it. I've started and completed my first ever World Cup mountain bike race. The race was the cross country World Cup #2 in Offenburg, Germany, and WOW it was awesome!
Pre-race relax…
The week leading up to the race was surprisingly relaxing. We stayed at a lovely farm in Durbach, a cute town with buildings that look like gingerbread houses, surrounded by rolling green hills crammed full of grape vines, apple trees and berries. Our hosts, the Laible family, were really generous with their time not to mention their freshly bakes bread, jam and strawberries. They were very chatty and hardly seemed to notice that we couldn't understand German - charades can get you a long way in a foreign country!
Scoping the Course…
Practising repairing a flat tyre in the tech zone.
Photo ©: Tory Thomas

We had a sneak preview of the course on Wednesday evening when we stumbled across some bunting on our jetlag recovery spin. Being World Cup first-timers, travelling buddy Jo Wall and I were mighty impressed by the fancy double-bunting on both sides of the track (seasoned competitor Dellys Starr was a little less impressed, although suitably entertained by our awe and wonder!). We slipped our way down a tiny section of flowing singletrack, which was made surprisingly technical by the afternoon's rain. I was more than a little concerned by the way my front tyre was pinging off slippery tree roots, however reassured myself that of course it won't rain again before race day.
The following day we headed our for our first ride of the course. My first impression of the course was WOW. It was seemingly a heap of singletrack weaving through the sort of forest you see in the movies (think Robin Hood: Prince of Thieves), spiced up with a few descents, made interesting by the steep gradient and/or tree roots. As we rode around we laughed about how epic the course would be if it rained. I also saw my first ever squirrel which was a very big deal for me!
On Friday I finally met the ORBEA team and was really surprised that Joseba and the crew treated me as one of the team. Coming from Australia, where athletes generally prepare things for themselves for races, I just couldn't quite believe that Orbea were happy to do everything, other than pedal my bike, to help me prepare for the race. The mechanics meticulously prepared my bikes for training and for the race, and eventually I stopped trying to chase everything myself (out of habit) and sat back in awe and just watched them prepare everything (spares, nutrition, etc) for my race.
I need to also mention Emily Absalon, wife of Orbea team rider Julian, who was especially friendly and generously took a long time trying to translating to my keen ears a world of knowledge about race preparation from French to English. I know I'm raving, but the Orbea team just seemed to ooze a happy and positive energy that made it a very ideal base from which to start my first World Cup. The generous support of the Orbea crew, and also the help and friendliness of the team at the SRAM tent, made the looming race (and the whole World Cup scene) seem so much more attractive and fun. By Saturday night my bike was sparkling and ready to race, I had developed a race plan in my head and I was more than a little excited about my first World Cup.
Race day…
As for the race, well, it was brilliant. I felt unusually calm and relaxed on race morning, and enjoyed heading out on to the course to warm up the body and mind. I did a few efforts on the road before the start, and I was really surprised that for the first time in months my legs felt fine and ready to race. Amazing what a relaxing week in lovely Durbach can do for you!
The start line was awesome, a big crowd and nervous athletes and coaches buzzing energy and nerves. Unlike most races, I felt little pressure for the start because my race plan involved starting conservatively and to avoid hitting the red. Basically, my goal for my first World Cup was to ride consistently and hopefully pass a few riders in the later laps and finish strongly.
I started really conservatively and was a little concerned by how fast everyone seemed to be riding - I felt like I was slipping further and further behind and started to think that pretty soon I'd be off the back. However the pace soon slowed, and by the time I started the second lap I was in a comfy rhythm, feeling focused and in control.
The course was flowing nicely, I felt full of beans and my gorgeous Sleeky (Orbea Alma) felt like magic on the course. It started to rain some time in my third lap, and although I usually hate riding on wet tree roots, for some reason the more it rained the more I enjoyed the race. It just seemed so funny to be riding near my limit down knarly descents in slippery mud. I was more than a little relieved (and admittedly a bit surprised) that my trusty Hutchinson Python tyres were weaving grippy magic in the mud. The cheering crowds at the technical drops were awesome, there were even little grandstands set up at the more spooky bits of the course!
The sheets of horizontal rain turned the start/finish area into a marshy swamp, and as I cross the line for the final lap I was feeling really amped about stepping up a gear and pushing hard in my last lap. I was feeling great and I think the adrenalin was pumping because I started getting quite confident in the increasingly muddy conditions. I think I was starting to feel invincible.
Anyway, my invincible phase ended quite dramatically on the Dual Speed descent, half way through the last lap. I came in to the drop with way too much speed. I was separated from my bike in spectacular fashion, and for a brief moment I thought that I might have died. But that morbid thought passed as was quickly replaced by the 'oh crap I'm losing time' thought.
Unfortunately my beautiful bike was a little battered, so we ended up riding and limping the rest of the lap. Although I was frustrated with my crash, I took solace in the fact that at least it was a spectacular crash, performed at high speed in front of a large cheering crowd and involved lots of blood but no serious injury…for some reason that's better than a broken chain or a stationary uphill crash.
So my last lap didn't quite go to plan, and I ended up in 48th position, not lapped, 18.25 minutes behind the winner. I'm not sure how I feel about the result, ideally I would have liked to hold position but I think more than anything I am happy to have completed my first World Cup relatively unscathed.
On the one hand I am happy I was disciplined and rode to my conservative race plan, on the other hand I'm a little disappointed because I feel that perhaps I didn't push hard enough (although, I did hit the highest heart rate I've ever seen in a race - 191 BPM). I just felt like I was spinning the climbs, not really puffing and felt like I finished with heaps left in the tank. Maybe I would have felt differently if I didn't crash and could sprint rather than limp to the line!
Race analysis aside, in summary the World Cup was a heap more fun than I expected, and now I can't wait for my next World Cup, World Cup #3 in Champery, Switzerland.
Back in Varese…
We drove back to our base in Varese, Italy today for a week of training. My battered knees have been patched up and hopefully the bruising all over my body will fade before the shorts and singlet weather returns!
Time now for sleep, thanks for reading.
Happy riding,
Tory
www.orbea.com
www.sram.com