Recently on Cyclingnews.com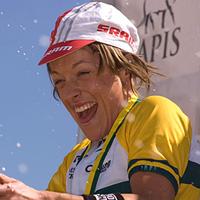 Photo ©: Mikkeli Godfree
The Tory Thomas diary 2007
One Wednesday evening in March of 2005 Australian mountainbiker Tory Thomas had her life turned upside down when she was struck by a vehicle while riding home from work. The then Australian solo 24-hour MTB champion underwent surgery for a badly broken pelvis, ending her hopes of becoming the world solo 24-hour champion that year.
Less than two years later, after an extensive rehabilitation program, the Victorian now holds the Australian XC and Marathon Mountain Bike Champion titles.
The 28 year-old will be keeping Cyclingnews readers informed of her exploits throughout 2007 as she targets this year's world championships.
May 30, 2007
Overseas at last!
I finally made it overseas! I'm sitting in the lounge room of cute little apartment in Varese, Italy. The other guys have gone to bed, but I'm forcing myself to stay up and write a diary entry because it's way overdue. I've struggled to find a computer since arriving in Italy, and one of the South Australia.com-AIS boys, Lachie, has leant me his computer for the night, so here goes…
Dellys, Jo and I heading out for a ride
Photo ©: Tory Thomas

The last seven or so weeks have been really challenging, I think I didn't post any entries because I was a little down in the dumps and struggling to muster enthusiasm and I didn't really want to whinge to the international cycling community! Since February or March, my immune system took a dive and I seemed to be constantly sick, battling a variety of colds and viruses. I made a few stupid mistakes when I raced with a virus, so predictably I ended up quite sick and unable to train!
So my preparation for this trip was the opposite of perfect, and during the very long plane flight from Melbourne to Milan I wondered what on earth I was doing dragging my mountain bike across the world to race World Cups when I was under-trained with absolutely no top end.
I arrived in Varese a week ago, but it feels like an eternity since I left Australia. I travelled from Melbourne alone, and my first few days were really tough. I think partly I struggled because I felt so unprepared, it's a horrible feeling taking the massive step up to international racing when you feel slow and unfit with no race legs. But I think mainly I struggled because I had arrived a few days before my travelling companions, and I felt lonely and homesick, tired and overwhelmed - everything was just so hard on my own.
By day three of my trip I was wondering whether I had made the right decision making the journey to Europe. I should mention, however, that from the time I arrived, the boys from the South Australia.com-AIS team and their coach, Neil Ross, did their best to make me feel welcome (thanks guys!). Also I need to mention Franca Brunello who, upon seeing me burst in to tears because I was too lonely to stay in the apartment on my own, offered that I could stay with her until my travelling companions arrived. Yep, she took me under her wing!
(L-R) Dellys Starr, Zoe King, Jo Wall
Photo ©: Tory Thomas

My travelling companions arrived on Thursday and since then life has been pretty sweet. So far, riding and racing in Europe is way better than I was expecting. It's been 30 degrees and sunny, I've had some great rides, and the coffee is amazing.
I raced in my first European race last Saturday, in the Lugagnano Val d'Arda XC race. I was really unsure of what to expect, and despite my disappointing performance my first Euro race was really fun. For whatever reason, I cramped really badly in my legs for most of the race, so I suppose I've kind of grovelled and limped my way on to the international racing scene! I ended up coming sixth, not too shabby for a grovel fest, and was stoked when Neil handed me my first ever prize money from the Euro race scene. I can't believe they give prize money for sixth place - that's awesome and very different to MTB racing at home.
Tomorrow we are driving to Offenburg, Germany to compete in this weekend's XC World Cup #2. My apprehension and fear of getting lapped seems to have been replaced by intrigue and excitement of competing in my first World Cup: I can't wait! I'm also looking forward to finally meeting the guys at Orbea and seeing how the Orbea team works. I've never seen a professional mountain bike team so I'm sure I'll be impressed!
Better go get some sleep, I'll post an entry after my first world cup!
Happy riding,
Tory
www.orbea.com
www.sram.com