Recently on Cyclingnews.com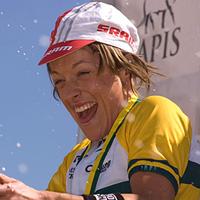 Photo ©: Mikkeli Godfree
The Tory Thomas diary 2007
One Wednesday evening in March of 2005 Australian mountainbiker Tory Thomas had her life turned upside down when she was struck by a vehicle while riding home from work. The then Australian solo 24-hour MTB champion underwent surgery for a badly broken pelvis, ending her hopes of becoming the world solo 24-hour champion that year.
Less than two years later, after an extensive rehabilitation program, the Victorian now holds the Australian XC and Marathon Mountain Bike Champion titles.
The 28 year-old will be keeping Cyclingnews readers informed of her exploits throughout 2007 as she targets this year's world championships.
March 29, 2007
Oceania madness
ANZAC rivalry: New Zealand's Rosara Joseph and Australia's Tory Thomas
Photo ©: Evan Jeffery

My performance at yesterday's Oceania Championships was a rather spectacular display of how NOT to ride a bike in slippery conditions. If you close your eyes and picture Bambi on ice, and then picture Bambi on ice with two sprained ankles and blurred vision, then that'd come close to replicating how ungainly and uncoordinated I was on the muddy and rocky descents.
Despite my sloppy descending, I was able to climb and slip and slide my way to second place, a massive 12 or 13 minutes behind Rosara Joseph (NZ). I have mixed feelings about my race. On the one hand, I am frustrated by how slow I was in the wet conditions and disappointed to waste so much time in singletrack. On the other hand however, it was satisfying to achieve my goal of placing on the Oceania podium, and I am happy with how much my climbing has improved in the last three months. I was also happy that I rode to my race plan, which involved pacing myself and pushing smaller gears on the climbs.
Tory Thomas working hard
Photo ©: Evan Jeffery

Racing aside, the weekend was a lot of fun, with a lot of contrasting personalities crammed in to our apartment accommodation at Thredbo Alpine Village! The torrential rain was a welcome novelty after such a dry hot summer, and it was novel to ride in the mud - I think I've only ridden in the mud once or twice in the last few years!
Oceania Champs marked the end of my domestic 2006/07 mtb season, and I am now enjoying a week off the bike. It has been a really long season, I was ready for a break a few weeks ago, so I am relishing this time away from training - particularly as I know how much hard work lies ahead.
Next week we will begin to try and prepare me for the first of my World Cup racing in May and June. Although focus was going to be building my base and strength, after yesterday's performance I think my training may also include a fair bit of trail riding in the mud! (This could be a particularly difficult task if the drought continues!). I am REALLY looking forward to racing overseas - fun times ahead!
Happy biking
Tory