Recently on Cyclingnews.com
Rory Sutherland (Healthnet)
Photo ©: Jon Devich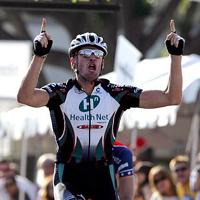 Back with a bang: The Rory Sutherland diary 2007
Talented Australian Rory Sutherland will be tearing up the US domestic circuit this season with Professional Continental squad Health Net presented by Maxxis. With the best part of six years European racing under his belt, look out for the 25 year-old from Canberra to notch up some big victories in '07.
Stay tuned to Cyclingnews for the inside scoop on Rory and his Health Net crew as they match up against ProTour opposition at the Tour de Georgia and beyond...
Grabbing cabbage
Tour de Georgia - Stage 6- April 21: Lake Lanier Islands/Hall Co. to Stone Mountain Park, 182.9 km
Another day, another 180 kms. There are some pretty decent race distances in this race, I will admit. Today was like any other really; fast and furious from the word go, and pretty much like that the whole day. Starting point - some lake (I really have no idea where I actually am at the moment) to some finishing point - a big rock in the middle of a park (picture Ayres Rock back in Australia).
Is that a big cheque
Photo ©: Rory Sutherland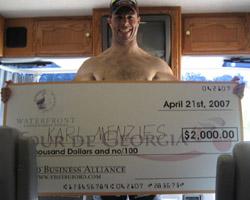 It's pretty amazing how you can go from some kind of structured training program a week before a race, you know what your doing every day, you know where your sleeping, and you also have other things to do apart form racing. In a stage race this all goes out the window! The only way I know what day it is, is if I am counting down to the last stage. Apart from that, I normally have to ask people. I have no idea what's happening in the world, i.e. news and current affairs, etc. And I think stage races in themselves are pretty much some of the most unproductive time I have experienced (save for the fact that we are becoming better bike riders from it of course).
So here we are another day further. Tim and I seem to have the routine down pat. This is the order of the day for the sometimes monotonous bike rider in a tour:
- Wake up, still tired
- Tim puts on coffee to try and wake me up
- Check email in bed (God bless wireless internet)
- Find breakfast room and eat like it's our last meal
- Drive to start, and then start, of course
- Finish and nail a couple of cans of Sprite
- Get changed and drive to hotel
- Unpack 0.5% of our suitcase (the rest seems to remain untouched the whole race)
- Get a massage
- Find dinner - yet another new restaurant
- Raid the Soigners' room looking for more food
- Internet….. again
- Bed
That's it!! Fun hey?
So to wrap up this episode I'm going to mention one of my Aussie counterparts on Team Health Net, Big Karl (see buddy, you got a start too….. feel special now?). Karl and I had a plan this morning, and the plan had a little something to do with the couple of grand that was up for offer at the first sprint of the day. Now Karl's a pretty quick guy, so this shouldn't be too much of a problem….. normally. The sprint however was after 4.6kms of racing! To tell a long story short, Karl and I nailed some Red Bulls, jumped with every attack that moved, led the boy out from a small break group, and ended up fairy tale finishing it to take the cabbage (money). Karl, just thinking of how beautiful it was still brings tears to my eyes ;-)
That's all for today, last day tomorrow, and I'm looking forward to getting back to Boulder for some much needed coffee shop sessions with the boys!
'Til tomorrow
Rory
www.teamhealthnet.com