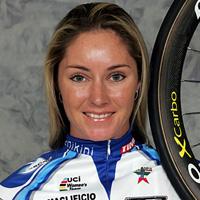 Photo: © Menikini Gysko
Speedy Gilmore: The 2007 Rochelle Gilmore Journal
Rochelle Gilmore joined a new Italian team for 2007: Menikini Gysko after riding last year for G.S. Safi-Pasta Zara Manhattan. She splits her time between the road circuit and the track World Cup. In 2006, she won a stage at the Geelong Women's Tour, took second in the Commonwealth Games points race, and earned top five finishes in a Giro d'Italia stage, the Geelong Women's World Cup, and the Liberty Classic. Gilmore is aiming her career to build up for the 2008 Beijing and the 2012 London Olympic Games.
Follow Rochelle as she continues to race among the fastest trackies and roadies with her regular diary updates.
October 27, 2007
Little critters at home
Welcome home to the land of kangaroos, deer, rabbits, magpies, bugs, snakes and spiders. I returned to Australia last Wednesday night. Although I sometimes don't realise where in the world I am after a long flight, I was certainly sure this time as I drove up my drive way; racing the bunny rabbits, scaring the giant deer and admiring the wallabies bouncing around the yard.
That was the nice reminder that I was back in Australia. The reminders I experienced out on my first ride back in South Sydney, however, were not so pleasant.
I spent last Thursday unpacking and having my new bike built, on Friday I re-packed for my Saturday flight to Melbourne for the Women's Sun Herald Porfolio Partners Criterium. I flew to Melbourne on Saturday morning and arrived at about 11am for a 1pm race, I pulled my new bike out of the box, assembled it and rode it for the first time. I felt surprisingly comfortable given that I had not ridden a/any bike for the past three-four weeks.
My Menikini Selle-Italia Gysco team-mate Olivia Gollan had only arrived in Melbourne, Australia the evening before the criterium, so we were both a little uncertain about the race. We had both taken time off at the end of the European season and had endured a long flight back home; we didn't know the fitness levels of our competitors so until the race started we were a little nervous.
Around 10 minutes into the race I got that look from Liv that means 'It's all ok, relax, we're in control'. Liv's confidence reflected on me even though the odds were against me/us… the new bike, the lack of sleep, the jet lag, the swollen legs and the time off the bike. I also knew that I only had one team-mate to rely on, I'm sure that the Victorian's had a plan and could all rely on each other. The race was simple, I followed wheels and most of the attacks, Liv chased down the breaks that I missed, Liv attacked towards the finish, Liv led out the final kilometre like a steam train and…. I/we won.
The Women's Sun Herald Porfolio Partners Crit was a great success in its first year, the organisation was superb. The atmosphere was exhilarating with loads of spectators and fans. The fast surface of the course and the couple of tight hairpin turns really suited my style of racing. I'll definitely be back next year!
A few of us elite women including myself, Olivia Gollan, Peta Mullens, Belinda Goss, Naomi Williams and ex pro Anna Wilson struggled though the 'around the bay in a day' short course on Sunday morning. It was only 100 km, but it was a real effort! It was very hot and very windy, congrats to anyone who finished the full ride which I believe was over 200 km.
After the ride I returned to my hotel, re-packed my bags/bikes and flew back to Sydney.
My body still hadn't adjusted to the new time zones, so I woke up early again on Monday morning and jumped on my bike for a long slow ride by myself. I didn't have a planned route but knew I wanted to be out until it was time to get home for my physiotherapy appointment.
I headed out from Stanwell Tops to Kurnell (about 55km) and then turned around and started heading towards home, it was about 8 AM and nearly 30 degrees! On the way back from Kurnell I felt a hard loud tap on my helmet, as I turned my head I noticed a Maggie that was ready to dive bomb my helmet again, we started to race and my heart rate nearly maxed out; I am scared of those mean birds as one once smacked me in the face and gave me a bleeding and bruised nose. I know now not to turn my head, just sprint like mad until they give up! So my effort was about two kilometres long before it gave up and return to its nest. I only had one small bidon so I stopped at Sutherland and again at Heathcote to refill before heading out to Bulli Tops.
I had just hit the express way when I collected a mass of spider web floating through mid air, I sat up and pulled most of it off and then found my rhythm again. Moments later I felt something on my leg so I looked down and to my surprise saw a small spider hitching a ride. It gave me a fright - I nearly dropped (crashed) myself trying to swipe it off! I'm not normally scared of spiders, but this little bugger really got my heart racing, again.
Another 15 km down the expressway and I had to make a stop on an incline to free a bug that had found its way into an air-vent on my helmet and couldn't get back out. It was flapping, buzzing and digging into my hair! Just as I came to a stop I noticed a big, let's say about one metre long red belly black snake sun-baking in front of me; he hadn't moved and I didn't want to!
I left the bug for a minute and rolled backwards about a metre before turning my front wheel and rolling back down the hill a bit. I was now far enough away from the snake to feel comfortable while setting the bug free from my helmet. Now, to get past the snake without another massive fright, I crossed the two lane expressway and rode up past the snake on the opposite side of the road where there were probably more snakes, but that's what I had to do!
The rest of the ride home from Bulli Tops was less eventful; I took the old road and enjoyed a tail wind while sipping my last few drops of water.
I've had an easy day today, just 1.5 hours this morning and then I've been catching up on emails, phone calls and paper work. My training and kilometres will increase during the next few weeks leading up to the Oceania Games Road Race, in New Zealand on the November 18. I'll fly up to Queensland next week to catch up with family and race the Noosa Crit.
More next month!
Rochelle