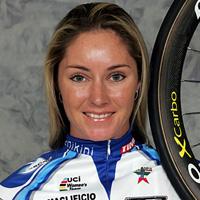 Photo: © Menikini Gysko
Speedy Gilmore: The 2007 Rochelle Gilmore Journal
Rochelle Gilmore joined a new Italian team for 2007: Menikini Gysko after riding last year for G.S. Safi-Pasta Zara Manhattan. She splits her time between the road circuit and the track World Cup. In 2006, she won a stage at the Geelong Women's Tour, took second in the Commonwealth Games points race, and earned top five finishes in a Giro d'Italia stage, the Geelong Women's World Cup, and the Liberty Classic. Gilmore is aiming her career to build up for the 2008 Beijing and the 2012 London Olympic Games.
Follow Rochelle as she continues to race among the fastest trackies and roadies with her regular diary updates.
August 8, 2007
Success in Germany!
After enduring the third 10hr drive for the week, I finally managed to pick up a couple of race wins!
The first win came at a Friday (August 3rd) afternoon criterium called the GP Bitburger Classic in the town of Rhede, about an hour's drive from Bochum. I punctured my front tyre on the first lap so I stopped into the pits and made a quick wheel change and then re-entered the group as they came around. My free lap went very quickly as the circuit was only a little over 1km.
It was only a couple of laps later when a break away formed- including my teammate Elodie Touffet, Nürnberger's Charlotte Becker and myself. Sara Carrigan bridged across and we soon established a handy lead.
Gilmore on the podium
Photo ©: Rochelle Gilmore

The four of us stayed away until the finish. Elodie and Charlotte kept swapping off turns to increase our lead while Sara and I played cat and mouse! I kicked with 350m to go so I could enter and exit the last corner on the front. I then sprinted to take the win from Charlotte. Elodie took third and Sara finished fourth.
My second win in Germany needs an explanation. I was the first to cross the line at the Sparkassen Criterium on Saturday afternoon, and I also received the prize money for 1st in the event, but... I was not 'officially' awarded the win for the record books.
Once again I punctured my front wheel on the first lap. The crit circuit was 3.4km. Unfortunately I punctured at the furthest point on the course from the start line. I pulled to the side of the road and watched the bunch ride past and around the corner out of sight while I waited for the follow car. I asked the follow car if they had spare wheels, they said no. What was I to do? I was expected to ride the punctured front single on my carbon rim 1.5km, across train tracks and around corners until I got to the start-line, then make the wheel change and then 'chase' back onto the group. Yeah right! Once I got to the start line and had changed my wheel I asked the officials if I could re-enter the group when they came around. They said 'yes, but you can not sprint'.
I re-entered the race after a lap out and sat at the back questioning what I was doing. My first thought was to attack with a team-mate on my wheel and try to establish a break (for my team-mate). That didn't work! It was windy and the main bunch was large and aggressive. I then went to the back of the group again and thought about pulling out and waiting for the following day's race, but I was floating anyway and decided to continue on. I then started to wonder how an organizer could invite international teams to travel to their race and then run the race without neutral spares or allowing a free lap. It just didn't seem reasonable to me.
With three laps to go my director, Walter Ricci, instructed me via my race radio to contest the sprint. I asked him to confirm his instructions and he did. It had been an emotional and confusing race for me but after I was given that instruction there was no more questioning going on in my mind, I just went for it and I won.
Elodie and Rochelle meet the devil
Photo ©: Rochelle Gilmore

I was disappointed with the organizers final decision, particularly because the UCI personnel had also disagreed with the organizers response to not officially award me the win. As it was not a UCI event, the rules were set by the race organizer.
Well I didn't lose sleep over it! I was content with my second win in two days and I was excited about racing again the next day!
Sunday was the big one, a UCI 1.1 international road race. The circuit was about 15km with two GPM's (hill sprints) per lap. We raced six laps in total. I didn't puncture this time!
The Sparkassen Giro has been known as a 'strong' sprinters course given that there are two short sharp climbs each lap and a slightly uphill sprint finish. Our race plan was clear. Two of the fastest sprinters in the world (Ina Yoko Teutenberg and Regina Schleicher) had chosen to start the Sparkassen Giro in favour of the Open de Suède Vargarda World Cup being held in Sweden on the same day. Ina and Regina are both German and I guess a UCI 1.1 race at home would be rather important for their German professional teams.
Before the race, I was clear with my team- Menikini Selle Italia Gsyko, I wanted to sprint against the best today. This meant that if I was at any point in trouble, or struggling to get over the hills, I'd need assistance from my team. I wanted to see how I would fare against Ina and Regina. As it turned out, I had my climbing legs on and I was popping over the hilltops without any stress.
A break of four riders formed early in the race and I was right at the front of the group when they rode away. At that very moment I was not sure who the riders were and I was more concerned about watching and waiting for the moves from the strongest sprinters... that's where and when I lost Sunday's race.
At the half way point I was climbing at the front of the peloton when I realised that 10 of us had broken away from the main group. I don't remember an attack from anyone; it must have been the high pace on the climb that caused the split. I was accompanied by a couple of familiar faces, Lorian Graham (Australian National Team) and Alex Rhodes (T-Mobile), there weren't any other 'sprinters' amongst us.
Our group was not organized and there were only a select few riders who were keen to work hard. I felt as though we were stop starting every kilometer with no chance of staying away from the main group. The lead four riders included Hanka Kupfernagel (RG Berlin) and Christiane Soeder (Raleigh Lifeforce Pro Cycling), who were probably stronger than our entire chase group. Plus, given the high winds I was not confident that we could catch them.
We didn't catch the lead group and they stayed clear by about 1min30. Kupfernagel took the win ahead of Martina Corazza (Team FRW) and Soeder. To my surprise my chase group stayed away from the main bunch. I won our bunch sprint for 5th but I went home a little frustrated with myself. I didn't leave it all out on the road. I read the race wrong; I made a wrong decision early; and then I found myself trapped as a consequence! We win, we lose, and we learn!
My next report will come from the Route De France which starts on Saturday!