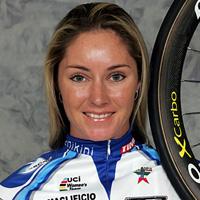 Photo: © Menikini Gysko
Speedy Gilmore: The 2007 Rochelle Gilmore Journal
Rochelle Gilmore joined a new Italian team for 2007: Menikini Gysko after riding last year for G.S. Safi-Pasta Zara Manhattan. She splits her time between the road circuit and the track World Cup. In 2006, she won a stage at the Geelong Women's Tour, took second in the Commonwealth Games points race, and earned top five finishes in a Giro d'Italia stage, the Geelong Women's World Cup, and the Liberty Classic. Gilmore is aiming her career to build up for the 2008 Beijing and the 2012 London Olympic Games.
Follow Rochelle as she continues to race among the fastest trackies and roadies with her regular diary updates.
June 13, 2007
Montreal World Cup & Montreal Tour
Rochell during the Montreal tour
Photo ©: Andrea Brewer

My time in Montreal did not return the results that I had expected and hoped for. The World Cup race around the famous Mont Royal circuit was a wasted day and opportunity for me. I thought my form was good and that I could have had an interesting race. It was apparent from the first lap that I was not going to have a good day -
I was not mentally focused on the race and for some reason I was unable to fight or focus on the race. There was a lot going on in my personal life and I guess I just couldn't or didn't want to put those things out of my mind for the following three to four hours. Perhaps I was also physically exhausted from the previous emotional stresses. My mum had been unexpectedly re-admitted to hospital following a generally simple procedure and treatment. My professional cycling team had heard a rumor that I was leaving their team to re-sign with another team in July - there was absolutely no truth in this rumor, but I still found myself stressed and disappointed that my team managers had heard such a disappointing rumor after all they have done for me this year!
I won't bore you with all the other stuff that was going on in my head last week…. But the fact is that I had a BAD day on the Mont Royal circuit and came away scratching my head, believing that I was much better than what I had shown on that particular day!
The impressive win by my teammate Fabiana Luperini produced enough positive emotions to mask my personal disappointment. Fabiana had a great day on the bike; I think she would have been able to win in any race scenario on that particular day. She was switched on and in great form. She knew what she wanted to do, and that's what she did! Lap eight was when she applied pressure to the pedals and rode away from the bunch with another rider. She decided to keep the other rider with her until the finish. I believe Fabiana could have attacked her companion on the last climb but as they were working well together, Fabiana backed her speed and took confidence in her decision to sprint for the win. The sprint and win looked so easy for Fabiana and she still looked so fresh after the race! Can you imagine how intensely one must train and prepare in order to finish a race like the Montreal World Cup looking fresh???
As a team we headed out to Starbucks to celebrate over coffee and sweets! Fabiana flew back to Italy the next day to recover and start her preparations for Trentino, the Italian Nationals (she is reining Champion) and the Giro d'Italia.
Montreal Tour
Stage 1
This was a fast, technical and somewhat dangerous course due to the amount of deep potholes and grooves in the roads and the late 5pm start. It was day one of a stage race and many of the riders were fresh and a little over eager. The race was aggressive and there were attacks going all the time - the race never really eased up. I was not feeling 100%. I mean I was never going to get dropped and I knew I'd be there for a sprint finish but I didn't feel as good as I usually do on such a course, I normally just float, but my legs were feeling heavy and my muscles were really hurting- in strange places. I finished fifth in the stage but didn't really 'sprint' - I just stayed in the seat and followed riders. Like I said, I was not myself.
Stage 2
Before the start
Photo ©: CJ Farquharson
I'm still shaking my head about stage two of the Montreal Tour, the weather looked like it was going to turn bad after the late 5.30pm start, and that it did - really bad!
The only other time I have been caught racing in lightening and thunder like in stage two was a couple of years ago in the Nature Valley Tour in the States. During the Nature Valley stage race the riders took things into their own hands and fled up long dirt driveways looking for shelters, my group found a farm barn where we stood shivering and some were even screaming as the lightning flashed and the thunder hit. After the worst of it had past all the riders got together and rode at a neutral pace until the storm had completely passed - then we decided to race the last 20km into town.
The riders, their staff and the race organizers were not so sensible this time. The weather got really bad after the first lap and even the most experienced riders were scared - including me. I was concerned about the fact that we could not see much at all, it was overcast and getting dark; the rain was so heavy that it felt like hail and there were places on the course where the water was as deep as our wheel axles. The bunch contained riders who are not so experienced at racing fast and aggressively in those weather conditions and that put everyone in danger of being seriously injured. The risks of continuing the race in those conditions were substantially higher- more dangerous than a cycle race in nice weather!
It would have taken a serious accident for the organizers to cancel or neutralize the race and fortunately for all, there were no 'serious' accidents. There were a few pile-ups but luckily they were on an uphill section where the pace was not so fast. Well done and thank you to all the girls who took a sensible approach to racing in a thunderstorm. I finished 4th in the stage but once again didn't really feel like I could get out of the seat and sprint, my legs were feeling a little better but still heavy and flat.
Stage 3
Finally I felt comfortable on the bike, we had learned earlier in the day that my seat had slipped 1.5cm and this change of saddle position may have been why my legs were feeling flat and hurting in strange places. You're probably wondering why I didn't notice it earlier, well I did. During our first training day in Montreal my seat height felt lower. I asked my staff if they had moved my saddle height or taken the seat-post out at all. They all said no, it hadn't been touched. I had been watching the mechanic work on my bike the day before and I didn't see him play with the seat-post… but he did mention draining water out of the frame.
Rochell befor the crash
Photo ©: Mitch Friedman
I considered the fact that before arriving in Montreal I had been wearing knicks with a thick chamois and maybe the change back to a thin chamois could have been why the seat felt lower. I trusted the mechanics that the seat height was correct and I raced the first two stages before personally checking the height. On the morning of stage three my director sportif who is back in Italy called to say that he had seen some photo's on Cyclingnews.com and that my seat height looked low!!! That's when I ran down stairs and checked it out for myself!
I felt so good on the bike during stage three's short time trial. Time trialing is not my thing and the team had asked me to save my legs for the evening's criterium stage. I started out slowly but with the tail wind pushing me along during the last 1.5km I started to push a little as I was floating along. I finished mid-pack for the TT without hurting myself.
Stage 4
The evening criterium I had been waiting for. I punctured my fast Ambrosio deep carbon rimmed front wheel on the start line and had to race on a standard HP front wheel but as I was so hyped for the race it didn't worry me at all. I raced towards the front of the bunch and was back to feeling like my normal self, I was floating in and out of the corners with ease and didn't need to exert myself when the pace picked up, I was feeling great!
Things were going well until the final 3 laps; I wanted to take the wheel of Oenone Wood as she looked the most comfortable throughout the race. I had her wheel but was being elbowed by other riders who also wanted the same wheel. I was relaxed (maybe too relaxed) because I knew that if I was pushed off the wheel, I had the strength in my legs to jump back around to the front and take position again. When you have good legs, you know you can get into the right position.
As a group of us sprinters were all getting excited near the end of the race we were all positioned well in the top 5 positions when I hit the deck hard! I can't tell you exactly how it happened but it was a result of a rider on the front changing her line unexpectedly, causing a wave affect across the road. I was still being nudged on my right side and I had no where to move to on the left as there was a wheel overlapping mine, I fell over the wheel of Oenone Wood and came down at high speed which I can now picture in slow motion! I'm disappointed for myself and the other girls that came down that I could not hold the bike up. There was nothing I could do at that moment.
So there I was sitting in the middle of the road unable to move, I felt as though I was paralyzed from the waist down, I wanted to get up and move off the road as the 120 other women who didn't fall still had to come past for the final two laps. I was trying to get the message from my brain to my legs to move but they just wouldn't. I had both hands on the ground beside me holding my butt off the ground- to take the pressure off my lower back which was the most painful of all! I wasn't able to turn my head or move my legs or lower my butt onto the ground. The medical staff had surrounded me before the race had finished and I can't express how scared I was. They kept asking me where I was hurting and my only reply (about 10 times) was 'my lower back'.
The medical staff asked me to put my hands across my chest so they could move me but I kept telling them that I couldn't take my hands off the ground because if my weight was taken on my butt, it would hurt my lower back too much. Finally they lifted me into a chair which was then rolled up into the ambulance and tilted back with my feet up at a 45 degree angle. I stayed in this position all the way to the emergency room, gritting my teeth over every pot-hole and listening to the loud sirens- wondering how serious this injury was going to be. I had someone leaning over me checking out the lacerations on my nose, he told me it would be alright, but how did I know what that meant? My nose was blocked so I thought it may have been broken.
Once we arrived at the ER I was still trying to move my legs, I had a neck brace on and was strapped to a hard board. The hard board had two holes for my heels to drop into. My right heel was sitting comfortably in one hole while the left heal was sitting on the edge of the left hole, I was trying so hard to slide the left heel a centimeter to the right so it would drop into the hole… but I still couldn't move my legs at all, although I could wiggle my toes fine.
The doctor came along and checked my feeling in my legs and also my reactions- I was responding, he also checked for nerve function which was fine.
For the next two hours I was strapped to a hard flat board with a neck brace on going through a series of x-rays and CT scans on my face, neck, back, abdominal area, pelvis and knees. While I was waiting for the results I started to regain movement in my legs and as soon as the results came back that nothing was broken, they were able to then remove my neck brace - I was now able to move much more freely!
The Australian national coach, Warren McDonald arrived at the hospital with my race bag which my mobile phone was inside. Luckily I had not notified anyone back home, preventing them from being concerned before we had all of the test results back. Wazza called my mum who was back in hospital and heading into theater for another minor procedure concerning her colon.
It was not long before I was able to sit up and eventually walk to and from the bathroom unassisted. I was released from the hospital at 3am and returned to the Montreal University where I spent the next day in bed thinking how lucky I was! I have more scars on my face, skin off both arms and legs, and a huge amount of road rash on my backside and badly bruised ribs …and I consider myself very fortunate!
I missed the last day of the Montreal tour while recovering and then I joined the riders from the race on a long 15hr bus journey from Montreal to Prince Edward Island - this was a little painful as my scars were all weeping and I could only sit on one bum cheek.
We arrived at PEI with just one day to recover before starting the Tour De PEI on Sunday afternoon.