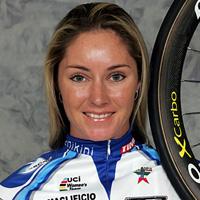 Photo: © Menikini Gysko
Speedy Gilmore: The 2007 Rochelle Gilmore Journal
Rochelle Gilmore joined a new Italian team for 2007: Menikini Gysko after riding last year for G.S. Safi-Pasta Zara Manhattan. She splits her time between the road circuit and the track World Cup. In 2006, she won a stage at the Geelong Women's Tour, took second in the Commonwealth Games points race, and earned top five finishes in a Giro d'Italia stage, the Geelong Women's World Cup, and the Liberty Classic. Gilmore is aiming her career to build up for the 2008 Beijing and the 2012 London Olympic Games.
Follow Rochelle as she continues to race among the fastest trackies and roadies with her regular diary updates.
May 19, 2007
Oh Canada
Only 24 hours ago I was finishing a World Cup race in Switzerland (Tour De Berne, Sunday, May 13). I then returned to Varese, Italy for a short night's sleep before boarding a plane for Zurich, Switzerland on Monday morning. After a short stopover in Switzerland I boarded my flight for my final destination: Montreal, Canada.
My teammate Elodie and I show off the new
Photo ©: Specialized Menikini

I am off to Montreal for a couple of weeks racing with our partner team based in Quebec, Specialized Menikini. I was greeted at Montreal airport by Gerard, who was to be my new team director. My first question for him was 'so when is my first race here?' His reply was quite a shock, he said: 'You'll stay with me and my family tonight and then depart tomorrow at 9 am for a flight to Russelville, Arkansas via Detroit, Michigan. You will meet your new team members and staff there; and commence a five stage tour on Thursday'.
Even though I'm a little tired from the travelling and lack of sleep, I'm looking forward to the tough racing in the heat: it will be a good training block leading into the Montreal World Cup and Tour in early June.
It was 4 pm by the time we reached Gerard's home and I was keen to put my bike together and get out for a light one hour spin. It took me the good part of an hour to unpack my bike and find the correct tools to assemble it, adjust the brake callipers for my training wheels and then replace the speedo magnets and sensors. I found a nice rolling road alongside a lake and I rode for 30 minutes into a head wind before turning around to spin home at a high cadence.
I'm not sure about the road rules here in Canada, I find it strange that there are so many stop signs on the main roads. I'm not sure who has right of way, everyone stops and looks at each other. I arrived back to the house to find that Gerard's wife (who is French speaking) had cooked up a lovely dinner! Gerard's parents were over for dinner, who also speak French, so I didn't really understand any of the table conversation, plus I was really tired so I didn't try too hard to get involved.
Breakfast was nice, bagels, fluffy while bread and very fattening crunchy granola cereal: welcome back to this side of the world. Gerard then issued me with my new team clothing which looks fantastic, a new helmet and a pair of sunglasses, but I won't use the Specialized sunglasses as I'm personally sponsored by Oakley.
We then drove into the airport, again stopping at stop signs every 200 metres. I checked into my North-West flight, paid my $100CAD for my bicycle and then proceeded to the gates. As usual I was questioned at passport control about my profession, reason for stay, hotel addresses and return flight dates…. I was able to talk my way past this time.
I'm now sitting at my gate waiting for my flight and telling myself not to give in to the lovely smell of Starbucks and Second Cup, I don't drink coffee so if I approached the counter I'd come away with a double choc frappe or a rich hot chocolate!
When I arrived in Arkansas I met my race manager Christoph, who is Swiss but speaks fluent French and Italian…and a little English. My first question for him was, 'how far is the drive to the hotel?' His reply was 'Two ower' I thought he mustn't have understood my English so I asked again and he said 'Yes, two, two ower'. I couldn't believe it, I was so tired and hungry, there was no food offered on either of the two flights and my transfer in Detroit was short so I hadn't eaten since 8am.
We arrived at the hotel and walked to a Buffalo Grill restaurant. The food was served promptly so I enjoyed my steak and got to bed early, by 9pm.
Day three, pre race day
Amazingly I slept through until 8am! Jet-lag has not really hit me yet, hopefully it won't! The hotel breakfast was typically the American style, bagels, waffles with maple syrup and cup cakes! Luckily I had my Pro-Soma sponsored meal replacement powder which is jam packed full of vitamins and energy! I live on this tasty chocolate powder during racing blocks to ensure that I get enough calories and sustained energy.
Our team, Specialized - Menikini, then hit the road for a pre-race day ride. The ride was nice until we reached the hill where Sunday's stage finishes. I was in the 25 cog all the way up, in and out of the saddle for 25 minutes and 45 seconds. Here are the stats for my climb, I wouldn't normally put this much pressure on my legs after 3 days of travelling and the day before a five stage tour.
POLAR DATA
Time: 25min45sec.
Distance: 4.1km
Speed Average: 9.6km/hr
Cadence Average: 48rpm
Heart Rate Average: 165bpm
The Tour we start tomorrow is called Tri-Peaks Challenge, meaning we climb three nice peaks… so; I'll use the tour as good training and target the Criterium on Saturday.
The girls from my team have just left in the car with our team manager to view tomorrow's stage, I didn't go. I've checked out the stage profile online and it finishes up a 20 mile long mountain, so I'm not really interested. I'll wait for tomorrow night and then get serious about stage two on Friday.
Time to relax.
I'll post my race reports at the end of the week!
Ciao.
Rochelle.