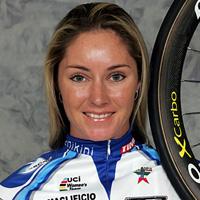 Photo: © Menikini Gysko
Speedy Gilmore: The 2007 Rochelle Gilmore Journal
Rochelle Gilmore joined a new Italian team for 2007: Menikini Gysko after riding last year for G.S. Safi-Pasta Zara Manhattan. She splits her time between the road circuit and the track World Cup. In 2006, she won a stage at the Geelong Women's Tour, took second in the Commonwealth Games points race, and earned top five finishes in a Giro d'Italia stage, the Geelong Women's World Cup, and the Liberty Classic. Gilmore is aiming her career to build up for the 2008 Beijing and the 2012 London Olympic Games.
Follow Rochelle as she continues to race among the fastest trackies and roadies with her regular diary updates.
May 17, 2007
Jet Setting
It's been a long time since my last report, well actually not too long, but so much has happened!
On April 29 we raced the Trofeo Guareschi at Sala Baganza in Parma, Italy. I won this race in 2005 and 2006 and was under some pressure to three-peat this year. Unfortunately, I didn't win - I came second. It was a very disappointing day for the Menikini Selle Italia Gysco team, but personally I wasn't too upset.
I felt fantastic during the race and made no mistakes in the sprint. Simply, I was just beaten by a more powerful rider on the day. Giorgia Bronzini has been in amazing form during the early part of the season and I just couldn't match her power in the last 200 metres. I was riding a new Grueciotti bicycle specifically designed for sprinting and the bike felt comfortable and superior, but unfortunately I had some mechanical problems and needed to make two bike changes during the race. The fast stops got the adrenalin pumping but I don't think the chases back to the group took too much out of me.
Our next race was on May 1, Gran Premio GFM Meccanica. What a great day, finally a win for Menikini Selle Italia Gysco! The race was at Reggio Emilia, not too far from Novellara where I spent three years living at the old location of the Australian/AIS Road cycling team.
The race consisted of two small laps around the departure town and then eight flat fast laps around a seven kilometre circuit. Our team raced very professionally and really dominated the race. Giorgia Bronzini was hot favorite to win in a sprint finish again, so most teams where hoping for a break away. We definitely wanted a break away which made the race very exciting for me, as I had the chance to play a new roll within the team.
After a few laps on the longer circuit our race director Walter Zini ordered every rider from our team to get on the front and take turns with maximum effort to string the bunch out. This tactic worked well because as soon as any other riders attempted an attack we were all well positioned to put riders in the break and also to block the narrow roads. The break formed after a solo attack by Vera Carrera. Dorte Rusmassen from our team started the chase and the break-away group developed to 10 riders.
Once the break was well represented by all the major teams the bunch eased up a little. The break-away group featured two riders from our team- Dorte (Danish) and Karin Aune (Swedish), one of SAFI's strongest riders Marta Bastianelli, Julia Matisova (Team FRW) and also Australia's Amanda Spratt. We were confident we could win from here.
Karin is a strong rider and helped carry the break to the line while Dorte saved her legs a little for the sprint. Team Faninni were chasing hard on the front of the main group towards the end of the race but its riders lacked strength in numbers and could not quite pull the break back, they got close in the final kilometres so riders like myself, Giorgia Bronzini and Nikki Eggyd started positioning ourselves well just in case of a bunch sprint. Dorte came off Bastianelli's wheel with 250 metres to go and won from the break-away group in a photo finish. Matisova finished second with Bastianelli taking third.
I beat Giorgia comfortably for the bunch sprint (in 11 place) but who knows if she was giving it her all? I felt explosive coming off her wheel, but sprinting for minor placing is never as competitive as sprinting for the win. It is good practice though.
It was then time to find a nice location to train up for the Tour de Berne, Swiss World Cup (Sunday, May 13).
I chose to base myself near the AIS cycling team house in Varese. My manager organised a nice apartment on a nearby lake where I could live alone and stay relaxed. After our last race I was able to pick up my new car from the Milan Toyota dealership, a nice used, black, five-door, RAV4 with only 30,000 kilometres on it. It has a nice leather interior, a sun roof and all the extra options available excluding an inbuilt Navigation System - I use a TomTom which I feel is a necessity here in Europe, sure does make driving a lot less stressful!
The AIS base was the best possible training option as I had full support during my stay from the AIS doctors, physiotherapists, bio-mechanic and directors. They were all present to assist and review the condition of all the Australia's professional men and women. I had the privilege of catching up and training with Graeme and Hayley Brown, Katie Brown, Katie Mactier, Matt and Kymmy Haymen, Sara Carrigan, Matt Lloyd and some of the younger Under 23 men including Johnny Clarke and Michael Ford.
I completed a couple of four hour rider rides with the men's AIS MTB and U23 teams and also a satisfying five hour ride with Graeme Brown and Matt Lloyd - who were in their final preparation for the Giro d'Italia. I was nervous about heading out for five hours with Graeme and Matt because I didn't know the area very well and I didn't want to hold them up on the climbs or have them waiting for me at the top. Fortunately they were out for a very relaxing long ride. I had to fight hard on some of the climbs but amazingly, I never, not once, dropped off their wheel!
We were unfortunate to have witnessed a terrible accident during our first 10-15 kilometre climb - as we were climbing we saw several crazy Sunday riders flying/racing down the descents…even Brownie and I thought they were pretty crazy! One extremely unfortunate rider was out of control and was traveling way too fast to take a slight left bend; the rider went over the low guard rail and fell off a deep mountain edge. On our descent the road was closed to vehicles while the cyclist was being winched up in a body bag. This accident occupied my mind for most of the ride, which now seems such a blur.
That training block brings me to yesterday, Tour de Berne, Swiss World Cup. I had prepared well for this race and was feeling confident. Although, after riding the course on Saturday I experienced some negative thoughts - there was a tough 800m hill that did worry me a little. The race was laps laps, three larger laps and two smaller ones; we crested the tough hill on all five though. On Saturday's training ride I was out of the saddle in my 23 cog for the entire climb, so I decided I'd race with a 25.
I felt really fit during the race and concentrated on the hill each lap. I never felt in danger of being dropped and felt as strong as any rider on the flats. I climbed the hill in the top 10-15 riders each lap which made the tough terrain following the hill a little easier. While most riders were still chasing back on, I was already floating at the front of the group.
Before the race we thought that our best chance of a win would be having Dorte in a small break-away group. But during the race it was becoming more apparent that the sprinters were in with a chance.
On the final hill, about 10 kilometres from the finish, a small group of nine riders got a gap on the main bunch. The break away group featured all the strongest riders including Vos, Cooke, Wood and Edita Pucinskaite. No one from our team was climbing well enough to get over the last 200 metres of the climb with those powerful riders. I was still confident with two kilometres to go that it would come back together and I was feeling extremely strong, fresh and excited for a bunch sprint.
We (the main group) reached but did not 'catch' the break away riders on the line. I won the bunch sprint in the seat for 10th. Pucinskaite took the win in style - 11 seconds ahead of the break away. Edita proved that she was the strongest rider on the day. Vos took second and Wood third.
I'm not happy with my result or tactics yesterday but I am really impressed with my condition. I'm now on a flight to Canada. I will spend the next month racing in Canada and in the United States.
More very soon!
Rochelle
POLAR DATA
Distance: 121.8km
Time:: 3hr 09min
Average speed: 38.8km/hr
Average heart race: 173bpm
Max heart rate: 207bpm
Cadence average: 92rp