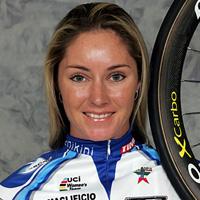 Photo: © Menikini Gysko
Speedy Gilmore: The 2007 Rochelle Gilmore Journal
Rochelle Gilmore joined a new Italian team for 2007: Menikini Gysko after riding last year for G.S. Safi-Pasta Zara Manhattan. She splits her time between the road circuit and the track World Cup. In 2006, she won a stage at the Geelong Women's Tour, took second in the Commonwealth Games points race, and earned top five finishes in a Giro d'Italia stage, the Geelong Women's World Cup, and the Liberty Classic. Gilmore is aiming her career to build up for the 2008 Beijing and the 2012 London Olympic Games.
Follow Rochelle as she continues to race among the fastest trackies and roadies with her regular diary updates.
April 26, 2007
Liberazione - wishful thinking!
A serious Rochelle Gilmore (Menikini-Gysko)
Photo ©: Davide Tricarico

I have raced the Liberazione race for the past few years: unfortunately I've not been too successful there.
April is a terrible time of year in Italy for those who suffer with allergies related to pollen and the outdoor environment. Every year I arrive at the Liberazione race suffering with severe allergy symptoms: itchy throat, eyes, ears, nose, and sneezing. These symptoms are never a problem on the bike, they seem to disappear once I start focusing on the race. The pre-race symptoms do use up a lot of energy, so I guess it plays with my head a little.
The race was 120 kilometres long around a 10 km flat, fast circuit. We (Menikni Selle Italia Gysco) started the race with a strong team of six, including Karin Aune, Elodie Toufett, Silvia Valsecchi, Marina Romoli, Carmela Massaro, and myself, even though five of our team members were contesting the World Cup in Belgium on the same day.
There's not too much to say about the race, there were no threatening attacks and everyone was content to leave the race up to the sprinters, I was happy with the way the race went, fast but very cruisey. I punctured my front wheel with less than three laps to go but fortunately one of my team mates (Marina Romoli) was right next to me. We made a fast wheel change and then I started to chase the bunch alone. Another of my team-mates (Silvia Valsecchi) dropped back to help me work through the cars, she was extremely strong and had me back in the bunch within the next kilometre! I had recovered well with two laps to go and was confident about the sprint.
I took the last corner, 500m from the finish, in perfect position: a few riders back on the wheel of Giorgia Bronzini. I had been spoken to by many of the team staff about starting my sprint kick too late in the previous few races, so I was under pressure to try something new and start my sprint early. I learnt today that 350m was definitely too early! I gapped the bunch with a powerful kick but was in the seat struggling through the last 50m when I was swamped by riders. I finished about fifth or sixth and feel really bad about it. What a silly mistake! It was a very disappointing result given my good form and strong support from my team. Giorgia Bronzini went on to win but I have not seen the final results yet.
Fabiana Luperini (Menikini Selle Italia Gysco) was ninth in the World Cup, so not the best Liberazione day for us!
Our next race is in Parma this Sunday, a race which I have won for the past two years, so the pressure will be on! I'm looking forward to it.
POLAR data (I only have data for the first 91.4km of 120km as I punctured at this point and took a spare wheel without a magnet):
Distance: 91.4km
Time: 2 hours, 18 minutes
Average speed: 39.7km/hr
Average heart rate:160bpm
Max heart rate: 211bpm (during sprint finish)
Cadence average: 94rpm
Rochelle Gilmore
*Note: Liberazione is Italian for liberation.