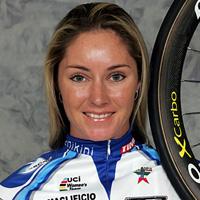 Photo: © Menikini Gysko
Speedy Gilmore: The 2007 Rochelle Gilmore Journal
Rochelle Gilmore joined a new Italian team for 2007: Menikini Gysko after riding last year for G.S. Safi-Pasta Zara Manhattan. She splits her time between the road circuit and the track World Cup. In 2006, she won a stage at the Geelong Women's Tour, took second in the Commonwealth Games points race, and earned top five finishes in a Giro d'Italia stage, the Geelong Women's World Cup, and the Liberty Classic. Gilmore is aiming her career to build up for the 2008 Beijing and the 2012 London Olympic Games.
Follow Rochelle as she continues to race among the fastest trackies and roadies with her regular diary updates.
April 17, 2007
Satisfaction on Euro soil
My trip to Belgium and Holland for our first block of international European racing has been quite satisfying. Our trip started last Saturday morning when I flew with the team from Italy to France where we stayed for four nights. I woke up on Sunday morning with a terrible head cold which has placed an added stress on my body during this week of racing.
Ronde Van Vlaanderen
Gilmore watched her Menkini-Selle Italia teammates in Belgium
Photo ©: Ben Atkins

I had never planned to race the World Cup in Belgium "Ronde Van Vlaanderen" this year but I'd traveled with the team to experience the race from the team car as I may choose to target this world cup in future years. When I woke with a head cold I was faced with the decision to stay in bed for the day, or sit in the team car for four hours and experience the race. My director decided for me… I was off to the race. It was an eventful race from the team car with punctures and crashes happening all day! Our team had three punctures within 10 minutes and Olivia Gollan's bike broke and she made a bike change mid-race. Even though there was a lot going on I did fall asleep a few times, I was feeling extremely unwell. I was woken up when the passengers side (my side) of the car crashed with another team car, I was a little out of it so I didn't scream or react, I just let our director have his little rally bash with team Bigla. Our car came off worse, it's not so pretty anymore… guess we'll have it repaired when we return to Italy. Our best placed rider on the day was Fabiana Luperini in 33rd position.
Belgium National Race
There was a Belgium national race on Monday which a few of the stronger teams always contest. My team had expectations; I had fresh legs and the ability to win. The race was fun, it was short circuits on narrow roads and the race was fast. My head felt like it was about to explode but my legs were fine. Our team (Menikini Selle Italia) raced well, we were all very strong. We had riders in every break and once it came back together for a sprint my team-mates were still strong enough to help out! I finished 2nd to Giorgia Bronzini (Safi/Italian National Team) and felt terrible for letting the team down, they did their job perfectly and I stuffed up! After 24hrs had passed I felt a little better knowing that I'm fit and feeling strong. It was times to think about the next UCI 1.1 race on Thursday.
Tuesday was another day in bed for me, trying to get over this head cold. We started our journey for Holland early on Wednesday morning making a couple of stops at two different Airports to pick up two new riders (Miho & Karin) and also another Director Sportif. We arrived in Holland late in the afternoon and the girls went out for a ride while I could only manage 30 minutes on the rollers.
Drentse 8 Van Dwingeloo
Thursday's race ended with a more satisfying second place, the race was a little tougher, we were competing against stronger teams, there were UCI points up for grabs, I was feeling terrible and I also had a crash midway through the race and then needed to stop again to straighten my handlebars…. So second at the end of the day was not so bad. Once again my team-mates (Olivia, Elodie, Miho and Eneritz) were as strong as anyone else in the race; they were right by my side until the last 500m. That evening we enjoyed our prizes after dinner- nice wine, a big cake and there was also an Mp3 player up for grabs!
Friday was a rest day before the Ronde Van Drenthe World Cup. We set out as team for an easy ride on the Holland bike paths along side the many narrow canals. After the ride we all jumped into the team Van and navigated our way around the course, we were egger to see the cobbles that everyone had been talking about, well they were just as scary as described! I thought our director was joking, but as it turns out they weren't so difficult to ride… I'm not saying I was any good at it, but I did ok. We spent the rest of Friday having massages, team meetings, presentations, dinner and then we finished the evening off with a couple of episodes of "Greys Anatomy".
Ronde Van Drenthe
Australian Rochelle Gilmore (Menikini - Gysko)
Photo ©: Bert Geerts

Saturday's Ronde Van Drenthe was a great day for Menikini Selle Italia, we finished second with Elodie Touffet and I finished sixth.
My race was quite eventful: I was caught up in an early crash which left me to finish the last 100+ km with my butt showing! My cycling shorts had a tear as big as a dinner plate on the right thigh, so I showed off a little skin during the evening's TV coverage.
Olivia experienced the next mishap; she punctured 500m before the toughest three kilometre stretch of cobbles and had to wait for the large bunch of 160 women to pass, as well as most of the team cars before she received a spare wheel. Unfortunately, that was the end of Liv's race, we were very disappointed to lose Liv so early in the race as she had shown awesome strength when she flew across the first two kilometre section of pave!
On the next three kilometre section of pave I punctured, I was so lucky that my team mate Eneritz was just behind me. I was stopped on the side of the road when she flew past, I'm not sure that she saw me so I was on the radio frantically yelling at her to stop…I think she was a little confused but once she saw me she desperately ran back to me, changed my front wheel and gave me big push. I rode the cobbles alone and then chased a small group ahead, once I reached that group we took about 10km to chase down the main bunch. With 40km to go we were all together and my legs were still feeling fresh, I was getting excited about a sprint finish.
We had two steep short hills to get over before the last 15 km. Shortly after the last hill my team mate Elodie put herself in a small break of six riders which moved away from the bunch quickly; apart from Nurnberger all the strong teams had a rider in the break. Elodie sat on the back on the breakaway group knowing I was feeling good back in bunch. With two kilometres to go (Adrie Visser DSB Bank) attacked and Elodie reacted and moved away with her, the two of them finished first and second ahead of the next small group who we (the main bunch) just caught right on the line. The bunch didn't quite catch Marianne Vos (DSB Bank) so she took third position. Ina Teutenberg (T-mobile) just rolled her team mate Suzanne De Goede (who was originally in the break and just being caught) for fourth and I was behind Ina and Suzanne in sixth place.
Once again we enjoyed our race winnings after dinner- nice wine, chocolate and sweet cakes! We've been second three times this week so we're hoping to finish the week off with a win on Sunday. Liv has great form so we might place the pressure on her!
Sunday 15 - Novilon Int. Damesronde van Drenthe - fourth
Well our race did not exactly go to plan today. We would have liked to put one of our fresher riders in a successful break and we were quite sure that after a long week of racing that a break would develop today… some breaks did develop but did not survive the last 20km.
I was tired, really tired. I was so sleepy that I could not focus on the race; all I was thinking about was a good night's sleep! My body felt drained and I spent most of the day (100+km) just hanging onto the back of the bunch, which at times was strung out over a kilometre! I was on and off the group like a yo-yo until the last 30km which looped three times over a steep, short climb. I had no trouble on the climb, I quite enjoyed the power aspect of it - it woke me up a bit. The road was only two riders wide, so there was some skill involved with balance and technique, especially at the bottom when some riders came to a stand still!
The race was together with five kilometres to go, but I was still very mentally fatigued and I never really got fired up for the sprint. I was losing positions all the time and not fighting hard to stay up the front. With a kilometre to go I pedaled up the outside to find a position again, I took the last corner way too far back and kind of drag raced to the line passing a few riders to finish fourth. I was disappointed but also exhausted so maybe that's all I had!
Karin punctured after 40 km, Miho's bike broke mid race and Olivia crashed hard on the last descent, she may have been doing about 60 km per hour and she has the bumps, gashes and grazes to prove it. We all showered quickly after the finish and rushed to the hospital to see Liv. She was wrapped up like a mummy and had massive bumps on her forehead, hands and thighs. She had also torn her earlobe. Liv looked a absolute mess but she was being typical Liv saying "I'm fine, let's get out of here". Olivia will be ready for her next World Cup race in Belgium on the 25th. My next race will be in Italy on the 25th - Liberazione.
Rochelle Gilmore
Monday 9 - Belgium National Race - second
Distance: 91.1km
Time: 2hr 27min
Average speed: 37.2km/hr
Average heart rate: 176bpm
Max heart rate: 209bpm

Thursday 12 - Holland/Dwingeloo - second

Distance: 125.5km
Time: 3hr 15min
Average speed: 38.6km/hr
Average heart rate: 180bpm
Max heart rate: 209bpm

Saturday 14 - World Cup Van Drenthe - sixth

Distance: 134.6km
Time: 3hr 40min
Average speed: 36.9km/hr
Average heart rate: 179bpm
Max heart rate: 209bpm

Sunday 15 - Novilon International Holland - fourth

Distance: 133.1km
Time: 3hr 26min
Average speed: 38.6km/hr
Average heart rate: 174bpm
Max heart rate: 210bpm