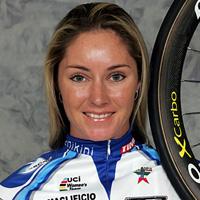 Photo: © Menikini Gysko
Speedy Gilmore: The 2007 Rochelle Gilmore Journal
Rochelle Gilmore joined a new Italian team for 2007: Menikini Gysko after riding last year for G.S. Safi-Pasta Zara Manhattan. She splits her time between the road circuit and the track World Cup. In 2006, she won a stage at the Geelong Women's Tour, took second in the Commonwealth Games points race, and earned top five finishes in a Giro d'Italia stage, the Geelong Women's World Cup, and the Liberty Classic. Gilmore is aiming her career to build up for the 2008 Beijing and the 2012 London Olympic Games.
Follow Rochelle as she continues to race among the fastest trackies and roadies with her regular diary updates.
Geelong Women's Tour, Australia, March 1, 2007
The toughest stage
Stage 3, February 28: Lara-Lara road race, 115km
The peloton
Photo ©: John Veage

Today's road stage is described as the tour's toughest stage due to the steep 2km gravel climb. Most women would have raced with a 27 tooth rear sprocket and still some riders couldn't keep the pedals turning and had to walk or run up the steepest part of the climb!
I climbed mid-pack in my 27. I was in and out of the seat trying to save my legs for tomorrow's flat stage. My speed dropped to 6km/hr at times and my cadence was as low as 40rpm. I got to the top with a group of about 20 women and we worked hard over the next 10km to reach the main group.
With 50km to go I was sitting comfortably in a very large bunch which was moving fast in order to chase down the 12 riders who had broken away from the pack 15km before the difficult climb. It was Univega and some British riders who were driving the bunch for Nicole Cooke, they were keen to bring it back together to ensure Nicole held onto the leader's jersey. We (Menikini Gysco) had Olivia Gollan out front in the breakaway group of 12, so we were hoping that the break would stay away, Liv's plan would have been to attack the small group in the final few kilometers.
A Brazilian rider walked
Photo ©: John Veage

Our team had lost Miho Oki and Sigrid Corneo in earlier crashes so as the main bunch caught the breakaway group with about five kilometers to go, I was left with only Dorte Rasmussen who could help me out!
T-mobile were extremely aggressive in the last few kilometers. We (the bunch) chased moves from Ina (Teutenberg), Alexis (Rhodes), Judith Arndt), Kate (Nichols) and Oenone (Wood)… they were all there at the finish and very active! There was pink everywhere.
I had a difficult sprint today, I really wanted to sit in on Ina's or Wood's wheel but that wasn't easy, they always had another pink teammate protecting their wheel. So, I spent the last couple of kilometers in the wind. It was like a long drag race to the line for me, and I don't feel like I got to use my kick. It was a real struggle once I drew up alongside Oenone. Ina won with a very long, strong sprint. Oenone followed her wheel, and I finished just beside, behind Oenone for third.
I'm once again happy with my condition and not so happy with my result, but very excited about the racing that is ahead of us!
Polar data
Road Stage 3
Distance: 108km
Time: 3hr 6min 10sec (unofficial time)
Average Speed: 34.7km/hr
Average HR: 162bpm
Max HR: 211bpm
Cheers,
Rochelle
www.rochellegilmore.com