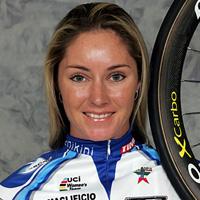 Photo: © Menikini Gysko
Speedy Gilmore: The 2007 Rochelle Gilmore Journal
Rochelle Gilmore joined a new Italian team for 2007: Menikini Gysko after riding last year for G.S. Safi-Pasta Zara Manhattan. She splits her time between the road circuit and the track World Cup. In 2006, she won a stage at the Geelong Women's Tour, took second in the Commonwealth Games points race, and earned top five finishes in a Giro d'Italia stage, the Geelong Women's World Cup, and the Liberty Classic. Gilmore is aiming her career to build up for the 2008 Beijing and the 2012 London Olympic Games.
Follow Rochelle as she continues to race among the fastest trackies and roadies with her regular diary updates.
Geelong, Australia, February 28, 2007
Sprinting to second
Geelong Tour Stage 1 - February 27: Portarlington time trial, 8km
Wollongong rider Rochelle Gilmore
Photo ©: John Veage

Portarlington is a beautiful place, but it wasn't the nicest location for an out and back flat time trial today. We had to battle with extremely strong winds.
The first rider started the TT at 10:30 AM, and the last rider was off after 12:00 PM, this start time difference may have influenced the end results as the wind really died off for the last 10-20 riders. I guess the only advantage for those riders who started earlier is that they would have warmed down, eaten, changed their clothes and started to recover for the afternoon's criterium before some of their rivals had started the TT.
I was happy with my time trial, finishing mid-field. I did not push my limits, conserving power for the afternoons criterium. Had I have given the TT a 100% effort, I might have only improved 10 places on the results sheet. Our team's best result came from Miho Oki (Japan's national champion) in 15th place, not bad for a sprinter!
After the time trial we all relaxed around the car, some slept and stretched while I anxiously waited to start the criterium.
Stage 2 - February 27: Portarlington criterium, 30km
The final sprint
Photo ©: John Veage

The Portarlington criterium is tougher than most crit circuits. It's only a 1km lap, half the circuit being uphill and the other half downhill with two tight technical corners. In general, I don't like hills, but this technical circuit is one of my favorites when I'm in good condition.
Our team (Menikini Gysco) had a simple plan today, to make sure we had someone (except for me of course) in all of the breaks, and then to help me stay at the front during the final laps. The team did everything right today and I was very happy to see that during the last three laps I still had all five of my teammates around me!
I felt really fit during the race, I've heard many riders describe today's race as "hard' but I actually felt that the race was not too fast. I was expecting to do it a little tough amongst such a strong field.
I knew with five laps to go that I'd be up there, I was a tad anxious and jumped hard to cover moves during the last few laps that in hindsight were not so threatening. I found myself really boxed in on the last lap up the hill and only just got out at the last second. After putting in a strong effort I had but myself onto Ina's wheel with 300m to go, then I lost her wheel through the last corner and chased her uphill to the line, passing Kate Nichols and Oenone Wood but not quite strong enough to take Ina!
I have mixed feelings about finishing second today but I guess I can be happy with my early season condition and, it was Ina Yoko Teutenberg who out-sprinted me so…. Looking forward to another bunch sprint!
Polar data
Time Trial
Distance: 7.9km
Time: 13min05 sec (unofficial time)
Average Speed: 35.9km/hr
Average HR: 189bpm
Max HR: 203bpm
Criterium
Distance: 33.1km
Time: 58min 25sec (unofficial time)
Average Speed: 34.0km/hr
Average HR: 196bpm
Max HR: 212bpm
More tomorrow…
Cheers,
Rochelle
www.rochellegilmore.com