Nat Ross
Photo ©: John Laptad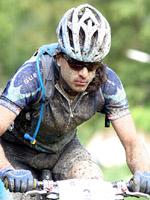 Going the distance: The Nat Ross diary 2007
Racing for seven years as pro mountain biker, 36-year-old Nat Ross' name is synonomous with endurance racing, and he is a master at 24-hour solo races.
The super-chill Ross hails from Colorado and knows how to go the distance, day or night.
A winner 24 Hours of Moab in 2004 and 2006, he has been a member of the Subaru Gary Fisher team longer than any other racer.
November 16, 2007
If you build it, they will come
Locals Joe and Lindsey
Photo ©: Russell Lee Photography

I just got off the plane from riding my mountain bike in Cleveland, Ohio. My team-mate Greg Watts and I flew in to Ray's Indoor Bike Park for this season's Grand Opening. With 97,000 square feet of indoor mountain bike terrain, Ray's is the largest and only place of its kind in the world. Ray's features a full cross country course; beginner, sport and expert sections; a killer head-to-head pump track; box jumps; a foam pit; ramps; and a skate-type bowl. It is absolutely mind blowing and was created by a bike enthusiast superhero "Ray" making a place for riders of all abilities to ride indoors when it is cold and crappy outside. Joe and Lindsey are two locals who gave me a tour and some pointers once inside.
We were not the only ones in town for the Grand Opening. Another of my favorite sponsors SRAM was there to dial in the lounge and hang out spots. Several years ago, they put in a foosball table and air hockey. This year, they styled out the lounge even more and brought a load of stickers for the kids. Along with SRAM, Dirt Rag, Red Bull, and Fox had a presence as well. There were a several pros in the house for the weekend. Aaron Chase and Jeff Lenosky were throwing down right beside Greg all weekend long.
Greg Watts
Photo ©: Russell Lee Photography

"Why was I at Rays?" you might ask. Well, a lot of people there were calling me the "24-hour racer". Of course that's what I do, but there is a lot more to my mountain bike lifestyle. For me, riding my bike is a way of life. Actually, it is my life! I chose to skip two UCI 'cross races over the weekend to enjoy time on my bike and check out something different. I do my best to keep it fresh and exciting weather it is the travel or the new people I meet.
The founder of Ray's, Ray Petro took a huge risk when he renovated a massive empty industrial warehouse near the airport in Cleveland. You have to at least visit the website to comprehend the scale of this place. I had seen pictures in magazines and clips in movies, but neither provided it justice. Rays is a biker's indoor mecca.
Nat Ross
Photo ©: Russell Lee Photography

For starters there is a full cross country loop with endless combinations of problems and skinnies. Within the cross country loop there are three sections each containing at least ten lines. There is a massive beginner room with lines consisting of rocks, trees, and manicured wood. The sport section is raised off the ground a few more inches, and provides numerous routes on wood. The sport section contains options like a teeter-totter and tighter turns with narrower lines overall. The expert section contains elements like an elevator line, and a sliding ramp that you set off by hitting with speed and skidding. Needless to say I never nailed the sliding ramp. There was a pivoting ramp and tons of other very challenging options. I personally needed a bit more practice in the expert area.
Overall, my favorite section was the Gary Fisher pump track. This thing was unreal. The runs started up on a big ramp and immediately went into a rhythm section before banking to the left. Instantly, you were directed into a huge banked U-turn, which was followed by a straightaway and some S-turns. After navigating another rhythm section you were shot back out below the ramps for another lap. The idea of a pump track is to conserve your momentum and accelerate or maintain you speed by pumping your arms and upper body rather than pedaling. Sound cool? It is a gas if I do say so myself. Maintaining momentum is key in mountain bike racing. I did not come from a BMX background, so pumping still challenges me. Current pros like Ross Schnell and Adam Craig could tear up a track like that. There are two lines on the track so you can go head-to-head. Wouldn't that be a true dual: Adam vs. Ross. I have got my money on Ross, who's your money on?
It's almost like a velodrome
Photo ©: Russell Lee Photography

Although I spent a lot of time getting dizzy on the pump track, my arms could only take so much, so I worked out my legs in the beginner, sport, and expert sections most of the time I rode at Ray's. I mainly rode the cross country loop and worked on all the various line selections. I rode these lines with Travis Saeler "Stork" of the Gary Fisher 29er team and we wore each other out. What a gas! Next time I go back, I am going to master the box jumps. Every line of jumps worked me over, as I was not clearing them and swerving all over between them. Those jumps got the best of me, however I will be back to tackle them.
In the meantime, if you are ever near the area or can be, do your skills a favor and dial them in at Rays!
See you on the dirt or indoors at Rays,
Nat Ross
Photography
For a thumbnail gallery of these images, click here
Images by Russell Lee Photography /www.russellleephoto.com