Recently on Cyclingnews.com
Marco 'Pink' Pinotti
Photo ©: Fotoreporter Sirotti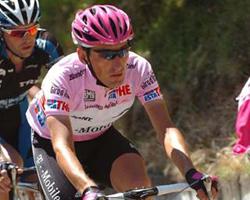 Time machine: The Marco Pinotti diary 2007
He may be an expert against the clock, but Marco Pinotti is also a handy rouleur, making him a valuable guy to have on any team. In 2007, the affable Bergamasco will be riding in the colours of T-Mobile, where he'll be pretty in pink. You can also learn more at Pino's personal website.
June 08, 2007
Post Giro action
Dear readers,
The last month and half has been awesome. I went into the Tour de Romandie full of confidence, made some mistakes over there, but then headed straight into the Giro d'Italia knowing I had good form and the team support. Since the start, as my DS Peiper said, I have been "the man in condition."
I was already happy to be in Sardinia and my mind was full of expectations. Then I just raced everyday waiting for my chances, sure that I had a lot of them. Now I am proud of what I have done and proud to have done it in this team, which is doing so much to give us the best support and to lead the new challenge in the sport. [Marco Pinotti took the Maglia Rosa on stage six and wore it for four days - ed.]
Marco Pinotti (T-Mobile)
Photo ©: Sirotti

In the end I couldn't wait to be at home. I was scheduled to race in the US and leave just after the Giro. But the team let me go home for two days and I left only the following Wednesday to ride the Commerce Bank races. Now, I am here and it's nice to be calm and serene in Philadelphia, far away from the post-Giro climate. It's back to reality, where I hope to profit from my good form to get some results in June, before some rest in July.
Thanks for reading and supporting me.
Marco Pinotti