Recently on Cyclingnews.com
Marco 'Pink' Pinotti
Photo ©: Fotoreporter Sirotti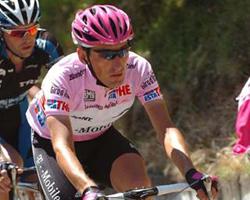 Time machine: The Marco Pinotti diary 2007
He may be an expert against the clock, but Marco Pinotti is also a handy rouleur, making him a valuable guy to have on any team. In 2007, the affable Bergamasco will be riding in the colours of T-Mobile, where he'll be pretty in pink. You can also learn more at Pino's personal website.
April 13, 2007
Thinking of the Giro
Hi guys,
in the last month I've been racing a lot and this helped me to find good condition - although I went through some little health problems that affected many riders this spring: cough, bronchitis, bad cold. This last week, I've been in Germany and Belgium finding unusual good weather and warm temperatures.
As so often in the life of a rider, I wasn't at home for Easter. After racing in Köln, the team gave the chance of testing my time trial position the following day on the indoor track in Büttgen. It was a long day that required lots of patience. We tried many different solutions, downloading the power data from the SRM, and immediately looking at the results on a notebook. But in the end we succeeded and found an improvement.
I look forward to test the new position in a race: I'm sure it will help me, and I have to thanks the team for that. It was also a pleasure to train again on a track, just to keep the confidence for a next pursuit race, somewhere in the future...
Then I hopped onto a train to get to the team base for the Classics and stayed with my teammates for two days. The ones of us who didn't race Gent-Wevelgem enjoyed the beautiful team performance and in the evening you could feel how everyone was really happy for Burghardt's win.
The following day we raced in the GP Pino Cerami, wanting to perform well, too. In the finale I was the man in the lead and achieved a good fourth place, even if that is not enough... It's time for new goals, now that the Giro is coming close.
Thanks for reading.
Marco Pinotti