Recently on Cyclingnews.com
Marco 'Pink' Pinotti
Photo ©: Fotoreporter Sirotti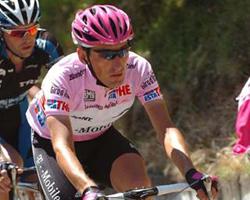 Time machine: The Marco Pinotti diary 2007
He may be an expert against the clock, but Marco Pinotti is also a handy rouleur, making him a valuable guy to have on any team. In 2007, the affable Bergamasco will be riding in the colours of T-Mobile, where he'll be pretty in pink. You can also learn more at Pino's personal website.
January 12, 2007
Training in Majorca
Ciao a tutti,
I spent the last 40 days at home, with unusual good weather in Bergamo, where I could train well despite the traffic and everything else in the road. I spent more hours on the bike than normal, with other Bergamo riders and training mates, like Vanotti, Cortinovis, Guerini, Carrara.
I rested well on holidays and then trained hard on the surrounding days. I really had a nice time being at home almost the whole fall and winter. I needed it after a long season. Now I am hungry again for a successful year. With this mind, I left last Sunday from the airport with my new T-mobile outfit, reaching a beautiful location, on Majorca island.
Since our arrival the schedule was pretty busy; we've been tested in different ways in order to personalize and maximize our training. The camp is different from the ones I had with my former team [Saunier Duval-Prodir - ed.]. We do not ride only by bike, but we are making pre-ride gym sessions, and recovery sessions with active stretching and core work-outs. And, of course, lots of meetings and interesting work-shops that help me to understand the support tools I have at my disposal. I really like these days and I assure you I am not getting bored.
Team spirit is building day after day; we are walking on the path to become "Die Mannschaft"; becoming effective and great team. We are really taking it seriously.
Ciao
Marco