Recently on Cyclingnews.com
Marco 'Pink' Pinotti
Photo ©: Fotoreporter Sirotti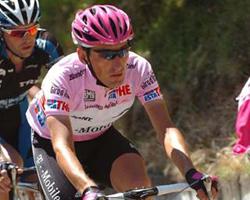 Time machine: The Marco Pinotti diary 2007
He may be an expert against the clock, but Marco Pinotti is also a handy rouleur, making him a valuable guy to have on any team. In 2007, the affable Bergamasco will be riding in the colours of T-Mobile, where he'll be pretty in pink. You can also learn more at Pino's personal website.
December 7, 2006
New sensations
Hi cycling fans,
I've just been back from the first training camp in Lanzarote, where I spent a week with 15 riders from my new team, T-Mobile. The team gave me the opportunity to take my wife with me so I had really nice time over there. We stayed in a residence where you can do any kind of sporting activity you want, from surfing to boxing - including cycling, of course.
The days began with a short gym workout, followed by training ride that sometimes lasted up to four hours. The team directors went by bike too, and some of them were even in better form than the riders. The road were beautiful and even if it was windy, it was a pleasure doing those rides under the sun with an ideal temperature. After the ride, I spent time with my wife under the last hours of sun. Then we played some tennis or other sport, just to try to stay active the whole day.
A good thing was that there was no television in my room; I was in the dark about every piece of news and I appreciated it. I think everyone should try at least a week off from TV. Later, I found out that one stage of 2007 Giro d'Italia will finish in my home town of Bergamo. I have already put a big mark on the calendar that day.
Back home now, I keep on training as the winter approaches. I will spend some time in the gym again until Christmas and will try to survive the cold day by day.
Until next time,
Marco