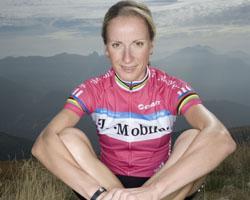 Photo ©: T-Mobile
The Judith Arndt diary 2007
With her T-Mobile teammate Kimberly Baldwin retiring at the end of 2006, Judith Arndt takes over the reigns to write a diary for Cyclingnews in 2007. Deemed as one of the world's best female cyclists, Arndt already has World Championship titles on both the track and the road - winning the 3000m Individual Pursuit in 1997 and the road race in 2004. She has also proven to excel in longer tours, having won the challenging Tour de l'Aude twice in the last five years.
Arndt is an 18-time German Champion; she has won eight World Championhip medals on the track and placed second in the Olympic Road Race in 2004. As well as her impressive list of results, Arndt is known as a generous rider, willing to play the role of domestique to help her teammates to many victories. Stay tuned to Cyclingnews for Judith's account of her 2007 season with T-Mobile.
February 1, 2007
Bring on the new season!
The resort is a luxurious one
Photo ©: Shane Stokes

As the new year arrived I packed my bag and my bike and took off to Majorca, the cycling-mad Spanish island. It's definitely the place to go if you are either the owner of a race bike or a German pensioner! Usually at this time of the year Majorca is half athletes and half oldies sharing the hotels and they get along quite well - except the breakfast and dinner buffets turn into battle fields sometimes. It's understandable though, the cyclists are always hungry and the oldies excited for their daily highlights, so everybody wants to be first.
Anyways, the T-Mobile team stayed at the Robinson Club in Cala Serena. As we have enough people to completely occupy the club, at least it was a relaxing time during the meals!
It was the second time, after the two day meeting in Lugano last fall, that our whole team has come together. I think all of us had been looking forward to this team camp because it was supposed to become a really big thing!
T-Mobile's women's team
Photo ©: Photosport International

Everybody who is involved in both T-Mobile and the cycling team met there: women's team, men's team, all staff members, different kinds of coaches, doctors, lots of VIPs from the T-Mobile company and media people. It was not boring to get to know all those people for sure, I was asking and answering a lot of questions.
We had no time to get bored anyway, since our days have been extremely busy throughout the whole time! Every morning we had to get up at 6.45am.
For the first morning my room mate, Emilia [Fahlin], set her alarm - which played the sound of the Swedish national anthem! At night, before we went to bed, I thought this idea was funny, but when this song played at full blast in the middle of my dreams I was not so amused. Once the fright had disappeared we both agreed that national anthems are not suitable for early morning wake up calls.
At seven o'clock the daily core strength class began. The goal of these lessons was to develop more stability, especially in the trunk. It was quite interesting to learn the new exercises, and I think it also makes sense to get more stable first, before building up strength.
After breakfast we always had time to spend some hours on the bike before the tight afternoon and evening schedules took over with nutrition works shops, media training lessons, more physio testing, filming, meetings and so on. No time for taking naps or hanging out at the pool bar!
She's only 18, but Swedish rider Emilia Fahlin
Photo ©: Shane Stokes

Another big event was the team presentation which took place in the club theatre. A bunch of journalists arrived on a charter flight in the morning of January 13, and while we were rehearsing they got to catch some sunbeams (sunlight) to become good tempered before watching the big magenta show on stage.
I think our presentation was pretty successful, since the atmosphere was relaxed and nobody misbehaved or said something wrong. I hope the journalists found it interesting and will use all the information they got to report a lot about us (especially about the women's team of course!).
After the presentation day was over, it was a bit more quiet for us and we even had time to visit the bar at night to have some non-alcoholic drinks and to meet the boys.
One night the three ladies from our management team and our soigneur, Joel, came up with a little entertainment program for us. They put funny dresses on and played Singstar (a playstation game). Although their show was pretty convincing, I still think they should stay coaching and managing us.
Former world champion Judith Arndt
Photo ©: Shane Stokes

There's no doubt about Joel being the ultimate Singstar. However, playing that game everyone could show their multi-talented side to the team. We got to enjoy lovely cover versions of some super hits - the highlight was definitely Kate [Bates] & Alexis [Rhodes] as Sonny & Cher.
I think everybody in the team left the camp really motivated to start racing soon! Kate and Alexis already have won a couple of the Australian national races, and we others really want to do the same!
We have so much support from all sides, have learned so many new things and received a lot of positive feedback - the only thing missing now is the opportunity to show that we are really good.
Our first race as a team will be the Geelong Tour which starts on February 27. There we finally get the chance to go out and try to win, or at least perform well.
It just feels weird when you take not only all the nice material things but also the knowledge, good advice and the positive energy of so many different people - and don't have the possibility to give something back yet!
The start line of the season is almost in sight, and we are more than ready to go!
Judith
See also: Cyclingnews' coverage of the T-Mobile team presentation