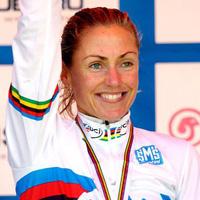 Photo ©: Rob Jones
On top of the world: The Gunn-Rita Dahle FlesjŚ diary 2007
Norwegian cross-country mountain bike racer Gunn-Rita Dahle FlesjŚ is probably the best female rider this relatively young branch of the sport has ever seen. World champion in 2002, 2004, 2005, and last year as well, plus Olympic champion in 2004, and rarely beaten in her reign as World Cup champion from 2003 - 2006, she has a breathtaking palmares.
Dahle says her success is due to an unrelenting focus - she describes herself as a '24-hour athlete' - and the constant support of her husband and coach Kenneth FlesjŚ. Follow her exploits on Cyclingnews as she continues her bid to stay number one in 2007. Or, for more Gunn-Rita, see her personal website: www.gunnrita.com
December 23, 2007
Christmas present of the year
A stealthy black color
Photo ©: Gunn Rita Dahle FlesjŚ

The most incredible Christmas present is already standing gleaming in our living room. This package of surprises was torn open a whole week before Christmas Eve, and inside I found the prototype for the Merida "Beijing" full suspension bike. This Christmas present will be flying along with us to Boulder, where we'll be training in a week from now.
It was on Monday evening that Kenneth came home to me with the most amazing Christmas present of all, a dazzling bicycle which will hopefully contribute to a sizzling season of 2008. I've sat on the bike, adjusted it here and there, but the fine adjustments necessary for the best possible positioning will be done with Andy Pruitt in Boulder in the beginning of January.
Kenneth's trip to Germany and Merida Europe on Monday was super-quick this time. He made a good exchange, I'd say. Norwegian chocolate in return for a mind-blowing bicycle :
New house up
The new house
Photo ©: Gunn Rita Dahle FlesjŚ

Yesterday afternoon we went to the building site of our new house together with the construction manager, John, and representatives from the company building the house, KleppHus, the kitchen manufacturers (Helge from Scandinavian Kjøkken) and our own fathers, "Father" and "Dad". The house is now up, windows in place, and we got to clamber through the various levels, imagining how it's all going to be when it's finished. Next time we see the building site won't be before the beginning of March. By then most of the outside of the house will be installed, so it'll be very exciting to see it.
Precious little Yuletide stress
Gunn-Rita check out construction
Photo ©: Gunn Rita Dahle FlesjŚ

Apart from that, the days are passing quickly and soon it'll be Christmas again. I've got everything prepared for Christmas Eve and haven't had much stress at all this time, since we don't have a guest-list for our home this year. This Christmas we're relying on our families - we'll be guests this year. We'll just have to make it up to everybody some other time. All the presents have been bought. Kenneth has also done all his preparations and there's nothing more to worry about. I think more people should do like us.
This evening I'm leading a spinning class with a group from Shell - an enjoyable and sweaty occasion right in the middle of Christmas preparations. A break, in the form of some kind of daily physical activity, should be a natural choice for almost everybody during this final lap. It both relaxes you and gives you new energy.
Tomorrow evening I'll be visiting the hair salon at Bryne for a haircut. We'll also be doing a small round to deliver presents and goodies to family, friends and good supporters. We'll finish off the final Christmas shopping tomorrow afternoon at Coop Mega at Madla where you can buy practically anything you want of delicious and traditional Christmas food.
We're really looking forward to lots of fun with our closest family, plus delicious food and wonderful training trips. Yummy food always tastes best when you're hungry, and you don't get properly hungry before you've been out and actually used your body physically. Use these days of holiday to their fullest potential - decide on a specific time and date for that mountain hike that you normally just go around dreaming about. A holiday season like Christmas should primarily leave us rested and revived, and should fill us with positive energy and happiness.
Kenneth and I wish you all a wonderful and physically active Christmas. You'll hear from us again in the New Year, at which time we'll be on the other side of the globe!
Christmas hugs from Gunn-Rita
Multivan Merida Biking Team
www.gunnrita.com
Translation by Crispen T.P. de Lange
Photography
For a thumbnail gallery of these images, click here
Images by Gunn Rita Dahle FlesjŚ