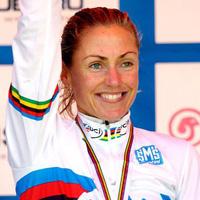 Photo ©: Rob Jones
On top of the world: The Gunn-Rita Dahle FlesjŚ diary 2007
Norwegian cross-country mountain bike racer Gunn-Rita Dahle FlesjŚ is probably the best female rider this relatively young branch of the sport has ever seen. World champion in 2002, 2004, 2005, and last year as well, plus Olympic champion in 2004, and rarely beaten in her reign as World Cup champion from 2003 - 2006, she has a breathtaking palmares.
Dahle says her success is due to an unrelenting focus - she describes herself as a '24-hour athlete' - and the constant support of her husband and coach Kenneth FlesjŚ. Follow her exploits on Cyclingnews as she continues her bid to stay number one in 2007. Or, for more Gunn-Rita, see her personal website: www.gunnrita.com
Norway, September 16, 2007
Wonderful days gone fishing
We caught a big load of fish this weekend, and Kenneth was the clear winner in terms of quantity. This evening, however, it's time for revenge here on the ocean outside Stavanger. Fishing with rods from the rowing boat has provided us with valuable time off, in between all the training.
We had a slow-paced and relaxing weekend at the family cabin in Jøsenfjorden (Suldal) where we had plenty of time to fish. After our first training stint on Saturday morning, Kenneth disappeared down to the sea and stayed there for the rest of the day. I wasn't able to join him until after a ride later in the afternoon, and by then Kenneth had managed to catch more than 15 fish. Most of them were large, fat pollacks, but he had also managed to catch a few mackerels and a horrific-looking wrasse.
On Sunday morning we awoke to cloudy weather, but with glimpses of blue sky, 13 degrees and an incredible quietness. The fjord lay like a mirror, not a breath of wind, so the only thing to do was to jump into our clothes and get out into the boat. It's only a little rowing boat with two oars, nothing fancy, but then and there it really felt luxurious. No racket from cars, completely calm water, no two-legged individuals for many miles, fresh sea air, a couple of seagulls gliding around, and wild mountains on either side of the boat.
We caught a lot of fish. Kenneth used his fishing rod and I used another fishing tool called a "harp". We mostly caught large and beautiful pollacks, but also some mackerel, plus a strange little bright red fish which seemed to be completely worn out when we got it into the boat. We showed mercy this time and let it go again. One fish ended up as dinner for our two flying friends in the air. A wonderful day on the sea, balsam for body and soul.
Birthday boy
On Sunday afternoon we went back to Stavanger, where I had prepared a small surprise for Kenneth. He was having his birthday on Monday, so I had invited the whole family and good friends over to Restaurant Mexico in Stavanger on Sunday evening. Kenneth didn't suspect a thing and was really caught off his guard. It was great meeting up with the family and our dear friends again - a fantastic group which always backs us up no matter where we are in the world. Next year we'll definitely have a huge party, as Kenneth is turning 30 then.
Eurobike
Last weekend I visited the Eurobike expo in Friedrichshafen, attended by many thousands during the four days that the expo lasts. On Friday evening we had a huge dinner together with all the Merida dealers in Europe, just as we've done in previous years.
I guess there were around 70 guests at the dinner, and I really enjoyed meeting all of them again. I unfortunately managed to catch a cold just before leaving, so I wasn't feeling too good and didn't have much of a voice. But even so I got to experience the great enthusiasm and optimism which is very present in the Merida family the world over, as all our dealers are doing particularly well these days.
I also got to meet my team-mates on this evening in Friedrichshafen: Ralph Näf from Switzerland, and Jose Hermida from Spain. They were totally fit for fight and ready for the World Championships. Ralph won an impressive silver medal on Saturday in Fort William, Scotland, and was naturally very happy with that result... all done on the most radical full suspension bike in the world.
Apart from that, it was great to get going on some systematic training again. We're going to be using September and October to gradually increase intensity levels, adjusting output daily. We're hoping for a well-balanced progression during these two months so we're ready to start our usual winter training program from November 1 onward.
Our days here at home pass very quickly and we have more than enough to keep us busy. We've travelled a bit back and forth to Oslo during the past two weeks, and there'll be a few more of these trips through the autumn. Various appointments and activities for sponsors are very usual at this time of year, so they're already in place in our autumn schedule.
This coming weekend we're going to Oslo to take part in the Nordspo on Bike Expo, which is to take place at Tryvannskleiva on the September 15 and 16. On Friday we'll take part in a kick-off evening at Røa with Stians Sport, where next year's selection of bikes and equipement will be presented in a somewhat informal atmosphere, accompanied by food and music. It's guaranteed to be a really enjoyable evening together with many different types of cycle enthusiasts.
Next fishing trip
This evening we're going out to try our luck fishing again, and I'm very set on revenge this time. Sure enough, Kenneth did catch a few more fish than me this last weekend, but now I get another chance. We have a couple of friends, Brit and Thorbjørn, who have invited us out in their boat which is now waiting in the water at Roalsøy where they live. First we'll fish a bit on the fjord, and then we'll stop to barbecue on Langøy (probably a very quick stop) and then more fishing.
Next week we're off to Beijing to test the Olympic track and do a bit more preparation at the pre-camp in Jixian. We're guaranteed some exciting and instructive days there. The first weekend in Beijing we've been invited out to a delicious dinner together with the Merida boss in China, Simon, and some of his colleagues, so that'll be a great evening and a happy reunion for us.
Now I have to fetch all my warmest hiking clothes and good shoes, and then pack the cool-bag with food. Kenneth's responsibility is to bring the fishing tackle. I wish you all a good week of exercise, and always remember to take time for relaxation surrounded by beautiful nature and quietness
Cycling hugs from Gunn-Rita and Kenneth
Multivan Merida Biking Team
www.gunnrita.com
Translation by Crispen T.P. de Lange