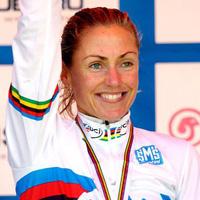 Photo ©: Rob Jones
On top of the world: The Gunn-Rita Dahle FlesjŚ diary 2007
Norwegian cross-country mountain bike racer Gunn-Rita Dahle FlesjŚ is probably the best female rider this relatively young branch of the sport has ever seen. World champion in 2002, 2004, 2005, and last year as well, plus Olympic champion in 2004, and rarely beaten in her reign as World Cup champion from 2003 - 2006, she has a breathtaking palmares.
Dahle says her success is due to an unrelenting focus - she describes herself as a '24-hour athlete' - and the constant support of her husband and coach Kenneth FlesjŚ. Follow her exploits on Cyclingnews as she continues her bid to stay number one in 2007. Or, for more Gunn-Rita, see her personal website: www.gunnrita.com
Rovereto, Italy, August 15, 2007
Training in Italy
Another week of training camp here in Italy is complete. I'm still not feeling totally well, but things are moving forwards. Ten weeks with hardly any exercise has left me feeling out of shape, and I have to accept that the racing season is over for me.
So I won't be participating in any more competitions this season. After such a long absence from training, I need time to rebuild my strength. It would be starting at the wrong end if I was to start racing again in a couple of weeks. The highest priority is to allow my system a full recovery, get in a few normal training weeks, and then take on the winter season in October.
Even so, I'm optimistic about the situation, and I think we will emerge strengthened from what we've been through. An unwelcome break like I've had is without doubt good for my body, after so many seasons of high intensity and incredible results. The season of 2008 is both exciting and important, and it's good to meet it with a well rested and well prepared body and mind.
It's been challenging to be forced to take it easy these weeks since the end of May. I certainly don't enjoy the feeling of being out of shape. My body has been crying out to me that rest is the best and only medicine that will help me recover my energy after having competed and trained with the virus and stomach bacteria in my system.
Beautiful up north
We're still here in the north of Italy, in the town of Rovereto, south of Trento. This is an unbelievably gorgeous region for those who like a bit of dramatic nature, with mountains and hills, castles and citadels on both sides of the valley, and the river running through here. We're staying in a fantastic area which offers interesting history, beautiful nature, delicious Italian cuisine (it's impossible to get tired of Italian pizza when you're here), fantastic wines and endless opportunities for both hiking and biking.
We're staying here for a good week more. After that, I'm leaving for Stuttgart to take some photos for a "spicy" calendar for 2008. Merida is naturally involved in the project. And the Shell cycling race in Stavanger will be highly prioritized by us on August 19. The race goes via four Shell petrol stations around the Hafrsfjord so that both young and old can have a great experience on their bikes that Sunday. After that, I'll be taking part in the Norwegian bike race Birken as a natural part of my cycling season, even though I won't be taking part in the elite class.
Then I'll be heading for the world's largest bike expo, EuroBike, with the Multivan Merida team, and I expect some very exciting days there. Kenneth and I will naturally be leaving for Beijing to test out the Olympic conditions on September 22. No matter what shape and form the race there takes, this will be a very important trip for my preparations before the Olympic season next year.
It's going to be absolutely wonderful to get going on my exercise and normal work days again. I know it's going to be tough to come back again, but I'm looking forward to the work and challenges, and so is Kenneth.
We're enjoying relaxing days here in Italy, endeavouring to be a little bit lazy without having a bad conscience about it. In contrast to previous summers, I've been able to lie in the sun and get a tan this summer, so I have lines from my bikini instead of from my cycle T-shirt and shorts.
I hope you're all enjoying a great and active summer wherever you are. A smile and a touch of optimism goes a long way, and this is the philosophy I'm following these days.
Cycling hugs from Gunn-Rita and Kenneth
Multivan Merida Biking Team
www.gunnrita.com
Translation by Crispen T.P. de Lange