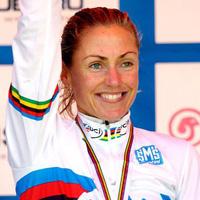 Photo ©: Rob Jones
On top of the world: The Gunn-Rita Dahle FlesjŚ diary 2007
Norwegian cross-country mountain bike racer Gunn-Rita Dahle FlesjŚ is probably the best female rider this relatively young branch of the sport has ever seen. World champion in 2002, 2004, 2005, and last year as well, plus Olympic champion in 2004, and rarely beaten in her reign as World Cup champion from 2003 - 2006, she has a breathtaking palmares.
Dahle says her success is due to an unrelenting focus - she describes herself as a '24-hour athlete' - and the constant support of her husband and coach Kenneth FlesjŚ. Follow her exploits on Cyclingnews as she continues her bid to stay number one in 2007. Or, for more Gunn-Rita, see her personal website: www.gunnrita.com
Northern Italy and Southern Tyrol, August 9, 2007
Back on my bike
Northern Italy and southern Tyrol are fantastic areas for those with a penchant for beautiful nature, mountaineering, wine, cycling, good food and lots of sun. It's paradise for me as I now am back in training and cycling a bit again.
We've already been down here for a week and I'm feeling better every day. We've had one overcast afternoon and a couple of rain showers, but apart from that the sky has been blue with temperatures approaching 30 (degrees Celsius). We're living in the outskirts of Bolzano and we're really enjoying ourselves.
This last week I've been able to exercise for 10-12 hours and at present that's more than enough for me. After two months with almost no exercise, I'm in very poor shape. Even though my latest tests have shown normal levels again, it doesn't mean that I can just start up training as usual. This break has been very long and my body isn't ready for normal doses of exercise quite yet.
The good thing is that I feel great and have made a start on the exercise again. It's difficult to tell whether I'll be able to take part in any races before this season is over. The biggest mistake we can make is for me to start up too hard and get sick again. We're hurrying slowly. If we fall for the temptation of starting too hard, we run the risk of not being able to get going on our winter training programme, which will in turn have grave consequences for the Olympic season.
Lessons from the break
Even if the result is no more races this season, both of us have at least learned a lot from this experience. When, at the end of May, we decided to suspend the season for a while in order to go home and run some tests to find what was wrong, we imagined it would take a maximum of two to three weeks to get me back on my feet again.
It all started with me having to cut out a Bundesliga race in Albstadt, the weekend before the World Cup in Offenburg, because of stomach pains and diarrhea. I had been feeling weak and listless through the whole week and had been sleeping more than usual. We had just completed a very tough period of training and competitions, so I reckoned that the tiredness was a natural symptom of this.
But when I also started getting stomach problems and had to drop an important race, we began to realize that something might be wrong. Even so, we prepared ourselves as usual for the approaching World Cup at Offenburg on May 27. We focused on everything that could enhance energy levels and I did feel a little better in the days before the big race. I was looking forward to racing, as I was ranking as number two in the World Cup.
I knew that I was in very good shape and that I was capable of competing with the very elite, even though I wasn't feeling too great. My stomach had begun to calm down, but I was still feeling somewhat weak. I managed to fight my way to a great third place, but it ended up costing me far more than the medal was worth.
The day after the race we left for Switzerland to exercise for two weeks and to prepare for the next World Cup. I was feeling even worse than before, weak and tired and my stomach was really playing up again. I had to rush for the toilet the second I ate anything and I was sleeping all the time. After a week of this, we packed our suitcases and got on the first flight home - disappointed but also relieved to have made this decision. A good physical condition and a healthy body is a must in our line of work.
The blood tests showed there was a virus in my body and the doctor told me in no uncertain terms that I should take this very seriously. The best and most correct medicine for me in my condition was to rest. Moreover, stool samples, which take longer to process at the lab, showed a type of bacteria which shouldn't be present in my digestive system.
So I embarked on a week of tough penicillin which doubtlessly wiped out both the good and the bad bacteria in my body. Indeed, it might sound to you as if I don't like taking medicine, and that's quite right. Penicillin is poison for the body, but this time I had no choice. I knew that I had to continue resting for many weeks, so it didn't really make any difference anyway.
Looking back on the period when the first symptoms appeared, we definitely should have suspended the season earlier than we did, but as usual it's very easy to be wise in retrospect. I was in exceptionally good shape when the virus and unwelcome bacteria turned up, and was therefore able to perform at a very high level even with bugs in my system. We've had to pay dearly for that today.
Cycling hugs from Gunn-Rita and Kenneth
Multivan Merida Biking Team
www.gunnrita.com
Translation by Crispen T.P. de Lange