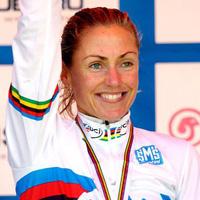 Photo ©: Rob Jones
On top of the world: The Gunn-Rita Dahle FlesjŚ diary 2007
Norwegian cross-country mountain bike racer Gunn-Rita Dahle FlesjŚ is probably the best female rider this relatively young branch of the sport has ever seen. World champion in 2002, 2004, 2005, and last year as well, plus Olympic champion in 2004, and rarely beaten in her reign as World Cup champion from 2003 - 2006, she has a breathtaking palmares.
Dahle says her success is due to an unrelenting focus - she describes herself as a '24-hour athlete' - and the constant support of her husband and coach Kenneth FlesjŚ. Follow her exploits on Cyclingnews as she continues her bid to stay number one in 2007. Or, for more Gunn-Rita, see her personal website: www.gunnrita.com
Stavanger, Norway, July 12, 2007
Loooooong days at home
Five weeks usually disappear in a flash, but these days that I've been forced to spend at home in Stavanger in the middle of the cycling season have really dragged by. A lack of energy and strength has meant that I haven't been able to exercise or do much of anything else.
I've just completed a week of strong antibiotics against the stomach bacteria which were discovered in my tests just after our arrival at home. We had to wait for the results of those tests for two whole weeks. I prefer to avoid taking this kind of medicine, but right now I simply have to do as the doctor says so that I can get well again.
I've experienced a little improvement this week. I can feel my strength and energy levels slowly rising again, which should be expected after such a long rest! Now the challenge for me is to not become too excited and eager, and avoid exercising too hard and too much these coming weeks. This week will be a sort of warming up week, with about 10-12 hours of exercise at low intensity.
If my body can cope with these doses, I can increase the intensity a little the following week, and maybe be able to take part in the Norwegian championships in Drammen in two weeks. It would be great to just get to take part and complete a race now with a good feeling. Top results will have to wait.
I've spent this last week at the cabin with my parents. They have a cabin by the sea by Jæsenfjorden in the region of Ryfylke. It's a beautiful place where one can enjoy fantastic nature and quietude.
I've read a lot (The Snowman by Joe Nesbø) and fished a lot both from land and from the boat. Cod, pollack, mackerel and herring. I even caught two ballan wrasse with my fishing rod. The weather was great, so these have been some wonderfully relaxing days for me. I left for Stavanger again on Saturday afternoon and spent my Saturday evening watching a good film together with Kenneth here at Tjensvoll.
The European Championships are being held next weekend, but I naturally can't take part, as I've hardly even seen my bike for five weeks. Kenneth is leaving together with Lene tomorrow, and I'm staying home. If I'm able to start exercising a little this week, I expect the days will pass quickly.
I'll be going in to take a few more blood tests tomorrow and I really hope that everything is back to normal in my system and that my energy will start to return. This is probably the price I have to pay for having competed and exercised hard for many weeks whilst having the virus and bacteria present in my body without knowing it.
I hope that next time you hear from me I'll be back on my bike again and ready for new challenges off road. I wish you all a continued wonderful and active summer no matter where you might be.
Cycling hugs from Gunn-Rita and Kenneth
Multivan Merida Biking Team
www.gunnrita.com
Translation by Crispen T.P. de Lange