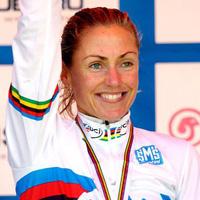 Photo ©: Rob Jones
On top of the world: The Gunn-Rita Dahle FlesjŚ diary 2007
Norwegian cross-country mountain bike racer Gunn-Rita Dahle FlesjŚ is probably the best female rider this relatively young branch of the sport has ever seen. World champion in 2002, 2004, 2005, and last year as well, plus Olympic champion in 2004, and rarely beaten in her reign as World Cup champion from 2003 - 2006, she has a breathtaking palmares.
Dahle says her success is due to an unrelenting focus - she describes herself as a '24-hour athlete' - and the constant support of her husband and coach Kenneth FlesjŚ. Follow her exploits on Cyclingnews as she continues her bid to stay number one in 2007. Or, for more Gunn-Rita, see her personal website: www.gunnrita.com
Stavanger, Norway, June 20, 2007
Waiting out the virus
Apparently it's a stomach virus that's been ravaging my system for the past week and gradually tapping me of my strength and energy. Two weeks with very little exercise here at home in Norway has been good for my body, and the most recent tests show that the virus is on its way out of my system. The prescription for the next weeks is to "hurry slowly".
It's been many years since I've been at home in Norway in the month of June, and it wasn't part of our plans this year either. We usually look very much forward to getting home to Stavanger, to our house, home and family. But when the plan for the season dictates bike racing and preparations for championships, being at home seems very much out of place.
Our doctor Knut Gabruelsen brought us the good news this week: that the last blood tests which were taken at the beginning of the week were approaching normal levels again. That means that the virus is on its way out of my body again. I still feel very weak and tired, so I probably have to be patient for another couple of weeks. The biggest mistake we can make now is to start up too hard and too early, and risk a setback. If that happens, a full recovery will take a very long time indeed.
Gunn-Rita Dahle FlesjŚ
Photo ©: Rob Jones

These two weeks at home have given us long and warm days. I haven't had enough energy to do all that much, but we've had a few activities even so. Amongst other things, we've been fresh-water fishing. I had to invest in a new fishing rod, while Kenneth had the opportunity to test out some of the array of equipment he's been collecting for the past years. We seldom have time for this kind of thing, as we're out travelling practically all year long.
I naturally managed to write angling history in a very short time on this single day of fishing. Yes - the kind of fishing stories that I'm bound to be confronted with for the rest of my life, to the great enjoyment of anybody listening. On my first cast, the hook got stuck on the bottom… Very soon my fishing line got in a complete tangle in the spool… and so it continued. I at least caught the first fish of the day! It was, however, so tiny that it only spent a very short period up on land.
Apart from fishing, I've been at the birthday party of Kenneth's granddad on his mother's side, Reidar, who turned 75 last Monday. He's a fit man who cycles 50 kilometres every day on his fantastic Merida magnesium bicycle. He's often out in his boat and does a lot of gardening.
We've also had a trip to Bryne to visit the hair stylist at Frisørsenteret. This time only Kenneth had his hair cut, as I'm "saving" mine. I received lots of goodies from Goldwell so my curls get the correct nutrients.
The fantastic weather has tempted us to barbecue a lot out on the patio where we live, and it's been lovely. I've also visited my sister Peggy at her shop, Lyst, and have found lots of exciting and nice clothing. Lots of great stuff has arrived from the Norwegian brands Mikko and Lyst, so now my wardrobe is also satisfied.
I probably won't be going to Canada next week and therefore no participation from me in the two World Cup races taking place over there. The first possibility to race for me will hopefully be the European Championships in Turkey on July 15. It's not good to be in this present situation, but I know that the most important thing now is to regain my health. That's really the case for all of us, no matter what we do.
This evening we're going to visit Mother and Father at Bjørheimsbygd. We're going together with my sister, Peggy, and her boyfriend, Espen. It's guaranteed to be a wonderful evening with delicious barbecued food together with good friends. This weekend Kenneth is going out to fish together with his brother, Frode, while we relax here at home. We'll probably take a trip to the cinema next week, and we'll bring along Kenneth's two youngest siblings, Nicolas and Henriette. And I have a dinner appointment with my good friend Brit.
I know that rest, restitution and relaxation must be the main ingredients of my training plan for the next two weeks, and I think I can handle it. The bonus this time is that we get to spent a lot more time with family and actually get to experience a bit of the Norwegian summer here at home. We really appreciate it, but I certainly hope it's a long time 'til next time.
Cycling hugs from Gunn-Rita and Kenneth
Multivan Merida Biking Team
www.gunnrita.com
Translation by Crispen T.P. de Lange