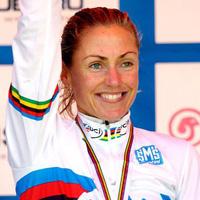 Photo ©: Rob Jones
On top of the world: The Gunn-Rita Dahle FlesjŚ diary 2007
Norwegian cross-country mountain bike racer Gunn-Rita Dahle FlesjŚ is probably the best female rider this relatively young branch of the sport has ever seen. World champion in 2002, 2004, 2005, and last year as well, plus Olympic champion in 2004, and rarely beaten in her reign as World Cup champion from 2003 - 2006, she has a breathtaking palmares.
Dahle says her success is due to an unrelenting focus - she describes herself as a '24-hour athlete' - and the constant support of her husband and coach Kenneth FlesjŚ. Follow her exploits on Cyclingnews as she continues her bid to stay number one in 2007. Or, for more Gunn-Rita, see her personal website: www.gunnrita.com
Champery, Switzerland, June 4, 2007
An interrupted cycling season
Racing at the Offenburg World Cup.
Photo ©: Rob Jones

Unfortunately I am forced to interrupt my cycling season for a spell. I have had diarrhoea and stomach pains for a good two weeks now, and my body is being sapped of steadily more energy every day. I am now returning home to have some tests to find out what's wrong.
We left directly for Champery after the last World Cup race, which was held in the German town of Offenburg a good week ago. I didn't have a very good preparation period for that race, as the diarrhoea and stomach pains hit me the weekend before, and have been with me ever since. I felt somewhat better before this weekend, and it felt like both my tummy and I were heading for better health. However, I probably shouldn't have taken part in the race last weekend as I have really had to pay dearly for that effort through this past week.
I've done very little exercise and rested a lot here in the Swiss village of Champery this last week, without it having any positive impact at all. This coming weekend there is a new World Cup race up here in this mountain village and I unfortunately have to pass.
Third place in Offenburg.
Photo ©: Frank Bodenmuller

I'm leaving for Stavanger this evening in order to take the necessary tests in the hopes of finding out what's messing up my system. From my own experience I know that it is imperative that I prioritize my health, so all competitions and exercise must wait.
The most important thing now is to get lots of rest for a couple of weeks, implement the necessary measures based on the test results, and simply recover completely before I can lay any new plans. Even though I miss out on one or maybe more World Cup races, it's not important compared to recovering my health. There is still a lot of the season left and there are still many weeks before the first World Championship.
We try to maintain an optimistic attitude and are leaving for home in good moods, in the hopes that I'll soon be back on my bike again. I certainly hope that I am the only one that is forced to interrupt an exciting and enjoyable summer of cycling due to sickness. Good luck with all challenges and competitions you might be facing in the coming weeks. Enjoy your days, with great trips out into nature.
Cyclist's greetings from Gunn-Rita and Kenneth
Multivan Merida Biking Team
www.gunnrita.com
Translation by Crispen T.P. de Lange