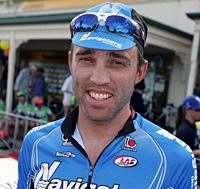 Photo ©: Mark Gunter
The flight of a Navigator: The Glen Chadwick diary 2007
Native New Zealander Glen Chadwick, current national time trial champion and a former Team Cyclingnews racer, continues his career as a second-year member of the Navigators Insurance team.
Follow 'Chady' as he races with the US-based team throughout North America and the rest of the world.
February 15, 2007
Life in Albuquerque
Hi Troops,
My last entry saw the finish of the TDU and a bit of R&R with Belle, my wife, and Jade, my precious 10 month-old.
So now after saying goodbye to my little family in Adelaide, I jumped on a plane that saw us fly via Kuala Lumpur (DVD collection has now grown) and then a quick stop in Taipei. From there we could finally begin our epic journey across the Pacific for our first team get together in Albuquerque, New Mexico. Upon arriving in Albuquerque, we were graced with slightly cooler weather than usual, I think it was kicking around the 5°C mark when we left the airport and headed to the Embassy Suites hotel overlooking the city.
Shopping in Kuala Lumpur.
Photo ©: Glen Chadwick

A very nice hotel indeed and they really looked after us for the two week camp. The hotel was so shiny that even a few celebs had decided to stay there while shooting a movie somewhere around town. Charlize Theron, Susan Sarandon, Tommy Lee Jones and apparently Vin Diesel had all heard that Navigators and TEAm Lipton were down here for a training camp, so all wanted to do a movie that was shooting down here. Susan, or Susie as I like to call her, had also decided to come down and have breakfast with the stars (Navigators) one morning, so it was great catching up on old times with her that's for sure!
The Dream - A Colnago Dream HP,
Photo ©: Glen Chadwick

Anyway back to the camp, everyone had arrived by the second day and we could meet all the new faces of the squad. An 18-rider line up and some real depth and strength this year! The temps weren't getting any more inviting and just as well, it snowed a few nights into the camp which led to Santa Claus turning up and dropping off copious amounts of clothing and some beautiful Colnago C50s and Dream HPs. Some cyclists may tend to show that they aren't excited about getting heaps of new stuff, but deep down every rider rates it! The steeds this year are once again a work of art, race bikes (C50s) with Record and training bikes (Dreams) with Chorus. The only real change this year are the saddles, we're running Selle Italia this year and my Teknologika saddle weighs in at 95grams so no complaints there!
The first few days we punched out 3–4 hour rides, and kept it steady as we were cruising at an altitude of 5,000 feet. The next few days saw us focusing on team, individual and action photos which still saw us riding our steeds but had a few pauses. Towards the end of the photo session days, we headed to the Hyatt Regency Tamaya Resort & Spa where we were treated to an afternoon of spa 'n' sauna action - and after a 5 hour ride in 0–5°C temps it was truly welcomed by everyone!
The Tamaya resort
Photo ©: Glen Chadwick

The Hyatt is built on an Indian Reservation, which are located all over New Mexico. Every tribe has its own reservation which were allocated to them many moons ago, this one being the Tamaya Tribe reserve hence the Hyatt's name. Juan Pablo Garcia-Neveu really turned on the hospitality and served us up an awesome meal after the pampering in the spa. The following day we came back to the resort and finished off with team photos, the back drop being the Resort. You can check the resort out at www.tamaya.hyatt.com - well worth a look.
Once the photos were out of the way we could get down to some good rides and hit some mountains. We climbed the mountain shadowing Albuquerque which still had snow on it, the roads were pretty much clear except on a couple of sections. One icy section snuck up on us and it happened to be on a short down hill section on the way up. It was a matter of oh shit and hang on! You really had no control and ya just let fate ride this one out. All of us stayed upright. The other snowy sections were while climbing so that was a bit easier to negotiate.
The Navigators and TEAm Lipton class of 2007.
Photo ©: Glen Chadwick

The camp lasted around two weeks and was really good for getting to know everyone. Most of the new nicknames have been sorted out as well which was good considering normally you need a few months to sort them out. Some names just fell into place. Here are a few old and new ones but you'll have to figure them out:
Chady, Choco, Magic Man, Horse Power, Donkey, Hiltz, Kobza, Lagu, The Russian Concussion, Matt Damon, Drag Queen, Craig David, Teen Wolf, Wee Man, Dolly, Riverdance and Tex.
Some are obvious and some are spontaneous.
A big and final shout out goes to Charlie who's putting cycling in Albuquerque on the map, not only for team camps but also for BMX, with a massive state of the art complex and also plans for a velodrome. He helped a lot with our camp with the organizing of our meals at several restaurants throughout the camp and anything and everything we needed. Thanks Charlie!
Next up for a few of us will be heading out to San Diego for a couple of days for some wind tunnel testing on our TT bikes. Should be cool!
Also this year I'll have a couple of trackers at the bottom of my entries - the first one being Hours on a Plane (sequel to Snakes on a Plane but a bit more interesting)
Hours on a plane in 2007 – 38 hours, 30 minutes
Glen Chadwick
Photography
For a thumbnail gallery of these images, click here
Images by Glen Chadwick