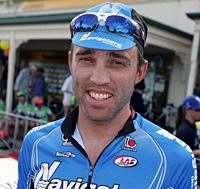 Photo ©: Mark Gunter
The flight of a Navigator: The Glen Chadwick diary 2007
Native New Zealander Glen Chadwick, current national time trial champion and a former Team Cyclingnews racer, continues his career as a second-year member of the Navigators Insurance team.
Follow 'Chady' as he races with the US-based team throughout North America and the rest of the world.
January 21 - Stage 5: Adelaide City circuit, 81km
Another fantastic TDU
No rain today for the final stage but a hell of a lot of wind! The race was going to be a battle between two teams: Ag2r and the Aussie - UniSA team.
We had 18 laps to complete and the first time bonus sprint came with 10 laps remaining. We figured that the race would be controlled 'till at least that time bonus sprint and it was.
Elmiger managed to win it giving himself an even bigger advantage over Karl. The UniSA boys weren't gonna go down without a fight, but that Ochre Jersey had given Elmiger some extra HP [Ed: Horse Power] as a leader's jersey often does and took it right to the finish.
The final sprint was a hotly contested one with a few hands being raised between the sprinters as they crossed the line. Hiltz came out of the last corner in third, but got caught up against the fence and by the time he was able to back out of that and go again the race was pretty much over!
So that was the TDU for another year, another close one! I think the weather helped the Euros a lot this year for sure, normally the high temps really take their toll on the field and you see a lot more splits on the climbs.
But what a well organised event! More and more people are coming out to this event every year and it's an awesome buzz when you're riding amongst so many spectators. It's an event for any keen bike race fan to definitely experience some day!
I've got a few days now to kick back with Belle and Jade before heading off on Thursday to Albuquerque, New Mexico for a three-week training camp. After that I follow onto the Tour of California.
Hopefully The Governator will be there again this year and I might see him and catch up on old times.
So till next time: "I'll be Back"
Glen Chadwick