Recently on Cyclingnews.com
Barry Wicks and Jeremy Powers get a taste of Belgian mud at last year's Euro 'Cross Camp
Photo ©: Joseph Sales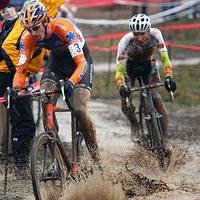 Across the pond: Euro 'cross camp V diary
For its fifth consecutive year, the Euro 'Cross Camp will travel to Izegem, Belgium for two weeks from December 20, 2007 to January 3, 2008, with some of America's most promising cyclo-cross talent. Euro 'Cross Camp Director and US National Team Coach Geoff Proctor selected 16 male riders to take on some of the toughest courses and strongest riders abroad and to prepare for the world championships in late January.
This year's camp is taking on a more youthful feel with just two elite riders, Ryan Trebon and Tristan Shouten, joined by eight juniors and six espoirs. The riders were selected based on their performances throughout the USGP Series. Coach Proctor and his riders will take turns contributing diary entries.
Belgium, January 2, 2008
Learning along the way
Ian Terry
Photo ©: Cycling-pics.be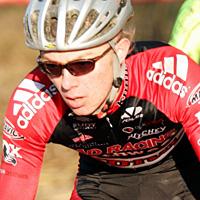 Racing in the Belgium Euro 'cross camp is like taking an intensive two-week long class on the finer aspects of 'cross. Which pit is faster, the first or second? 28 or 30 PSI for that curb at the start? Should I pass this group or sit on for a minute and take a little break? Should I even be thinking about taking a little break?
After spending some time here in Belgium racing, the answers to these questions begin to float to the surface and you start making fewer mistakes. I think an important lesson learned so far is to completely erase your bad memories right after a race and start fresh immediately. This is key when you're racing every other day and have many opportunities to improve.
Other than racing, not much else goes on here at the house. When Gavin, Eric, Steve, Jeremy and I ride every non-race day, we always make sure to sprint for the highly coveted town entrance signs. For us, the weirder the name of the town, the more prestigious it is to win that sprint. Our current favourites are Ingelmunster, as well as Kuurne, because of the famous road race that ends there. Our hometown of Izegem is also a good one because of the sketchy intersection followed by a curb that precedes it.
Ian enjoying the Christmas Eve
Photo ©: Tristan Schouten

When we are not riding, we are usually glued to the computer playing games like Max Dirt Bike and Gangsta Bean. My current fast time for Max Dirt Bike is 2:21, which is super-fast. However, it's really nothing to be proud of since it took about 30 hours of practice over the past week. Not something the normal person with a life, other than riding bikes and sleeping, should attempt.
Sometimes, on the rare occasion, we get out of the house. A few days ago, Eric and I made a trip to the local chocolate shop and having the soft spot we do for fine chocolates, we both bought a sizable box of them. Unfortunately, our house mom Els was quick to make us get them gift wrapped so we wouldn't break into them before we got home. Good call Els.
Today we raced the legendary urban Diegem race, and I concentrated on using what I had learned in my first few races to have a successful race. The first obstacle is always the start, which is a completely different ball game than those in the USA, mostly because of the sheer size of the field in the races here.
We get lucky if we are called up mid-pack in a group of 60-90 juniors. This automatically changes your race before the gun even goes off because you have no chance of seeing the lead group and instead have to focus on just moving up throughout the 40 minutes. Once you take off it is important not to take too many risks because a crash on the first lap, usually means a disappointing race. I learned this from another racer in Loenhout when he made an aggressive move before the pits, crashed and took me out. We were both forced to pull out with his broken spoke and my badly bleeding hand. In fact, having a good first lap is probably about 75 percent of the race over on this side of the pond. If you crash or dab in one of the first few turns, you may not see the guys that pass you in the process until you're pulling out of the parking lot afterwards. However, even if you do, the next day is always another chance to improve.
Being able to watch the elite's race on the same course that we've raced on earlier in the day is very insightful. We're constantly gasping at how fast they ride sections that we thought we absolutely railed during our race. Watching Sven Nys win three races this week has also been inspiring. Today in Diegem, he won by over 30 seconds and in the process, took a shot to the head from a crazy spectator on the run-up. Maybe he uses the same philosophy I'm starting to use, another day another race.
Ian Terry
Photography
For a thumbnail gallery of these images, click here
Images by Tristan Schouten
Images by Cycling-pics.be/http://cyclingpics.be
Below is a complete roster and racing schedule for this year's camp.
Elite Men
Ryan Trebon, 27, Kona-YourKey.com, Bend, Oregon
Tristan Schouten, 26, Planet Bike, Sheboygen, Wisconsin
Espoir Men
Jaimey Driscoll, 22, FiordiFrutta Elite, Jericho, Vermont
Danny Summerhill, 19, Clif Bar Development, Englewood, Colorado
Nicholas Weighall, 21, Rad Racing NW, Mill Creek, Washington
Mitchell Peterson, 21, Devo, Sandy, Utah
Carson Miller, 19, Fred Meyer, Bend, Oregon
Brady Kappius, 21, Clif Bar Development, Littleton, Colorado
Junior Men
Steve Fisher, 18, Rad Racing NW, Lynnwood, Washington
Gavin Mannion, 17, Hot Tubes, Dedham, Massachusetts
Eric Emsky, 17, Rad Racing NW, Fall City, Washington
Andrew Llewelyn, 18, Papa Johns, Louisville, Kentucky
Clayton Omer, 18, Papa Johns, Louisville, Kentucky
Jeremy Ferguson, 18, Team Spine, Rocklin, California
Zach McDonald, 17, Oberto/Redline, Bainbridge Island, Washington
Ian Terry 17, Rad Racing NW, Seattle, Washington
Racing schedule
December 22: Huijbergen, Holland (C1)
December 23: Balegem, Belgium (NE)
December 26: Hofstade World Cup, Belgium (CDM)
December 28: Loenhout Gazet Van Antwerpen Cup Series Race, Belgium (C1)
December 30: Diegem Superprestige, Belgium (C1)
January 1: Baal Gazet Van Antwerpen Cup Series Race, Belgium (C1)
January 2: St. Niklaas, Belgium (C2)