Recently on Cyclingnews.com
Barry Wicks and Jeremy Powers get a taste of Belgian mud at last year's Euro 'Cross Camp
Photo ©: Joseph Sales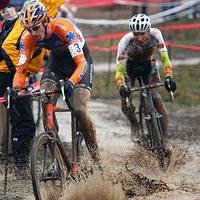 Across the pond: Euro 'cross camp V diary
For its fifth consecutive year, the Euro 'Cross Camp will travel to Izegem, Belgium for two weeks from December 20, 2007 to January 3, 2008, with some of America's most promising cyclo-cross talent. Euro 'Cross Camp Director and US National Team Coach Geoff Proctor selected 16 male riders to take on some of the toughest courses and strongest riders abroad and to prepare for the world championships in late January.
This year's camp is taking on a more youthful feel with just two elite riders, Ryan Trebon and Tristan Shouten, joined by eight juniors and six espoirs. The riders were selected based on their performances throughout the USGP Series. Coach Proctor and his riders will take turns contributing diary entries.
Belgium, December 30, 2007
A first World Cup
Gavin Mannion races
Photo ©: Cycling-pics.be

My first cyclo-cross World Cup was very interesting and different than anything I had ever done before. The day started off at 6:00 am with breakfast then the one hour drive in the dark to Hofstade. While driving there I noticed many billboards on the roadside advertising local cyclo-cross races, such as the Belgian National Championships. Although I have been in Belgium for a week it still surprises me when I see a billboard of Sven Nys. If these billboards were in the US, nobody would know who Sven Nys is or what a cyclo-cross race is, but in Belgium cyclo-cross is huge and all racers are well respected.
When we arrived at the venue around 7:30 am, it was still dark. Coming from the US, I am used to awakening to sunlight, even in the winter. In Belgium there is a lot less daylight, each morning after breakfast I find myself waiting until almost 9:00 am for the sun to some up before I can go for a ride. As I was riding the trainer waiting for the sun to rise I began to realize that I was actually at a World Cup. I began to notice the crowds of Belgian fans arriving and RVs belonging to names such as Sven Nys and Bart Wellens, names I had only heard of or seen on TV.
Gavin Mannion
Photo ©: Cycling-pics.be

Next, the rest of the juniors and I previewed the Hofstade course. The course was very fast with two extremely long sand beach sections, some parts of the course were also slick due to light rain in the morning.
The next part of my World Cup experience was the call-up and race. Due to our high national ranking in the junior category, I was given a front row starting position. I tried to tell myself that this was just another race, but it wasn't. This was different than almost any other race I had ever done.
One difference was that I was the only one speaking English on the front row. Another difference between this race and any other was that as we were getting our final instructions, a person with a video camera was walking back and forth. I tried to block it out and focus at the task at hand.
Gavin Mannion receives instructions
Photo ©: Cycling-pics.be

Then the whistle blew. I had a good start making it into third position into the first corner. My position quickly changed as the rider in front of me slipped on the first uphill forcing me to dismount. As I dismounted about 30 screaming riders piled into me and getting stuck on my bike. When I remounted at the top of the climb I had lost almost 20 places. As I continued the first lap, I noticed pain in my stomach which was taking away all of my power. I continued to slip back throughout the race, without out power there is no way to compete with the best in the world. Anyway I continued the race and finished my first World Cup in a disappointing 41st.
At the conclusion of my race I got changed and ready to watch the Under 23s tackle the same course. I stood in a massive crowd of Belgian fans and watched the American riders put in a good effort against the outstanding Under 23 field. Neils Albert won.
As I stood in the smoke-filled crowd among the drunk, frite-eating Belgian fans, I noticed many differences between the crowd at a US race and at a World Cup. One difference is although almost 20,000 people were attending the Hofstade World Cup the crowd is remarkably quiet, unless of course someone falls. Another difference is that unlike the US where people cheer for each rider, these spectators only cheer for the one rider they support.
After the race finished we packed up the vans and headed home to Izegem. My first World Cup was over.
Thanks for reading,
Gavin Mannion
Photography
For a thumbnail gallery of these images, click here
Images by Cycling-pics.be/http://cyclingpics.be
Below is a complete roster and racing schedule for this year's camp.
Elite Men
Ryan Trebon, 27, Kona-YourKey.com, Bend, Oregon
Tristan Schouten, 26, Planet Bike, Sheboygen, Wisconsin
Espoir Men
Jaimey Driscoll, 22, FiordiFrutta Elite, Jericho, Vermont
Danny Summerhill, 19, Clif Bar Development, Englewood, Colorado
Nicholas Weighall, 21, Rad Racing NW, Mill Creek, Washington
Mitchell Peterson, 21, Devo, Sandy, Utah
Carson Miller, 19, Fred Meyer, Bend, Oregon
Brady Kappius, 21, Clif Bar Development, Littleton, Colorado
Junior Men
Steve Fisher, 18, Rad Racing NW, Lynnwood, Washington
Gavin Mannion, 17, Hot Tubes, Dedham, Massachusetts
Eric Emsky, 17, Rad Racing NW, Fall City, Washington
Andrew Llewelyn, 18, Papa Johns, Louisville, Kentucky
Clayton Omer, 18, Papa Johns, Louisville, Kentucky
Jeremy Ferguson, 18, Team Spine, Rocklin, California
Zach McDonald, 17, Oberto/Redline, Bainbridge Island, Washington
Ian Terry 17, Rad Racing NW, Seattle, Washington
Racing schedule
December 22: Huijbergen, Holland (C1)
December 23: Balegem, Belgium (NE)
December 26: Hofstade World Cup, Belgium (CDM)
December 28: Loenhout Gazet Van Antwerpen Cup Series Race, Belgium (C1)
December 30: Diegem Superprestige, Belgium (C1)
January 1: Baal Gazet Van Antwerpen Cup Series Race, Belgium (C1)
January 2: St. Niklaas, Belgium (C2)