Recently on Cyclingnews.com
Barry Wicks and Jeremy Powers get a taste of Belgian mud at last year's Euro 'Cross Camp
Photo ©: Joseph Sales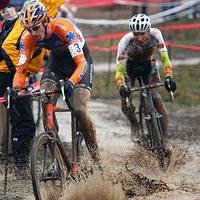 Across the pond: Euro 'cross camp V diary
For its fifth consecutive year, the Euro 'Cross Camp will travel to Izegem, Belgium for two weeks from December 20, 2007 to January 3, 2008, with some of America's most promising cyclo-cross talent. Euro 'Cross Camp Director and US National Team Coach Geoff Proctor selected 16 male riders to take on some of the toughest courses and strongest riders abroad and to prepare for the world championships in late January.
This year's camp is taking on a more youthful feel with just two elite riders, Ryan Trebon and Tristan Shouten, joined by eight juniors and six espoirs. The riders were selected based on their performances throughout the USGP Series. Coach Proctor and his riders will take turns contributing diary entries.
Belgium, December 28, 2007
Time for coffee and racing
17 year-old Eric Emsky
Photo ©: Cycling-pics.be

Yesterday, we went on a nice ride to Kortrijk. The roads were wet and wind was present for the first time that we have been here. All of this did not matter to us, for we were on a mission to find some delicious Belgian pastries and coffee. Bakeries are easy to come by, but finding coffee is another thing around here. Coming from Seattle, it is definitely easy to find four places to buy coffee in a two block radius, but here in Belgium, you'll be lucky even to find one place that sells it.
After searching the town for about 15 minutes, we found a small, quiet bar with an espresso machine. The coffee was quite good and our ride group - consisting of Jeremy, Gavin, Ian, Steve, and I - conversed about this trip and watched the town outside. Many vendors had filled up this normally empty square with their frite, clothing, and jewelry stands.
The trip back outside to get our bikes to ride home was one of the hardest trips I've ever made. It seemed as if the toasty coffee shop was worlds away as soon as we stepped out of the front door.
Eric Emsky (Rad Racing NW)
Photo ©: Cycling-pics.be

Upon arriving back in Izegem, I started to think about my trip. Racing 'cross for the first time in Europe, I've noticed many things that are done differently here. First of all, the races are a different breed than the ones found in the United States. The average junior (what the Belgians call the 17-18 category) is much faster. The culture actually appreciates kids who dedicate their lives to working harder to becoming fast cyclo-cross racers. Even at small regional races, one can expect to see around fifty to sixty riders in the junior field. Back in the United States, I thought I was racing quite a large field of forty two riders at Nationals.
The starts are also nothing like I've ever seen before. In each race, we have started in the back row, if you can call it that since they don't use starting grids at the local races. The officials send the riders to the start line where they just clump up together. Working up through a field of this many riders from the back takes some finesse, and even some luck since holes open and close as soon as they appear.
Eric Emsky (Rad Racing NW) (left) poses with another racer
Photo ©: Cycling-pics.be

Gavin [Mannion] is an incredible starter, he is able to find his way through the whole pack and get into the lead group in only the first lap; I personally prefer to use my size and technical ability to get my way through the crowds. Some of these Belgian kids have absolutely no technical skill. The mountain bike skills that I have acquired from living in the Northwest have definitely helped me in these situations.
Also, these Belgian kids are exceptionally vocal during the races. They shout out whenever someone crashes in front of them, cuts them off, or passes them. I wish I knew Flemish just so I could hear what they are saying. However, some will actually speak English to us if they recognize our American jerseys. It's almost a bit of a let down when they do this, for it takes all the fun out of guessing what they are saying to you.
Anyway, the mellow pace around the house is a luxury that I'll be missing when I leave. It is really nice to go for a ride, clean up, explore Izegem, and then catch up with everything that I am missing back home.
Hope the Holiday Season is treating everyone well.
Eric Emsky
Photography
For a thumbnail gallery of these images, click here
Images by Cycling-pics.be/http://cyclingpics.be
Below is a complete roster and racing schedule for this year's camp.
Elite Men
Ryan Trebon, 27, Kona-YourKey.com, Bend, Oregon
Tristan Schouten, 26, Planet Bike, Sheboygen, Wisconsin
Espoir Men
Jaimey Driscoll, 22, FiordiFrutta Elite, Jericho, Vermont
Danny Summerhill, 19, Clif Bar Development, Englewood, Colorado
Nicholas Weighall, 21, Rad Racing NW, Mill Creek, Washington
Mitchell Peterson, 21, Devo, Sandy, Utah
Carson Miller, 19, Fred Meyer, Bend, Oregon
Brady Kappius, 21, Clif Bar Development, Littleton, Colorado
Junior Men
Steve Fisher, 18, Rad Racing NW, Lynnwood, Washington
Gavin Mannion, 17, Hot Tubes, Dedham, Massachusetts
Eric Emsky, 17, Rad Racing NW, Fall City, Washington
Andrew Llewelyn, 18, Papa Johns, Louisville, Kentucky
Clayton Omer, 18, Papa Johns, Louisville, Kentucky
Jeremy Ferguson, 18, Team Spine, Rocklin, California
Zach McDonald, 17, Oberto/Redline, Bainbridge Island, Washington
Ian Terry 17, Rad Racing NW, Seattle, Washington
Racing schedule
December 22: Huijbergen, Holland (C1)
December 23: Balegem, Belgium (NE)
December 26: Hofstade World Cup, Belgium (CDM)
December 28: Loenhout Gazet Van Antwerpen Cup Series Race, Belgium (C1)
December 30: Diegem Superprestige, Belgium (C1)
January 1: Baal Gazet Van Antwerpen Cup Series Race, Belgium (C1)
January 2: St. Niklaas, Belgium (C2)