Recently on Cyclingnews.com
Barry Wicks and Jeremy Powers get a taste of Belgian mud at last year's Euro 'Cross Camp
Photo ©: Joseph Sales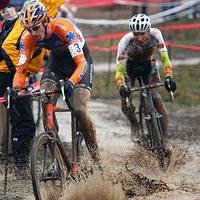 Across the pond: Euro 'cross camp V diary
For its fifth consecutive year, the Euro 'Cross Camp will travel to Izegem, Belgium for two weeks from December 20, 2007 to January 3, 2008, with some of America's most promising cyclo-cross talent. Euro 'Cross Camp Director and US National Team Coach Geoff Proctor selected 16 male riders to take on some of the toughest courses and strongest riders abroad and to prepare for the world championships in late January.
This year's camp is taking on a more youthful feel with just two elite riders, Ryan Trebon and Tristan Shouten, joined by eight juniors and six espoirs. The riders were selected based on their performances throughout the USGP Series. Coach Proctor and his riders will take turns contributing diary entries.
Belgium, December 26, 2007
Racing and shopping adventures
Mitchell Peterson (Mona Vie -Cannondale)
Photo ©: Cycling-pics.be

'Cross Camp V had a rough start. Laarne was a course that was best suited for a full suspension mountain bike. The constant bouncing on top of the tractor holes and ditches that were completely frozen except for the top 1/8th of an inch (a little over three millimeters - ed.) made for an interesting ride. The one section of note was a one-foot wide irrigation ditch. It was something that any junior mountain biker would not look twice at, but a shocking number of the European racers were running across it.
It amazes me how these guys can be so strong, yet lack the skills to jump a very small ditch. Because of the two UCI points that I managed to pick up in the [United] States, I got a front row call up which was very unusual for me seeing as how I don't even get that at my local 'cross races. It is a little scary looking back and seeing rows of angry Belgians behind you.
Upon hearing the sound of the gun I stepped on it and four things happened simultaneously: My cogset slipped, my foot slid off the pedal, I broke my saddle, and I flatted. All in all, it was a pretty sweet first race.
Mitchell Peterson (Mona Vie -Cannondale) racing
Photo ©: Cycling-pics.be

In a foreign country everything is an adventure. I forgot my fingernail clippers at home and was in desperate need. In a grocery store where women's (and men's) thongs are kept next to the chocolate covered waffles, finding fingernail clippers without assistance was impossible.
I looked around the store for somebody to help me and finally found a victim. As I walked over to her she got this expression on her face that said, "Oh shit, here comes a hopeless American kid." Before I said anything she said, "English not good." I don't know how they know that I am an American. I think that I look similar to them, yet they notice me like I was naked with a Captain America cape on.
After five minutes of charades she guided me to the end of one of the many aisles containing alcohol and there hidden behind a bottle of gold slick vodka were the fingernail clippers that I so desperately needed.
Despite the kinks in the first race, by the next day I was back to normal. I think that the World Cup on Wednesday will go well for all of us provided that I can remember where the bus is parked.
Thanks for putting up with me and happy holidays,
Mitchell Peterson (Mona Vie -Cannondale)
Photography
For a thumbnail gallery of these images, click here
Images by Cycling-pics.be/http://cycling-pics.be
Below is a complete roster and racing schedule for this year's camp.
Elite Men
Ryan Trebon, 27, Kona-YourKey.com, Bend, Oregon
Tristan Schouten, 26, Planet Bike, Sheboygen, Wisconsin
Espoir Men
Jaimey Driscoll, 22, FiordiFrutta Elite, Jericho, Vermont
Danny Summerhill, 19, Clif Bar Development, Englewood, Colorado
Nicholas Weighall, 21, Rad Racing NW, Mill Creek, Washington
Mitchell Peterson, 21, Devo, Sandy, Utah
Carson Miller, 19, Fred Meyer, Bend, Oregon
Brady Kappius, 21, Clif Bar Development, Littleton, Colorado
Junior Men
Steve Fisher, 18, Rad Racing NW, Lynnwood, Washington
Gavin Mannion, 17, Hot Tubes, Dedham, Massachusetts
Eric Emsky, 17, Rad Racing NW, Fall City, Washington
Andrew Llewelyn, 18, Papa Johns, Louisville, Kentucky
Clayton Omer, 18, Papa Johns, Louisville, Kentucky
Jeremy Ferguson, 18, Team Spine, Rocklin, California
Zach McDonald, 17, Oberto/Redline, Bainbridge Island, Washington
Ian Terry 17, Rad Racing NW, Seattle, Washington
Racing schedule
December 22: Huijbergen, Holland (C1)
December 23: Balegem, Belgium (NE)
December 26: Hofstade World Cup, Belgium (CDM)
December 28: Loenhout Gazet Van Antwerpen Cup Series Race, Belgium (C1)
December 30: Diegem Superprestige, Belgium (C1)
January 1: Baal Gazet Van Antwerpen Cup Series Race, Belgium (C1)
January 2: St. Niklaas, Belgium (C2)
For a thumbnail gallery of these images, click here
Images by Tristan Schouten