Recently on Cyclingnews.com
Barry Wicks and Jeremy Powers get a taste of Belgian mud at last year's Euro 'Cross Camp
Photo ©: Joseph Sales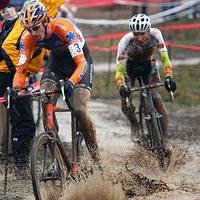 Across the pond: Euro 'cross camp V diary
For its fifth consecutive year, the Euro 'Cross Camp will travel to Izegem, Belgium for two weeks from December 20, 2007 to January 3, 2008, with some of America's most promising cyclo-cross talent. Euro 'Cross Camp Director and US National Team Coach Geoff Proctor selected 16 male riders to take on some of the toughest courses and strongest riders abroad and to prepare for the world championships in late January.
This year's camp is taking on a more youthful feel with just two elite riders, Ryan Trebon and Tristan Shouten, joined by eight juniors and six espoirs. The riders were selected based on their performances throughout the USGP Series. Coach Proctor and his riders will take turns contributing diary entries.
Belgium, December 22, 2007
Snow and ice - A common 'cross theme
Carson Miller enjoys a frosty walk
Photo ©: Tristan Schouten

After the culmination of an epic four days of racing in Kansas City at this year's US national cyclo-cross championships, a select and hardy few of us have made the trip over to Belgium for the fifth edition of Euro 'Cross Camp. Snow and freezing temperatures were commonplace in Kansas City throughout the four days of racing with the last event, the elite men's race, turning out to be one of the best battles in recent years for the much coveted stars and stripes jersey.
I opted to stay in Kansas for an additional couple of days before flying across the pond. After getting settled in with my relatives, I was ready for a couple days of good riding before catching my plane to Europe. With the power and water just restored to a small city of roughly one thousand people, I suppose that I should have been prepared for snowy roads and icy temperatures; however, I had in my head, visions of riding on beautiful two-lane country roads that would wind along the rivers and through hay fields. To my surprise, I was riding in conditions just like Kansas City nationals, the cold and snow were everywhere and I was not going to escape.
But the day I so desperately wanted to arrive finally did. As I did one last check through my luggage, I was ready to go - ready to get on a plane to Europe, leaving behind my family and friends for the holidays. It is not that I wanted to be away from them for one of the most magical times of the year, but that I knew in order to improve as a 'cross racer, I needed to be riding with the best in the world. And they were all in Belgium. So I boarded the plane.
My arrival into Brussels was free of incident, and I had many great memories of training and racing out of the "USA House" based in Izegem, Belgium, from last year's worlds. My memories included mild temperatures and scenic rides along rural farming roads. The first two days and rides lived up to my memories with only slightly cooler temperatures, but something completely different would await me on the third day.
Carson Miller (Fred Myers/Ics Redzaw) at US 'Cross Nationals in Kansas City
Photo ©: Jon Devich

I awoke to temperatures hovering around -4 [degrees Celsius], and some frost and ice on the roads. As I ventured out into the country, the snow began to pile up. As I rode down single lane farming roads, many men were coming out of their houses to begin working the fields, or to drive into town. The quick quizzical glance I received several times revealed their thoughts: "Another American who is staying at Noel's house," must have been passing through their heads as I passed by the entrance to their farms.
While barges pushed up the smooth glassy waters of the canal, I pedaled on. The trees, devoid of leaves, with only a dusting of snow covering their white bark lined the snow covered path. Nor was I the only one riding along the path this morning. Many commonplace people pedaled along on run-down mountain bikes wearing jeans, a sweater, and a scarf. As I rode toward two young men who I would guess to be about my age (19), one must have suffered an untimely mechanical on his way into town. He abandoned his bike in the middle of the path and continued to walk alongside his friend who continued riding. And with all these events unfolding around me, I was in the midst of it all.
While I thought my plane from Kansas City was taking me out of the sub-zero temperatures and snow, perhaps I have found my way into more snow and freezing temperatures. But this is where the best 'cross racers in the world are living, training, and racing, and I can think of no better place to spend the holidays this year - riding amongst the snow and ice.
Thanks for reading and Merry Christmas.
Carson Miller
Below is a complete roster and racing schedule for this year's camp.
Elite Men
Ryan Trebon, 27, Kona-YourKey.com, Bend, Oregon
Tristan Schouten, 26, Planet Bike, Sheboygen, Wisconsin
Espoir Men
Jaimey Driscoll, 22, FiordiFrutta Elite, Jericho, Vermont
Danny Summerhill, 19, Clif Bar Development, Englewood, Colorado
Nicholas Weighall, 21, Rad Racing NW, Mill Creek, Washington
Mitchell Peterson, 21, Devo, Sandy, Utah
Carson Miller, 19, Fred Meyer, Bend, Oregon
Brady Kappius, 21, Clif Bar Development, Littleton, Colorado
Junior Men
Steve Fisher, 18, Rad Racing NW, Lynnwood, Washington
Gavin Mannion, 17, Hot Tubes, Dedham, Massachusetts
Eric Emsky, 17, Rad Racing NW, Fall City, Washington
Andrew Llewelyn, 18, Papa Johns, Louisville, Kentucky
Clayton Omer, 18, Papa Johns, Louisville, Kentucky
Jeremy Ferguson, 18, Team Spine, Rocklin, California
Zach McDonald, 17, Oberto/Redline, Bainbridge Island, Washington
Ian Terry 17, Rad Racing NW, Seattle, Washington
Racing schedule
December 22: Huijbergen, Holland (C1)
December 23: Balegem, Belgium (NE)
December 26: Hofstade World Cup, Belgium (CDM)
December 28: Loenhout Gazet Van Antwerpen Cup Series Race, Belgium (C1)
December 30: Diegem Superprestige, Belgium (C1)
January 1: Baal Gazet Van Antwerpen Cup Series Race, Belgium (C1)
January 2: St. Niklaas, Belgium (C2)
For a thumbnail gallery of these images, click here
Images by Tristan Schouten