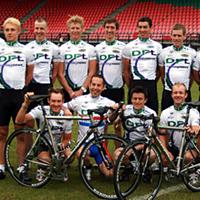 The 2007 team presentation in Holland
Photo ©: Malcolm Putman
Hitting the big time: The Team DFL-Cyclingnews-Litespeed diary 2007
With a bolstered squad including the acquisition of 2005 Gent Wevelgem winner Nico Mattan plus an upgrade to Professional Continental status, look out for the DFL-Cyclingnews-Litespeed boys pounding the pavé of the Belgian Classics and other high profile European races this season.
Follow all the adventures of Cameron Jennings and the gang as they battle against snow, cobbles and the lure of Belgian beer in their quest to reach the top tier of Continental road racing.
For further reading about the team, visit the DFL-Cyclingnews-Litespeed official site. To check out Team Cyclingnews during 2005 and earlier, visit the 2005 site.
Australia & Belgium, February 9, 2007
Getting into the sling of things
Well it has been a while I must admit but things have been travelling along okay for yours truly over the last couple of months. The busted wing, broken in Omloop de Houtland Lictervelde last year has mended as good as it is going to mend until the plate in my collarbone gets removed sometime around May this year. Nothing left to show for it now apart from a nasty looking scar and a change in the way I put on my shirts. Right arm first from now on.
Racing at the South Bank Criterium
Photo ©: Michael Marston

With the collarbone break I had an earlier finish to the end of the year and so and earlier start to the up and coming year. Have been ticking along steady as she goes since then, keeping in mind the longer harder season I am going to have in store for myself as DFL/cyclingnews.com is now in the Pro-Continental ranks. So what has my time been filled with since last time I touched base with you all?
Apart from the odd track racing Friday night up home at the Kenrick Tucker Velodrome my first outing for the new season was at South Bank Criterium and then the Surfers Crit the following weekend. South Bank went well - felt I raced aggressively, picked up a prime and had a good attack with 2 laps remaining with Richard England. I guess we were never going to stay away, but I was never going to beat McEwen in a sprint so had a go. We got caught with half a lap to go.
The Surfers Crit the following weekend was purgatory. Not being fortunate enough/well known enough to receive the front row call up like 20 other riders it was a case of saying, "see you other guys in an hour or so". Picked my way through for 30min before catching a glimpse of the front before the break went. Still managed a decent ride but, was chasing all day. Packed the car and along with my chauffeur Miles Olman and his girlfriend Jayne we hit the road and got home to Rocky at midnight.
Cameron before the Madison
Photo ©: Cameron Jennings

In between these two crits, myself and Miles spent the week at Ocean Shores just north of Byron Bay as a part of a QLD/QAS training camp. Some good rides over good roads were had in great weather, so nothing to complain about really. Good break of scenery from home and also gave me a chance to see a physio to get a couple of things looked at. Thanks goes to James Victor for organising the camp and following us on the long days.
Training continued to travel along well and life at home was good. Nice relaxed atmosphere up home with friends and family and a milder summer compared to what we have come accustomed to so it was pretty close to perfect. The Nationals were looming on the horizon and I wanted to do a respectable ride. Arrived in Ballarat and hooked up the QAS contingent again. Was feeling good in the days leading up and was confident of a decent showing there.
Race day came and it was flat out from the start with riders dropping out of contention every lap. All was going well but I started to feel the effects with about six laps to go. The front group contained all the in-form riders but I was determined to keep going, and that I (and a small group of others) did. We were keeping a good pace back in the second group and were not losing too much to the front group every lap, but the race was up front and a deserving winner came out on top. Congrats to Darren Lapthorne on a great ride.
The Madison
Photo ©: Cameron Jennings

Packed up the Rent a car and headed back to Melbourne where I had a night to endure at the Hotel Formula 1. Luckily for me, when I was rolling up a few well mannered ACT lads lobbed in, amongst them Rory Sutherland. It made the stay more enjoyable that night, dined in at the airport Noodle Bar and flew out to Rocky on Monday. Good to see you back Rory and thanks for the beer. To James Victor, once again thank you for letting me tag along at the Nationals and for the logistical support before and during the race.
In other National news for the boys from Rockhampton, Miles Olman was third in the under 23 time trial which was a great effort for his first major race back after end of season health problems and Glen Chadwick won the New Zealand Time Trial Championship and was fifth in the road race over there. Glen has decided to race for his country of birth (lived in NZ 'til he was 12) and it seems so far to be paying off for him.
Upon arriving home and checking my mail I received notification from the team that I was required in Belgium on February 5 for the new season. Two and a half weeks notice so had to pull my finger out and start to organise some things.
The team's Aussie mechanic
Photo ©: Cameron Jennings

Before that though I had one final outing at our local two day track carnival the Rockhampton Cup on Wheels proudly sponsored by Central Queensland University. It is always a strong competitive carnival and this year was no exception. Good spattering of riders from down south coming up once again for the Rockhampton heat. Three lads from Canberra and a Hopkins brother but another poor showing from Brisbane riders.
Brisbane riders I think begin to shake and curl up into the fetal position whenever they have to cross the Gateway bridge. Nevermind, local sponsorship money going to local riders. Fortunately for me I was able to pick up a bit of that money.
A surprise third in the Keirin, third in the point score on the first night and then places in the elimination and end of carnival Madison with Brendan Savage from ACT meant I was walking away with a little bit of coin. Thanks to all the volunteers, sponsors and riders who made an effort to come up to our little carnival.
Thursday snow
Photo ©: Cameron Jennings

So here I am sitting in Changi airport on my way over to Belgium. First outing for me and the team this year is the Tour of Med starting on the 14th and then a spattering of the Belgian classics. Excited, don't get me wrong, but I would be lying if I said I was not nervous about it all. She'll be right.
Fast forward a couple of days...
At the house in Booischot finishing off this diary entry. After arriving Monday morning, receiving all the new kit I had two good but very cold days on the bike. The snow came and I was forced to train indoors today. No problems there.
Mark Howard the mechanic is in full swing getting all the bikes in order and his girlfriend Lindsay is busy looking for jobs and going for interviews. I won't be staying for long here at the house as I'm currently looking for apartments. Think I've found one that fits my requirements so will be looking into that over the next couple of days.
Til next time we meet
Cameron Jennings
Photography
For a thumbnail gallery of these images, click here
Images by Cameron Jennings