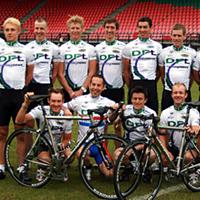 The 2007 team presentation in Holland
Photo ©: Malcolm Putman
Hitting the big time: The Team DFL-Cyclingnews-Litespeed diary 2007
With a bolstered squad including the acquisition of 2005 Gent Wevelgem winner Nico Mattan plus an upgrade to Professional Continental status, look out for the DFL-Cyclingnews-Litespeed boys pounding the pavé of the Belgian Classics and other high profile European races this season.
Follow all the adventures of Cameron Jennings and the gang as they battle against snow, cobbles and the lure of Belgian beer in their quest to reach the top tier of Continental road racing.
For further reading about the team, visit the DFL-Cyclingnews-Litespeed official site. To check out Team Cyclingnews during 2005 and earlier, visit the 2005 site.
July 4, 2007
China is near!
Badger & Hanky
Photo ©: Kane Oakley

Then there were three. That is all that is in the house now, the other boys are off showing their girlfriends a good time around Belgium. Then next week the house will only have Dag hanging around while we go to China.

The Boys going to China are getting excited for the once in a life time experience around Qinghai Lake and the great feeling of breathing through a bent straw when you are riding at 3500m. Good times to be had and some bling bling watches to buy.

Lucky worm!
Photo ©: Kane Oakley

Profonde van Fryslan, Ned (1.1) 27th. While half of the DFL-Cyclingnews team stayed in Belgium to race, we went up to Noord Holland to battle the winds (strongest winds I have raced in). Worm had a good time in Noord-Holland, on our training ride the day before he had two flats on singles, not happy! Then on race day he was lucky enough to get the number 13, he's facial expression was priceless!
About 10km into it I attacked into the head wind, going flat out with two others at 33km/h. We lasted for about 10mins then a group of 25 came up. I sat at the back for a couple of k's to get my breath back, then it turned left. Three echelons formed straight away due to the strong wind. Bad position and our little group never got back to the front 20. You have to be at the front all the time, Position, Position, Position!!!
A good position
Photo ©: Kane Oakley

We where caught by another group, then we just swapped off until the finish circuit. Very hard day, 200km in the cross wind, ended up 27th for my troubles! In preparation for China I have just done three solid days training, then I will race Thursday and Saturday. After that it will be recovery time to be fresh and healthy for the trip to China.
Funny Story - Our Director Eric "Rocko" was driving back from a race last week when he decided to run up the arse of a car full of Milram riders. As we passed the crash we yelled at Rocko "what have you done now?" Rocko was talking to Brett Lancaster, then Petacchi stuck he's head out the window, "hurry up Eric I have to catch a flight at 8!" Can't fault your work Rocko!!
Other then that I have enjoyed time with my Parents and sampled some fine Belgium food.
"Shake and Bake"
Kane Oakley
Photography
For a thumbnail gallery of these images, click here
Images by Kane Oakley/DFL-Cyclingnews