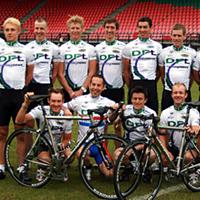 The 2007 team presentation in Holland
Photo ©: Malcolm Putman
Hitting the big time: The Team DFL-Cyclingnews-Litespeed diary 2007
With a bolstered squad including the acquisition of 2005 Gent Wevelgem winner Nico Mattan plus an upgrade to Professional Continental status, look out for the DFL-Cyclingnews-Litespeed boys pounding the pavé of the Belgian Classics and other high profile European races this season.
Follow all the adventures of Cameron Jennings and the gang as they battle against snow, cobbles and the lure of Belgian beer in their quest to reach the top tier of Continental road racing.
For further reading about the team, visit the DFL-Cyclingnews-Litespeed official site. To check out Team Cyclingnews during 2005 and earlier, visit the 2005 site.
Belgium, March 27, 2007
Team Dinner and Golf
The DFL/Cyclingnews
Photo ©:

The Team got together while Nick Collins (DFL Boss) was over in Belgium for a lovely meal at an Italian restaurant. As usual when the food came out it was like a pack of vultures - food gone!!! The boys ate very well.
The weather has been great here, cool nights and sunny days. A new teammate, Pablo, arrived from Columbia, so we had to show him around the coffee shops in the area. I think he will learn a lot from the boys in the house.
Racing - Wanzele Pro Kermese, 160km. Every other year we have done this it has been wet, cold, snow and wind. Race day was perfect this year though, not much wind and the sun was out for the 250 starters. It was back into the mad 2km dash for the first corner, then onto a single lane road. The peleton stretched for 300m, I was in the last 100m of the long line the whole day. A group got away with 1min on the peleton, we had one rider up there, Robby "Big Donk" Maul. This is the way it stayed, I finished in the bunch. It was a good training day and nice to get a solid race under the belt, jumping out of the corners and holding the wheel.
To fill in some time, Badger and I have been going round to Harro's new house. It's very nice. Harro makes a great coffee and his wife Jess is a good cook. The other day we pulled the Golf clubs out and tested our skill at hitting nearest the pin. I think golf was a winner that day.
Be good, I will write again soon.
Kane "Munge" Oakley
Photography
For a thumbnail gallery of these images, click here
Images by Kane Oakley/DFL-Cyclingnews