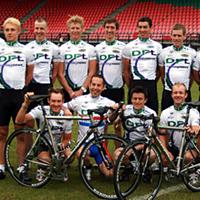 The 2007 team presentation in Holland
Photo ©: Malcolm Putman
Hitting the big time: The Team DFL-Cyclingnews-Litespeed diary 2007
With a bolstered squad including the acquisition of 2005 Gent Wevelgem winner Nico Mattan plus an upgrade to Professional Continental status, look out for the DFL-Cyclingnews-Litespeed boys pounding the pavé of the Belgian Classics and other high profile European races this season.
Follow all the adventures of Cameron Jennings and the gang as they battle against snow, cobbles and the lure of Belgian beer in their quest to reach the top tier of Continental road racing.
For further reading about the team, visit the DFL-Cyclingnews-Litespeed official site. To check out Team Cyclingnews during 2005 and earlier, visit the 2005 site.
Another world looming
Hi all,
Talk about lucky numbers!
Photo ©: Cameron Jennings

It is that time of year when the biggest sporting event arrives in time; The Tour de France. It is also the time, for DFL/Cyclingnews/Litespeed biggest sporting event of the year; Tour of Qinghai Lake. It is looming on the horizon but one might need to tilt their heads upward a little, say 2200 metres at least, to catch a glimpse of this one of a kind event. More on that a little later.
Tour of Luxembourg
I left you guys last time just after Rheinland Phalz, my return race after getting a nasty looking plate removed from my collarbone. Things went okay and I was looking forward to my next appointment; that being the Tour of Luxembourg.
I was hoping to be competitive on a couple of stages in Luxembourg but things just never really got rolling for me there. I felt good in the prologue and the first half of the first stage, but after a mechanical and a bike change on the first day things continued to go downhill and felt to be struggling for the remainder of the tour. Maybe I was going okay, and it was just that it was a higher level of racing compared to Rheinland Phalz with a number of ProTour teams on the start list.
Two days later we lined up for Veenendal-Veenendal in Holland but I was not up to scratch there either. Something was a little off, a bit tired and I lost contact with the peloton on the hilly section some 40 kilometres from home. I got to the finish with a decent sized group, licking my wounds, and planning a couple of real easy days.
Pro Kermis at Lede
Here I am riding through Holland's countryside
Photo ©: Cameron Jennings

Four days dead easy and a good block of training later, we arrived at a Pro Kermis in Lede. It was a good race, both for the team and personally, despite the inclement weather. Within the first couple of laps a group was clear and we had three there with Hamish, Robbie and Pablo. They never got more than a minute away, but the teams that missed it never really looked like getting it back.
With some five-six laps remaining we were at the front following moves and I followed the correct move and got away in another group of 10 in pursuit. I was rolling through but not driving it, as we still had two up the front after Pablo crashed on one of the wet corners. It was easier to roll through instead of sitting on the back and closing gaps left by the yelling/cursing Belgium riders.
The group came close but 20 seconds was the best the group could manage. Coming into the final corner I was positioned well but a close call on the final wet corner left me watching group sprint into the distance.
Ronde van Fryslan (Fear and Loathing in Leeuwaarden)
The DFL-Cyclingnews boys out
Photo ©: Cameron Jennings

Kane has already filled you all in with how this race went in a previous Cyclingnews entry, and it did not really go too well. With the strong winds it was vital to stay at the front. It was a continuous effort of moving up, shuffling back a bit, when the other riders move up on the outside, then moving up again, again and again etc. I was moving up again when it all went in the gutter. I chased flat out for next 40km before the bunch realised the error of its ways and promptly all turned around.
Not my kind of racing up there, never has been and probably never will be despite my good intentions. Some can do it and do it well (fighting for position) but I just don't have the minerals (balls) to do it. Hats off to Munge and Hanky for a good ride.
So that brings us up to now. It's family time for the DFL boys, with Kane's folks, Rhys' mum, Bernie and Jeremy's girlfriends all arriving in pretty short succession of each other. The Oakley's, Bernie and Katie, Jeremy and Anita have all moved down to Leuven and are staying in the same group of apartments as me - it has been good having a couple of Aussie accents about.
Gearing up for China
So China is next, and I'm looking forward to it. I feel like I am traveling well and having done the tour the past two years I know what to expect - weather, food, altitude, stages. We should have a strong balanced team with Dan Lloyd going well, Dan Fleeman, Pablo, Gert, Rhys, Kane and yours truly. Lloydy was fourth last year, a minute or so behind the winner, and won a stage - he's looking to do more of the same this year. As always, I will be looking to help the team as much as possible and chase a stage or two along the way, all going well.
'til next time we meet.
Cam