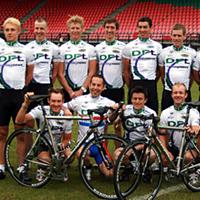 The 2007 team presentation in Holland
Photo ©: Malcolm Putman
Hitting the big time: The Team DFL-Cyclingnews-Litespeed diary 2007
With a bolstered squad including the acquisition of 2005 Gent Wevelgem winner Nico Mattan plus an upgrade to Professional Continental status, look out for the DFL-Cyclingnews-Litespeed boys pounding the pavé of the Belgian Classics and other high profile European races this season.
Follow all the adventures of Cameron Jennings and the gang as they battle against snow, cobbles and the lure of Belgian beer in their quest to reach the top tier of Continental road racing.
For further reading about the team, visit the DFL-Cyclingnews-Litespeed official site. To check out Team Cyclingnews during 2005 and earlier, visit the 2005 site.
Rheinland and then some
Hi all,
Well I guess on the grand scale of things Rheinland Phalz went OK and was a race that I can take a few positives from. I am always a little hard on myself and naturally would have loved to have gone better on a couple of stages but considering I had an operation three weeks prior to its start, I will have to be content. We headed to the race start in Koblenz on Tuesday and settled into our digs for the night. Team was Kane, Jeremy, Pablo, Nico, Dan Fleeman, Gert, Robby and myself. We were ably supported by Eric, Mark, Eddie, Stefan, Eric Koffler, Lindsay and our camper-van man Jos.
Stage 1: Koblenz - Kaiserslautern
I generally have an average day first day of a tour and after a lay off from racing of four weeks I guess this average day was really going to rear its ugly head. First climb after 25km was in strife but after a strong chase by the other guys in the group we regained the front group. For the remainder of the stage I stayed out of trouble and tried to keep warm and dry as the wind and rain blew in for the last 2hrs of the stage.
The pace picked up for the finale as breakaways were reeled in or attempted to. We lost Pablo, Kane and Gert in the wind coming into the finish and dodged a couple of falls and finished the day. Robby had a good kick to get up there in 11th place. Sergey Lagutin of Navigators stayed away after a strong attack 20km out. Have fun on the front Chady.
Stage 2: Landau - Worms
Rain that rolled in yesterday hung around. I was feeling better than the day before which was good as it was on from the start and over the first two climbs. Was in touch over both of these hills as the Navigators team piled on the pressure to bring back a couple of dangerous breaks. After the second KOM a group got away and the peloton settled into a good tempo over the next two climbs before the finish in Worms (serious).
Robby was feeling good so Jeremy and myself did our best to get him into position and help in anyway possible on the three small local laps. Was a little dangerous with the rain, a section of pavers and the rest but there were no major incidents. Robby once again sprinted well to get 12th, I think, and Jeremy, myself, Dan and Pablo finished in the bunch. Lagutin still had yellow.
Good hotel on this particular night. Good feed, rooms, the works. Come the next morning the boys pockets were loaded full of sandwiches, chocolate bars, pastries and fruit all prepared and loaded into pants and jacket pockets. Hats off to Munge and Dag for their haul. Think Munge had to hold up his pants on the way back.
Stage 3: Worms - Mainz
Arguably the toughest with five climbs and two ascensions of a 25 percent wall, the second time up being 80km from the finish. First time up was OK but I was just off the back second time over and a small dangerous group had formed and the Navigator led field was in hot pursuit. I could almost reach out and grab the last man in the bunch but... A 25 tooth would have been ideal but again...
Had a strong working group and looked at one point that we were going to get back. In the end our group containing 20 or so guys including Gert arrived in Mainz some 10 minutes back. The lead group stayed clear and Navigators lost the yellow.
Stage 4: Mainz - Bad Marienberg
Another tough day with an up hill finish today. First 100km were flat along the Rhein and the pace was on. I tried numerous times to get away with a group but nothing was sticking. During the first hour, 52km of German asphalt passed under our wheels before a natural break was called and some good tempo setting was restored by the new leading team, LPR. Still, the next hour was almost as quick and we arrived at the feed zone at 100km or so, close on two hours. Nico was not feeling the best and called it a day at the feed zone. The next 80km or so were up, up and down a bit.
Dag was feeling strong and got away before the climb with a group of five. Up the climb he was going OK but a string of attacks forced me out the back and once again I was found reaching out and missing the group by a handful of seconds. The group was in no mood to chase and resigned to an easy tempo home. And easy it was. Dag, Dan F and Pablo were riding well up front with Dag dropping off from the front on the tough finish laps. Regiostrom had a strong win and our guys finished in the bunch for the second place sprint. Gert, Munge, Robby and yours truly rolled in some time later.
Stage 5: Bad Neuenahr-Ahrweiler - Koblenz
Relaxing after Stage 5
Photo ©: Cameron Jennings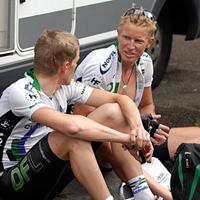 Last day and the sun and warmth greeted us. Caught up with Glen before the start, relinquished from defending the yellow jersey he was now trying to secure the "Kiwi Cup" from Dag. Only a couple of seconds separated the two.
Another quick start and then headed to the first KOM as we turned onto the Nurburgring for a lap. Was feeling better today and was in no real trouble over the very tough Nurburgring lap. A group did get away on the lap as the race hotted up for intermediate sprints but as we descended away from the track they were back in the fold and a strong tempo by T-Mobile was set.
The stage returned to the river and a run down to Koblenz. The one remaining obstacle was a 2km climb some 15km from home. With some help from Gert and the others I was near the front along with Pablo and Dan F. Pablo was feeling good and had another go over the top but was quickly reeled in. Over the top I was just behind but quickly joined up again with Chady and Roger Hammond among others.
There was an intermediate sprint some 4km from home and after that was contested I had a go with another guy but that did not last long. A series of other attacks were launched but a bunch sprint loomed. An LPR rider snuck off the front late and held on ahead of the bunch. Dag got back on after a long chase and we rolled across the line in 22nd and 27th place respectively. All the other guys finished the race and rolled in. On a side note, I think Dag (pronounced Deag) secured the Kiwi Cup.
Two weeks later
Since then have had a head rattling two weeks here in Leuven recovering after Rheinland and then training for my next race, the Tour of Luxembourg starting on Wednesday (6th of June). Last Tuesday Munge desperately needed to get out of Booischot so off to the Ardennes we went. Parked up at our usual haunt in Tilf and headed into the hills and the rain. We were pretty lucky with the weather and we managed to return to the car relatively dry five hours later. Hope I talked enough for you mate.
And in breaking news, Juan Pablo Wilches Rodrigues out of Colombia won the Giro tipping comp. Got it by a point over Harro. Five euro from each team member participating will be heading his way.
Til next time we meet.
Cameron Jennings