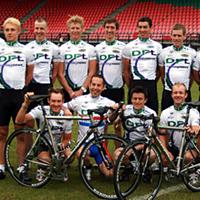 The 2007 team presentation in Holland
Photo ©: Malcolm Putman
Hitting the big time: The Team DFL-Cyclingnews-Litespeed diary 2007
With a bolstered squad including the acquisition of 2005 Gent Wevelgem winner Nico Mattan plus an upgrade to Professional Continental status, look out for the DFL-Cyclingnews-Litespeed boys pounding the pavé of the Belgian Classics and other high profile European races this season.
Follow all the adventures of Cameron Jennings and the gang as they battle against snow, cobbles and the lure of Belgian beer in their quest to reach the top tier of Continental road racing.
For further reading about the team, visit the DFL-Cyclingnews-Litespeed official site. To check out Team Cyclingnews during 2005 and earlier, visit the 2005 site.
Back on the road
Well, my shoulder has healed well and after three days off after the operation I was back on the home trainer staring at the wall in my apartment. Sometimes I would mix it up and stare out the window or my laptop watching DVDs. Anyway, whilst Belgium was basking in sunshine and 'enduring'" 37 rain free, 30 degree days I was cooped up inside. It was a long week to say the least.
I was glad to step outside and train, and after a few tentative rides around town to test out the shoulder, I was packing the wind trainer up and recommencing training on the road. Probably a little sooner than what the Doctor had wanted but it was feeling good so why not.
The week was good and travelled along smoothly. While half of the team were up in Denmark for two races, we headed out to Eric's place for a couple of team training days. Nico came over from the 'Wild West' and Gert is back into the full swing of training after his near career ending crash in Tour of Med. Good to see you back Gert.
Cam's first race back after shoulder surgery
Photo ©: Frank Bodenmueller

I sat out the Thursday ride due to a conflicting Doctor's appointment, but turned up Friday for another ride down from Lummen to the northern Ardennes to Sint Truiden and home. A good tempo set with a good group of guys and a bit of fun made the five hours tick by nicely. That afternoon I got my staples removed from my shoulder and I have now put that chapter behind me.
The boys in Denmark had an eventful two days with their racing with plenty of punctures and a few other mechanicals. Our team's own 'Krusty Demon of Dirt' Kane Oakley had a good day on Saturday with a fine 10th in GP Herning (UCI 1.1) and Dag had a strong performance on Sunday. Robby won the unluckiest rider award with his five punctures on Saturday and crank falling off on Sunday.
Since then the typical Belgium weather has returned. The weather that should have been here in April has turned up a month late. Sleeves have been sewn back onto jersey, rain jackets and other thermal gear have been dug out of bags and then on the bad days the wind trainer has been unfolded and returned to its usual position in front of that wall/window. Have been hanging out to start racing again. And I don't have to wait much longer before starting the five day tour in Germany, Rheinland Phalz Rundfahrt. Looking forward to it.
Til next time we meet.
Cameron Jennings