Myriam Saugy
Photo ©: Eric J.Aldag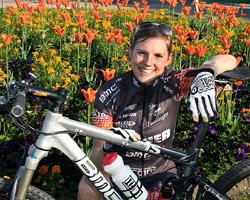 Going Epic: Myriam Saugy prepares for the Cape Epic
29-year-old Swiss endurance racer Myriam Saugy is training for the Cape Epic mountain bike race to be held in South Africa from March 24 - 31, 2007. She set a goal of participating in the Cape Epic two years ago. In this diary, she documents her training and preparation for the off-road stage race.
Saugy began mountain biking in 2000 and racing in 2002. She now rides for Team Texner BMC (www.team-vtt-texner.ch) and is a member of the Swiss endurance national team. Saugy races as an amateur; she is also pursuing a teaching degree in history and geography.
South Africa, March 30, 2007
Stage six: A more comfortable second
Myriam Saugy
Photo ©: Ryan Scott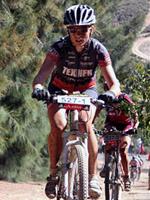 It's hot out here. Today the media centre is set in a barn in the middle of old tractors collection. It's quite funny. We have passed a lot of farmlands and vineyards during this stage. It's kind of cool to get the same smell we usually get at the end of the summer in Europe.
We had again a very good day for our team even though it didn't feel like it on the bike. On my side, I was really feeling out of my body. It may sound crazy, I know, but that's the way it was.
The kilometers passed and at the same time, I didn't see them passing and on the other hand, I was just wishing to be at the finish. We suffered on some of the tar and gravel sections as we couldn't keep up with the flying South African bunches. So we spent quite a few kilometers on our own having to fight the wind.
We were always scared to be caught from the back but it didn't happen. Actually, we finished (in second - ed.) 25 minutes behind the South African team and 18 minutes ahead of the Rotwild girls which means that we now have about 20 minutes lead in the overall ranking. It may seem like a lot relative to road racing rankings, but I can tell you that in such a race, it is not. A puncture, a fall, a bonk and your 20 minutes just melt…
Anyway, we are, of course, very happy with this result, but we are feeling more and more tired. Two more days to go. It seems strange as if we have really entered in a kind of non-stop momentum. The new happening of the day is that I got my first ever nap of the week. I could lay down in the shade for about an hour. That was good.
Otherwise, I need to tell you what happened to Philippe and Jonas our teammates. Philippe broke his rear derailleur after 5km. Jonas, being a bike mechanic, tried to repair his bike and set it in a singlespeed. By the time they had finished that repair they were the last of the day. It was hard on them as they were getting stronger and stronger as the days passed. Yesterday they finished ninth. Anyway, they would have never dropped out.
Myriam Saugy
Photo ©: Ryan Scott
What happened is that even though they tried to repair the bike, it was really not working. So for 20km, Philippe would run the jeep track sections while Jonas was riding his bike and pushing Philippe's. The jeep track section was followed by a tar section of 10km before the first water station. Jonas pulled Philippe for that section. As they arrived to the water point and it was all packed up, but they still got a new derailleur from the Shimano guys. Finally, they repaired the bike and started to chase everybody. They must have passed about 300 teams as they finished 150th today.
For the first time, Fabienne and I could reserve them a tent and not the opposite. I hope that they will get in the top five between tomorrow and Saturday. They deserve it, don't they?
Ok it's soon time for dinner here. Thanks for keeping your fingers crossed for us. It's not over yet. It will be only on Saturday at lunch time. I wanted to thank you all for the messages you send me. It's nice to know that they are a lot of people behind us.
Ride on. Keep smiling.
Myriam
www.myriamsaugy.ch (personal website)
www.team-vtt-texner.ch (team website)