Myriam Saugy
Photo ©: Eric J.Aldag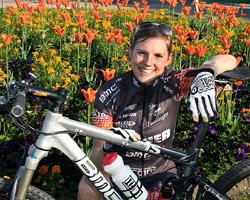 Going Epic: Myriam Saugy prepares for the Cape Epic
29-year-old Swiss endurance racer Myriam Saugy is training for the Cape Epic mountain bike race to be held in South Africa from March 24 - 31, 2007. She set a goal of participating in the Cape Epic two years ago. In this diary, she documents her training and preparation for the off-road stage race.
Saugy began mountain biking in 2000 and racing in 2002. She now rides for Team Texner BMC (www.team-vtt-texner.ch) and is a member of the Swiss endurance national team. Saugy races as an amateur; she is also pursuing a teaching degree in history and geography.
South Africa, March 29, 2007
Stage five: Best day yet
Heya Everybody,
This is Montagu 220m above sea level. The camp is really nice today as all the facilities are quite close to each other. It's better for getting everything organized. We started having a routine now that there are only three days left.
What is a typical day for a camper racer at the Epic? Philippe, Jonas, Fabienne, and I usually get up at 4:45 AM. My first gesture in the morning is to put on sun block. Here I am, sitting on my mattress with a head torch turned on, half asleep, and trying not missing any exposed skin. Then, I take a few pills like cranberry pills and BCAA pills which are meant to help my muscles to keep going longer. The next step is to get dressed, and that's hard as the mornings are quite chilly. We then head to the dinning tent. It's about 5:00 AM in the morning, and we try very hard every morning to get something down. So far I could eat every morning, but as the days pass we eat slower and slower.
Myriam Saugy and her teammate
Photo ©: Sven Martin/Dirt Agency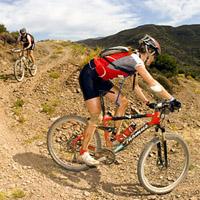 After breakfast, we pick up our bikes at the bike park and go back to the tents to finish packing and getting ready. One of the hardest moments of the day is when we have to close our bags and are just in our biking kit as it is still 6:45 AM and cold. We drop the bags and then go the start. When we finish the stage, we chill out for a while at the finish lounge place. Then we bring our bikes to the mechanic and we go straight to the camp to find our tents. We get showered, get some food, and try to rest for a while.
I come here at the media centre to give you a daily update on our race. 6:00 PM is dinner time, 7:00 PM is prize giving time, 8:00 PM is usually massaging time, and then 9:30 PM is bedtime after I have organized all my gear for the next stage. So as you can see, racing is not the only thing we have to do during the day and there are lots of things to do on the side.
So what about today? We have had our best day since the start of the race. We finished second today and have taken over the second place in the general. The day didn't start that well as Fabienne, who can't make a day without something going wrong, started to bleed from her nose 15 minutes before the start and really she was bleeding a lot. So she ran to the medical centre and Philippe and Jonas dropped her bag for her as I walked to the start with our two bikes. She got in the bloc two minutes before the start...what a start. Hopefully she didn't feel it anymore because she had a super start.
We really compliment each other quite well as I am a slow starter and a fast finisher. The first part of the route took us through farmlands on dirt roads again. Our objective was to hit the first hill of the day ahead of the others girls as it was climbing on a singletrack, and we knew it would be hard to pass people. We managed to do that so we were second as from the start. Then another section of gravel road came in and like yesterday, we got the help of another pair of world class riders which were taking a day off. There were Silvio Bundi, winner of last year's Cape Epic and his partner. As we had no clue where were the others teams, we just put our heads down and kept a very high pace right until the end. That's it.
We finally got second place on a stage. We hope that the days will keep on like that, and that we will be able to keep our second place overall.
Ride on. We take it a day after day anyways. So keep your fingers crossed for tomorrow.
All the best,
Myriam
www.myriamsaugy.ch (personal website)
www.team-vtt-texner.ch (team website)