Recently on Cyclingnews.com
Ben Kersten celebrates the Commonwealth Games gold
Photo ©: Rob Jones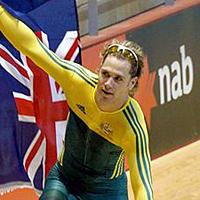 Benny K in the 'land that time forgot':

The Ben Kersten diary 2007
Ben Kersten is one of the world's finest and fastest track cyclists. The Australian is reigning Commonwealth Games gold medallist in the kilo, Australian champion in the sprint, kilo and keirin, and the Australian male track cyclist of the year. This year he is one of the international riders invited to Japan to attend the International Japanese Keirin school.
Follow Benny K on his journey as he learns the techniques, rules and traditions that make up Japanese keirin racing in this unique diary from 'the land that time forgot'. You can also check out Benny's own website and he is also a strong supporter of the the Illawarra Institute of Sport, from his home town of Wollongong, just south of Sydney in NSW, Australia.
June 7, 2007
The land that time forgot
Mt. Fuji
Photo ©: Ben Kersten

Where do I beginÖ Iím actually 7 days or so into the International Keirin school. I say 'or so' because I donít actually know what day it is. Internet and telephones are a thing of the past for us, or perhaps a thing of the future in Keirin School.

It is a bit of an oxymoron being in the country that has made a name for itself by mastering such devices and to then to be reverting to letter writing and sending carrier pigeons.

This is in fact the first time I have had to write a letter (albeit 11pm at night), including the last weeks I had in Australia. These weeks before arriving were completely tumultuous. Most of this disruption is funnily enough for the same reason that I have neither phone nor computer now.

Instructors spell out rules
Photo ©: Ben Kersten

You see, Japanese Keirin has many rules and regulations (so many in fact that it takes a Japanese Keirin student one whole year of army/boot camp/university to learn them all). I wonít go too in-depth but for the purpose of this topic I will elaborate on the Bicycle rules.

Basically, go back in time 20 years. Whatever bicycles they had then is what they use now and is all that is allowed. For the local circuit this is not a problem, as all these parts are of course easily accessible and used and sold daily in 'the land that time forgot'. In all my wisdom I do see how bicycle evolution has bypassed the Japanese Keirin. Because of the gambling involved, there must be total equality and consistency for each Keirin racer. There is no flexibility on these rules, nor has there been for some time, hence prehistoric bicycles for everyone.

Riders check out the bikes
Photo ©: Ben Kersten

Now getting back to why I was so busy to write this. You can imagine the difficulties involved in finding the parts required to participate in Japan. Considering that in Australia, selling last year's brand new equipment is like trying to flog off some Cuban Cigars to the late JFK. The first step was to order from Look France a steel bike, since all carbon fibre is banned.

Look does not make nor sell steel anymore so they specially made Mickael Bourgain from France and me some bikes, being their only sponsored riders here. The rest of the equipment needed has been hurriedly outsourced from sponsors, people's basements and once here in Japan. Mix this in with the usual working Visa problems and leaving overseas for a long time issues, I was needless to say pretty happy to just get here.