Queen of the galaxy
Photo ©: Shiela Moon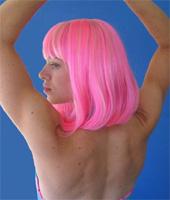 Barbarella: The Barbara Howe diary
Just as Barbarella bumps through the universe, comically oblivious to the dangers and threats being thrust at her, Barbara Howe has had a few misadventures of her own. After an illness-filled season in 2006, the 31 year-old Velo Bella rider is working to get her fitness back in 2007. Although 'cross is still the favorite discipline of the Marin County, California resident, Howe is returning to action by racing her mountain bike. When not training on and around Mt Tamalpais, she keeps busy cooking and sewing.
Follow the fortunes of this free-spirited individual here on Cyclingnews.
November 7, 2007
Doing Derby City
A bicycle graveyard
Photo ©: Barbara Howe

This weekend's travel adventure was held not far from the most famous horse race in the country, the Kentucky Derby. Louisville, Kentucky, was the first stop in the 2007 USGP series. When it was first announced I had my doubts as I'd never heard of bike racing in Kentucky. Now that the race is over, I'm looking forward to coming back again next year. The airport is small and easy to navigate, the city is compact and full of great things like Heine Brothers coffee, a bike shop that serves food and a growing bicycle scene with motivated promoters.
Thursday night I arrived at host housing and was offered pasta with fresh homemade pesto, not a bad way to start the weekend. Friday I managed to sleep in a really long time and woke up to a threatening sky. Rebecca Wellons showed up in the early afternoon and after putting bikes together we met up with Bella Amy Dombroski and rode over to the course. The venue was abuzz with activity as eager racers tried to fine tune their lines and volunteers finished setting up the course tape. Partway through my second lap the sky quit threatening and started raining. That was when the pre-ride got really fun. I haven't had any mud or even remotely damp courses to race on yet this year; it was a nice change from dry grass and dust.
Saturday I again slept in for a long time and woke up to threatening skies. I packed a bag full of clothing a little something for every possible situation and rode over to the course. The promoter scheduled the preceding races so that there was plenty of time to warm up on course and see how things had changed since yesterday. The start of call ups were announced by the Kentucky Derby trumpet guy complete in red jacket and jodhpurs. He played the traditional horse call up song while we snorted and stomped waiting our turn.
Kathy Sherwin
Photo ©: Barbara Howe

I got called up as lucky number thirteen and chose the start position behind Alison Sydor figuring that she is probably quite good at starting fast. My guess paid off and I had a fairly clear shot and space to move around as we hit the first turn. There were some tight turns on the course that caused some traffic jams on the first few laps. Multiple sand pits claimed more than a few victims and after everything shook out I found myself in a small group racing for tenth through twelve place. Towards the end of the race I got excited for a sprint as I don't usually get to contest many of those. My hopes were dashed as an unseen evil force (otherwise known as a muddy root) knocked me to my back with half a lap to go. I never caught back on to the group but did hold off the ladies behind me and finished as number twelve. Saturday night after cleaning, lubing and generally caring for our bicycles, we had a lovely dinner at a gumbo joint. Then it was a quick stop at the local drugstore for a Halloween helmet decorating shopping bonanza. All of the Bellas and the fabulous support crew members found their own perfect accessories for helmet decorating.
Sunday morning I slept in really late again but this time woke up to clear skies and sunshine! The previous day's race didn't destroy me too much and I felt rather perky and ready to race again today. The course had changed a bit for the better. Gone were the super tight double 180 degree turns into the barriers. You could come at the barrier hot, hot, hot.
Barb in the bicycle graveyard
Photo ©: Barbara Howe

The "green monster" or the first flyover in the US was still on the course. It wasn't a flyover in the traditional sense, there were some seriously steep steps leading up to a steep downhill. Once again I was called up as lucky number thirteen and started behind Sydor. This time things didn't work out so well as she missed her pedal and had did bit of the swervy bike action. Fixated on the missed pedal in front of me, I hesitated and lost several spots. It was hard to move up in the first part of the course due to the swoopy corners and sandpits. When I finally cleared several riders in front of me, tenth place was well up the road and all I could do was chase.
Kelli Emmett passed me and I hung on with she botched a sand pit. Another 12th place wrapped up the weekend of racing. I did get some great comments on my helmet decoration. If I can't be fast, then at least I can be recognizable. On the ride back to host housing I stopped and took pictures on "Halloween Street". Many residents of the street try and outdo one another with elaborately decorated yards. At night, traffic moves at a crawl as people from all over troll the road checking out the decorations. Some of my favorite yards were the bicycle graveyard complete with all white bikes and various other cycling touches, and the Devil's Disco Inferno. Too bad my camera battery went dead before the Disco Inferno.
Monday was spent driving around visiting bike shops to spread the Sheila Moon brand in the greater Louisville area. The flight home dragged on for nearly an eternity. At the end of the eternity I was finally home in the beautiful Bay Area.
Till next time,
Barbarella
Photography
For a thumbnail gallery of these images, click here
Images by Barbara Howe