Queen of the galaxy
Photo ©: Shiela Moon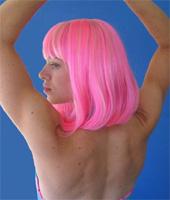 Barbarella: The Barbara Howe diary
Just as Barbarella bumps through the universe, comically oblivious to the dangers and threats being thrust at her, Barbara Howe has had a few misadventures of her own. After an illness-filled season in 2006, the 31 year-old Velo Bella rider is working to get her fitness back in 2007. Although 'cross is still the favorite discipline of the Marin County, California resident, Howe is returning to action by racing her mountain bike. When not training on and around Mt Tamalpais, she keeps busy cooking and sewing.
Follow the fortunes of this free-spirited individual here on Cyclingnews.
August 18, 2007
Mt Snow Vermont
Lounging at the cabin
Photo ©: Barb Howe

This was my third trip to Mt Snow for a mountain bike race and my first time at a Mountain Bike National Championships. After a long and complicated day of flying, Shannon and I met Tim (our fantastic mechanic) and Alex (our fantastic manager) late at night in the Albany airport. My bike made it but my bag didn't, the missing bag paper work took a few minutes and we headed out to find food and get to Vermont about and hour and half away. An hour and a half later we realized that we had missed a turn and were headed for Canada. After forty miles of backtracking we arrived in the wee hours at our weekend housing. The house itself was a confusing warren of halls, doors and stairways made more confusing by a late night arrival. Jen and Erica arrived an hour after us but by then I was fast asleep.
Thursday morning arrived overcast and threatening. After borrowing enough clothing to make a complete bike outfit (I always travel with my helmet, shoes and pedals as carry on) we headed out for a team pre-ride. Each time I've been to Mt Snow the sky opens up and dumps on us - this year was no exception. The previous days rain combined with the rain of the day made the course a slippery muddy ride. The ground and I became acquainted several times, as all I've raced on this year is dust. In fact it's been a few years since I've ridden mud and roots on a mountain bike. Cleaning bikes, cleaning myself, cleaning clothing and trying to find my bag consumed the rest of the day. My bag arrived around nine in the evening so I could give back my borrowed clothing.
Tim proving that he is an xs.
Photo ©: Barb Howe

Racing in the afternoon is tough for me, I have a hard time sitting still and saving my energy before a race. One of the best ways for me to be still is to nap. Napping is one thing I'm really good at, last year was good training and I like to throw in one or two a week so I don't fall out of practice.
The course had transformed from being somewhat rideable on the forested uphills to a long slog. My running legs are feeling good these days and the long uphill bike push was to my advantage. The downhill was a bit tougher, some of the sections I rode, others I slid, and a few I ran. The first lap took a long time and I remember thinking that this was going to be a long race. Many hours and some odd minutes later I was finally done and ready to go home and uncovered new scrapes and bruises. We finished up the evening with a fantastic dinner, a wine and cheese social and a vicious game of Uno.
Saturday morning I woke up feeling as if I had been beat with a baseball bat. My legs were stiff, my shoulders and neck were stiff and I was really hungry. The original plan was to sleep in as late as possible in hopes that my body would use the time wisely to recover. At seven AM I was too hungry to stay in bed so I got up, cleaned the kitchen, folded the laundry and made pancakes. A midday spin did nothing to relieve my aches and pains so I turned to the next option---a nap!
Tristan trying out his umbrella
Photo ©: Barb Howe

Sunday was sunny and warm, a decent change from the rain earlier in the week. My condition downgraded from being beat with bats to being smacked with sticks. Things will be looking up when I can downgrade to feeling like I've been flogged with a wet noodle. Short track was rough, my legs hurt, motivation was low and I wanted to take a nap. One of my biggest motivators was that the race cost a large chunk of change and each minute longer I stayed in the less I paid per minute. As it was I ended up paying $4.67 a minute for the short track. Perhaps next weekend I can get my cost down below $4/minute. Another big motivator was our newest Bella Podium Boy, Tristan. He races for KHS, finished fifth in the Junior X cross country and willingly donned a 'fro wig, silly glasses and a boy beater all in the name of holding our umbrella during staging. Thanks Tristan for having a steady umbrella hand and being an awesome spectator. I heard you yelling each lap before they made me quit racing. One last night of cleanup ensued before we had to leave our nice little cabin and head south for more adventures.
Stay tuned for further adventures on the East Coast.
Barb
For a thumbnail gallery of these images, click here
Images by Barb Howe