Queen of the galaxy
Photo ©: Shiela Moon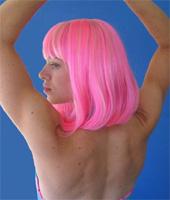 Barbarella: The Barbara Howe diary
Just as Barbarella bumps through the universe, comically oblivious to the dangers and threats being thrust at her, Barbara Howe has had a few misadventures of her own. After an illness-filled season in 2006, the 31 year-old Velo Bella rider is working to get her fitness back in 2007. Although 'cross is still the favorite discipline of the Marin County, California resident, Howe is returning to action by racing her mountain bike. When not training on and around Mt Tamalpais, she keeps busy cooking and sewing.
Follow the fortunes of this free-spirited individual here on Cyclingnews.
July 18, 2007
July heat
Captain Barb
Photo ©: Josh Snead

The week of the Fourth of July (Independence Day) was one of those rare super hot weeks on the coast. Usually, if I want damp cool weather to ride in I just ride towards the ocean until the desired temperature is reached. There was very little escaping the heat this week. Since I had two races approaching that were bound to be hot and I have very little tolerance for the heat I decided to train when the day was at its hottest in an attempt to acclimatize.
The morning of the fourth was spent with Josh watching the local parade, complete with little league teams, drum and pipe bands, old army vehicles and an effigy of Dick Cheney in a jail cell.
My ride later in the day turned into somewhat of a disaster. To start with I flatted and much to my dismay and infuriation my spare was also flat, which lead me to spending way too much time in a small patch of shade on the side of a busy road patching my tube while attempting to redirect a river a sweat away from my eyes. Later when I intended to stop to refresh myself after my intervals, I found the store I was going to stop at, shut, this lead me spending a considerable amount of time in a restaurant trying to buy some water or ice or liquid of any sort so I didn't dry up before reaching home. Not the best ride by a long shot.
Things were bound to get better later in the day when Josh and I joined his Dad and some friends on his parent's sailboat, which they live on in Sausalito, to find the best spot for viewing the fireworks as well as avoiding some of the crowds. It is hard to imagine how cold it gets out on the water when everyone is sweltering on land, but I know enough to bring some extra clothing. We motored out, caught a chilly breeze, ate dinner and enjoyed fireworks from both Sausalito and San Francisco. By the time we docked we had even missed the Sausalito traffic exodus.
The races that weekend were NRC races part of the Cougar Mountain Classic at the Infineon Raceway. Generally that area is several degrees warmer than where I live even though it's only a twenty-five minute drive. During the week I had compiled many plastic baggies filled with ice to be worn under my jersey to keep my core temperature down.
Saturday morning crept in under overcast skies and cool temperatures, what luck! I raced my first crit in over two years and was pleased to be able to sit in without any problems. There was good representation from many big teams including Cheerwine, Jazz Apple, TIBCO, Proman and Value Act Capitol. At the end everyone sprinted away, my legs wanted nothing to do with that, they are seriously lacking top end speed right now.
Sunday was clear and sunny but not too hot for the circuit race, a 2.5 mile lap around the race course including one steep hill, one not as steep hill and lots of wind. I knew this race was going to be much harder than yesterday's crit and positioning was more critical due to the selective nature of the climb. Each of the last few laps I got gapped a bit more going up the steep hill, each time thinking it was going to be my last lap with the group. Each time a miracle occurred and I managed to catch back on. This time I thought I'd be more ready for the sprint but the same thing happened as the day before, everyone accelerated away. Luckily I survived and even managed to squeak into one of the last paying spots. Apparently the check is in the mail.
Next weekend its back to the mountain for the Downieville classic.
Barb
For a thumbnail gallery of these images, click here
Images by Josh Snead