Queen of the galaxy
Photo ©: Shiela Moon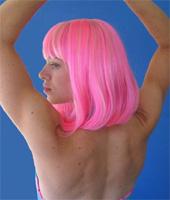 Barbarella: The Barbara Howe diary
Just as Barbarella bumps through the universe, comically oblivious to the dangers and threats being thrust at her, Barbara Howe has had a few misadventures of her own. After an illness-filled season in 2006, the 31 year-old Velo Bella rider is working to get her fitness back in 2007. Although 'cross is still the favorite discipline of the Marin County, California resident, Howe is returning to action by racing her mountain bike. When not training on and around Mt Tamalpais, she keeps busy cooking and sewing.
Follow the fortunes of this free-spirited individual here on Cyclingnews.
May 27, 2007
The home front
Fontana was a race that kept on giving. As a result of my superb bike handling skills and collisions with the ground my back tweaked out mid-week at work. It was one of those moments where it feels as if fire is shooting down your legs and up your back. You can't breathe or move for what could be an eternity.
I was moving stuff around and twisted a bit sideways when the moment hit. After I regained breathing and moving capabilities it seemed prudent go home and lie flat on my back for a while. One massage and a trip to the chiropractor later the back felt better but not great. This small detail wasn't going to stop me from racing at the most local of all races, the Friends of Tamrancho Mountain Bike race, located just a few miles from my home. Tamrancho (aka Boy Scout Camp, www.boyscouts-marin.org ) is a series of legal single track trails located on private property in Fairfax, California.
Although I live and ride all over Mt. Tamalpais, and mountain biking was invented there, single track riding is illegal. There is a petition to legalize single track in Marin County, the petition needs several hundred more signatures, so if you are into cycling check it out and sign it.
The start of the race was a 45 minute ride from home, perfect for getting the legs moving and enjoying the sunshine. The race course utilized some fire roads that are generally off limits to mountain biking so parts of the course were new to me.
I love riding at Tamrancho because there are signs posted reminding cyclist that "bicycles must stay on single track." Does it get any better than that? After getting my number and giving some bottles to a friend for a feed I checked out the start of the course with Rachel (the one who won the Super D at NMBS#2).
It started with a long, loose, off camber fire road downhill before moving onto sweet single track. Not really my ideal way to start a race. The start was staged as Experts and Single speeds, then sports and beginners, regardless of gender. I haven't had a mass start with men in a very long time and it was just as frantic as I remembered.
I tried to stay up front but just lost my edge going down the hill with man after man passing me. At one point a stick went between my wheel and fork, I had to stop and pull it out before it cause irreparable damage. This allowed even more people to pass me. By the time we hit the single track I felt as if I was completely at the back. The single track kicked up and this is where the race got fun.
I worked on staying on the wheel of the guy in front of me and passing when possible. During the second lap I bit the top off a gel but nothing went into my mouth. When I glanced down the gel was all over my left hand. I'm not talking just a few drops, that's bearable this was more like the entire gel on my glove. Completely unbearable I managed to pull the glove off inside out and not crash, no small feat. Then I reached down with my right hand to grab a drink of water and found the bottle and subsequently that hand covered in gel. Yuck! Off came that glove inside out and joined its mate in my pocket. On the third lap I snuck a small gap on a guy that had been battling me and held it to the finish.
Rachel had taken off at the start and being predisposed to swashbuckling through groups on fast loose down hills she put an insurmountable gap on me. At the end of the race we were treated to local juice, garlic bread, free T-shirts and prizes. I scored a downhill saddle and a mussette bag. The saddle might just make its way onto my cruiser, the mussette has already been added to the canvas grocery bag collection.
My backpack now overloaded, I headed home and in a fit of misguided rage for going downhill too slow went for a trail run. Towards the end of the run it occurred that it could have been a mistake to run in general, more specifically after three hours on the mountain bike. This was a mistake I paid dearly for the next few days as my legs have spent the past few months going in circles not striding forward. The remainder of the day was spent in a near comatose state watching the cat chase invisible bugs around the house.
I've got a good week of training ahead with no racing on the weekend, followed by the Mt. Hamilton Road Race, my first road race since 2005.
Later,
Barb