An interview with Xavier Florencio, August 28, 2006
Unforeseen victory
Xavier Florencio sprung a surprise on everyone when he won the Clasica San Sebastian, one of the toughest single-day races on the ProTour calendar. Cyclingnews' Hernan Alvarez Macias caught up with Florencio in his Malaga team hotel two days before the start of the Vuelta a España, the third and last of the grand tours for 2006.
Xavier Florencio (Bouygues Telecom)
Photo ©: AFP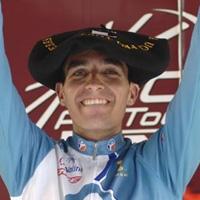 "There was Valverde, Mayo and Sastre and I guess no one thought about me."
-Xavier Florencio on how he was able to slip under the radar at the Clasica San Sebastian.
Xavier Florencio was an unknown rider to most cycling fans until August 12. On that day he won the Clasica San Sebastian and surprised many people and also himself. He didn't exactly have a big list of highlights on his palmares before his San Sebastian win. His career highlights were a stage victory in the 2002 Tour de l'Avenir and his 18th place in the 2004 Tour of Flanders. At 26 years old he might find his big win marks the perfect moment to make the jump to mix it with the elite riders of cycling.
Florencio considers himself a cyclist suitable for the classics and other short races. The Spanish rider from Mont-roig del Camp, Tarragona has the ability to follow in the steps of Oscar Freire, Igor Astarloa and other great Spanish riders who shine at one-day races.
Asked about how he felt 48 hours before the beginning of the Vuelta a España he said, "After the classic [San Sebastian] I have a bit of uncertainty [about my form]. I hope to have the same fit condition that I had two weeks ago. It was difficult to keep in the same shape and I will try to win a stage. [To win] the general classification is very difficult, so I will try to be at the front on a stage." Florencio has not marked out a suitable Vuelta stage to attack. "I don't know yet," he said. "It depends on the physical condition that I am in and on how my legs go. I have to try to be at the front on some stage and make the most of the opportunity of being with the top players."
The biggest win of his career
Photo ©: Sirotti

As to the favourites for the Vuelta overall win, Florencio stated, "I think that [Alejandro] Valverde is the greatest favourite. He is a rider who can race the Tour [completely] and is at 100 percent. Behind him can be [Dennis] Menchov, [Carlos] Sastre and the riders from Euskaltel, [Iban] Mayo and [Haimar] Zubeldia can also be in the top positions. The strongest team will be Illes Balears and the strongest rider, Valverde."
Florencio's victory in the Basque Country was special and fundamental to the advancement of his cycling career. "It was a victory that caught me a little [unawares]," he said. "I was very fit but nowadays it is very difficult to win a classic and I was able to do it." He had to face with some big names in San Sebastian. "There was Valverde, Mayo and Sastre and I guess no one thought about me. But my team knew I was in fit condition and they betted that in the end we [would be] able to win the classic."
Most cycling fans outside Spain don't know who Florencio is. Asked about how he thinks of himself as a rider he said, "I am a rider for the classics. I always like the World Cup races [and have done] since I was in the Once team…. I already have some important final positions in some classics. At Flanders I got in the top 20 positions one year [his 18th in 2004] and at the Clasica de San Sebastian I was [at the] front two years ago and now I [have] won it. I am a guy for classics like the Worlds and one-day races."
Xavier Florencio (Once) attacks
Photo ©: Mani Wollner

He is the only Spanish rider in a French team. His move to Bouygues Telecom proved to be a good one. "I knew last year that the team was looking for a rider for the Belgian classics, a young Spanish rider," said Florencio. "I got excited with the idea and we didn't [negotiate long] to find an agreement. I think they got it right betting on me and I gave that favour back. I was in a small team last year, I was in Relax and the only team that came to offer me something interesting was this one, Bouygues. There were other teams from Spain and outside Spain and the one that I liked the most was Bouygues because they betted on me for the Belgian classics and the UCI Pro Tour classics. It is a young team and with a bright future."
His beginnings at Bouygues Telecom weren't easy. "At first, I was rather nervous inside the team," said the Spaniard. "You go to a new country with a new culture, a new language but little by little I was getting used to this new situation and now I feel great in this team. I get along well with all my team-mates and also very well with the directors and the technicians. This team is like a family and that's what I like, that they treat everyone like friends."
Florencio (Bodysol-Brustor) gives it some
Photo ©: Gert Starckx

Florencio's family is a cycling family that includes some professional riders. "My father was a professional rider," stated the man from Catalonia. "I am the smallest of four sons and my older brother also rode. When I was four I was introduced to the world of cycling and since then I improved little by little until today. It [his current success] was a boyhood dream for me and is a success for the whole family." It's not difficult to guess that he wants to be the best of the Florencios. "So far, I am there in the front trying to enlarge my family's honours. I also have a 10-year-old nephew who just started cycling and we hope he can do well too."
Spanish cycling is enjoying a rebirth this year. Oscar Pereiro is the probable Tour champion depending on the outcome of the Floyd Landis affair. "For us, the Spanish riders, this is very important because since Indurain's era we were looking for a leader and for other riders in the world elite like Valverde, Freire and others. It wasn't easy to get that. This will help many riders to be in the front," assured Florencio.
On the other hand, the "Operacion Puerto" affair seems to harm Spanish cycling and has wider implications for international elite cycling. "We are 100 percent [behind the efforts] to clean up cycling," said the Bouygues Telecom rider. "Little by little we are catching the people who are cheating and let's hope that in the near future the discussions are just about cycling results and just about pure cycling."
The Clasica San Sebastian podium
Photo ©: Sirotti

There are not many cycling fans in his region, Tarragona. "Years ago there were many fans indeed," explained Florencio. "It happened that little by little the excitement of cycling has been lost over the last five or six years. I think that little by little the excitement will increase. Let's hope that people follow cycling more."
Xavier Florencio's website: www.xavierflorencio.tk