An interview with Saul Raisin, February 28, 2006
Young American: Raisin' hopes and expectations
One of American cycling's big young talents, Saul Raisin took his first pro victory earlier this month; more wins are surely on their way. Cyclingnews' Shane Stokes caught up with Raisin just before the Tour of California to find out about that first pro win and his next moves in a promising career.
Saul Raisin
Photo ©: Shane Stokes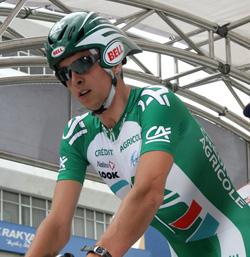 As much as an ability to read a good race and pedal a bike quickly, making it as a European professional can depend on the rider being able to handle frequent travel, adapting to changes in climate, timezones and weather conditions.
American Saul Raisin is an example in point. He flew to Europe earlier this year to meet up with his Credit Agricole team, then traveled to the Tour de Langkawi to compete there. Immediately after the race he boarded a plane for the US, going from the sweltering humidity of Malaysia to riding in a snowstorm in the mountains prior to the start of the Tour of California.
Raisin doesn't mind too much, though; when talking to Cyclingnews in recent days he nominated travel and meeting new people as part of his motivations in cycling and for life. That's just as well, as competing in such a tough sport is all the easier when you derive satisfaction from what you do.
"I would say that I am easy-going," he says over the phone from California. "I enjoy living, I race bikes for fun, for the pleasure of it, and that is how I live. Racing used to be my life, whereas nowadays I see it more as something I really like doing. I enjoy seeing the world and meeting new people…having fun."
Raisin underlined this point at the Tour de Langkawi when, six days after taking his first ever pro win on the mountain stage to the Cameron Highlands, he stressed the value of racing for racing's sake. "Winning doesn't actually mean everything to me," he said before the time trial in Melaka. "I don't have to win to feel happy. I enjoy racing my bike so, if I get to cross the line first, it is a nice bonus."
Raisin's laid-back approach is a little misleading, though, because when you look at his palmares it is clear that this 23 year old is a very talented rider. His victory at the Cameron Highlands came on one of the two toughest days in this year's Telekom Malaysia Tour de Langkawi, and finishing 11th overall - despite working for his team-mates during the race - shows a good level of consistency. So too his thirteenth overall in both the Tour of Georgia and Tour of Austria last year. Yet it was his ninth place in the 2005 Tour of Germany which really stands out, and all the more so given that he was badly injured just over three months before the race.
Raisin gives a victory salute
Photo ©: Shane Stokes

Saul Raisin had already showed
Photo ©: Shane Stokes

The 23 year old
Photo ©: Shane Stokes

Leading the chase
Photo ©: Shane Stokes

In stars and stripes
Photo ©: Shane Stokes

A reflective moment
Photo ©: Shane Goss

Saul Raisin and Andy Schleck
Photo ©: Jean-Francois Quenet

Time trialling
Photo ©: Jon Devich

The damage was done on the first stage of the Four Days of Dunkirk, when Raisin was hit by a motorbike. The impact hurled him to the ground, breaking his collarbone, some ribs and his hip. Doctors expected him to be out of action for six weeks but he bounced back within that timeframe to not only return to training, but to actually compete in the Tour de Suisse. He finished a fine 37th there and then continued his recovery, going on to take that ninth place overall in the Deutschland Tour and to scoop the King of the Mountains jersey in the Tour de l'Avenir. Raisin was also clear in the long-distance breakaway which enlivened the world road race championship in Madrid in September, giving US fans and Credit Agricole bosses something to cheer for on the day.
Now as 2006 gets up to speed, he's hoping for more good performances in the months ahead. This year's big target is the Giro d'Italia; a strong ride there would confirm his feeling that his future direction lies in the area of Grand Tour riding. As he says himself, it's a little early to predict what he can do in the sport. But if he achieves his overall goal of improving each year, he'll be winning - and jetting to races around the world - for quite some time to come.
Cyclingnews: Last week you were in Malaysia competing in the Tour de Langkawi, and now you are over in the US for the Tour of California. How are things going?
Saul Raisin: Things are good here, we just finished the team presentation. Earlier today we did a four-and a half hour ride, of which two and a half were in a snowstorm. It was incredible. It has been a big contrast compared to the race in Malaysia, in terms of the temperature, the time difference and the travel itself. It has been quite a trip!
CN: How have you felt since getting back there?
SR: Well, the last couple of days have been rough. I haven't been sleeping well but then last night I got a good night's sleep. It is about time, after a few days! It has taken a little longer than I expected. I went from the US to Europe and then a few weeks later went to Malaysia. It is a whole different sensation when you keep going around the world.
Anyway, it has been a little rough but hopefully I will come around by the time the race starts. We've got two more days, so I guess I should be okay.
CN: What are your impressions of the setup so far?
SR: Well, in terms of quality of field, I don't think it gets much higher than here. Okay, maybe some races have more ProTour teams, but here you have what I think is five of the top 10 riders from the Tour de France. Maybe more than that. You have got stage winners from the Tour de France, guys like [Bobby] Julich who have been right up there in the general classification. The quality is very impressive, and for all of the American guys - especially the American teams with the American riders - I think that this is going to be one of the biggest events of the year. The team presentation itself was white tie, really classy. Given the amount of money that the organisation and Amgen and all the other sponsors are pumping into this race, I think it is going to be a really, really big event.
I am really excited by it. I think the course itself is going to be... I was looking at the more detailed profile today of the race and it looks really hard. It is all up and down. The first day is up and down, the second day is up and down and then there is a big climb at the finish. All the stages are tough - I think the race is going to be pretty hard.
CN: Is there a good buildup of publicity for the race?
SR: Yes, I think so. Especially due to turnout of the teams and the riders. I think the race is going to be on ESPN and I think that Eurosport is going to show some of the coverage. For me, it looks like it is going to be a really big event and could bring a lot of attention to cycling in America, and in the world too. I hope for the best and I am really excited.
CN: Looking at your ride in the Tour de Langkawi, you won a mountain stage and were up there overall, finishing 11th despite riding for your team-mates. What is your opinion of your performance there?
SR: I would like to keep up my form and keep on winning. I have come here just as I went to Malaysia, with the idea of building form. I hope to keep progressing during the year, with the big objective being a good ride in the Giro. That said, I want to make the most of where I am right now in races. So I will just have to see where that goes.
Taking the mountain stage in Malaysia was important in that is my first pro win. So I am happy with that.
CN: Looking back to last year, you finished 13th in the Tour of Georgia but then had a bad crash after that. Can you tell me what happened?
SR: Well, I was doing the Four Days of Dunkirk and on the first stage, a motorcycle hit me from behind. I went over the handlebars and crashed, breaking a bone in my hip. I also broke a few ribs and my collarbone. The doctors told me that I wasn't allowed to touch the bike for a month and half. Really, I thought that my whole season was over; you can't take a month and half off the bike. I thought that was that. But after three and a half weeks, I went out dancing and felt okay. I thought to myself "I'm not that bad, I think I can ride my bike tomorrow."
I tried the next day but it was no go…I got on the indoor trainer and got stuck on it, I couldn't get off! But after a few days I went for ride and that same day, the team director called me and asked me if I could do the Tour de Suisse. I told him I would get back to him after a week. So I did a week of riding and was pretty determined that I would do the Tour de Suisse. I called him and told him I could go, and the next thing I knew was I was doing the race. It was my first race back and I ended up 37th overall, so I was pretty happy with that!
It was actually less than a month and half after my crash, so I recovered pretty quick.
CN: What was the doctor's reaction when he found out you were riding the race?
SR: It was actually kind of funny. I had an arrêt de travail, I wasn't actually supposed to work during a period of a month and half after the crash. They found out and they were saying, "no, you can't ride." So I got a phone call the day before saying that I couldn't take part, that there was still that arrêt de travail in place. I wasn't freaking out, there wasn't much I could do about it. But then I got a phone call back straight away and it turned out that the doctor never actually signed the paper.
CN: You got ninth in the Tour of Germany after that, so it was a pretty good comeback. What were your expectations heading into that race?
SR: It is probably my best ride yet. Going into it, I knew I was riding well but my expectation was really just too… well, I really exceeded my own expectations. I knew I was going well but I didn't realise how well, and then on the first mountain stage I was in the first group of ten going over the first climb; I realised then that I was going a lot better than I thought. I have pretty high expectations for myself, but that really happened a bit unexpectedly. I could do it all and it was a pretty good feeling…
CN: You went onto the Tour de l'Avenir after that. What was your experience of that race?
SR: Well, it is a really old race. It has a lot of background to it. But last year, for me, it was a bit stressful. I felt that the race was very dangerous. For the first half, I was really scared to race in the front as there were a ton of crashes every day. I just didn't want to be in the front. There really wasn't a lot of climbing and I just felt that it wasn't a great race for me.
I didn't feel like being aggressive and so I just waited until the mountains. On the first mountain stage I attacked and got away with my team-mate Bradley [Wiggins]. We stayed away all day, he won the stage and I got second and took the Mountains jersey. At one point I had the leader's jersey on the road, too. Actually, I think that if the stage was even harder with some big mountains, then I probably could have won.
It ended up that it did pay off to wait until that stage. The whole thing about L'Avenir is that I was really afraid to crash. That said, historically it is a great race with a lot of meaning behind it.
CN: Looking further back, what results helped you get your first pro contract?
SR: Well, [in 2004] I was fifth in the amateur Liège-Bastogne-Liège and then I was second overall in the Ronde de l'Isard in France. The year before, I was third in l'Isard. So that is how the contract came about.
CN: What attributes to you have as a rider?
SR: I consider myself as a GC-type rider. I can be consistent day after day in the mountains. I am not the fastest climber in the world, but consider myself pretty consistent for the overall. My heart and lungs seem to be pretty big, too, and that seems to be important when you look at the guys who tend to do well in the sport of cycling. So hopefully it works out that way for me!
CN: Looking to this season, what goals have you set for yourself?
SR: Well, I would like to continue to progress. I feel that I never really reached my full potential last year. So I would like to try to get more out of myself this season, reaching my full potential for my current age. I just want to maximise what I have right now and see where I can go with that.
Last year, I was 16th overall in Malaysia [the Tour de Langkawi] and this year when I came in I was even stronger, despite having a little less training done. I came into the race with the objective of doing better and that happened. I won a stage and I was still up there in the overall classification [he finished 11th - Ed]. I just want to improve on that. Likewise, last year in Germany I was ninth overall and seventh on a stage. This year, I'd like to go even better. That goes for all my races. I'd like to have a better programme, doing more races that suit me.
I am not really sure what I can do…I have an idea, but I'd like to see how far I can go in certain races. I wouldn't really say that I have a set objective, other than just continuing to improve and see how far I can go.
CN: Long term, do you have that same wait-and-see approach?
SR: Yes, short term is the Giro this year. Long term is the Tour de France in years to come. After the Giro this year I will get to see how I stand this year, in terms of my fitness, and then in years to come I will concentrate on the Tour. That would be my long-term goal.
CN: How would you sum-up yourself as a person, in terms of personality and characteristics?
SR: I would say that I am easy-going. I enjoy living, I race bikes for fun, for the pleasure of it, and that is how I live. Racing used to be my life, whereas now it is more that I look at it as something I enjoy doing. I enjoy seeing the world and meeting new people, that is kind of person I am. I like having fun.